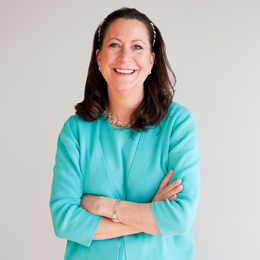 Invisalign at Any Age
LynAnn Mastaj, D.M.D., has earned the distinction of having won many awards and titles of merit. She has also earned a reputation for being one of the region's—and, in fact, the world's—premier providers of Invisalign, an orthodontic treatment that straightens teeth using customized, removable and virtually invisible aligners.
Although she commonly treats young adults and teenagers at her private practice in Bryn Mawr, she has seen Invisalign become an increasingly popular option for men and women in their 50s, 60s and beyond. In fact, among all her Invisalign patients, those who are 50 and older represent one of the fastest- growing segments.
"The timing and comfort offered by Invisalign is attractive for older patients," says Dr. Mastaj, adding that approximately 60 percent of all her patients opt for Invisalign over traditional bracket-and-wire braces. "Some patients never had braces because their families couldn't afford it, and now that they're in the 50s and 60s—even their 70s and 80s—they are investing in their health and their teeth. If you want to look younger and feel better, the best way is to start with your mouth."
Janis Nadler can attest to that fact. A Realtor and associate broker with Berkshire Hathaway HomeServices/Fox and Roach Realtors in Haverford, Nadler has been working in real estate for 34 years. In other words, she knows all about the value of "curb appeal."
"In my business, you want people to listen to your advice and your message, not looking at your flaws," she says. "I had one tooth that was twisting, and I didn't want all my teeth to get crowded and old looking, so I asked [Dr. Mastaj] what she would recommend."
Although Nadler initially thought her or- thodontic treatment would be isolated to her bottom teeth, Dr. Mastaj recommended Invisalign for all her teeth. Nadler took the doctor's advice, and she's glad she did.
"Some people thought I was crazy when I told them I was having Invisalign," Nadler says. "They would say, 'At your age?' People are looking at me all day long, and I've always tried to put my best foot forward. Now my whole mouth feels comfortable, and I notice a difference in what I eat and how I look. [Dr. Mastaj] is an artist, and she gives you the best look for you, not everybody else."
Likewise, aesthetics were an issue when Linda Baris first came into the care of Dr. Mastaj. It was July 2015, and Baris wanted to have a crown placed after years of having gone without; she had made the selfless decision to put toward her children's college education any money she would have spent on the crown. She admits to having been self-conscious about the missing tooth, even though it was not visible, yet her concerns went beyond matters of appearance.
"I was ready to have the crown put in, but things had shifted to the point where the space needed to be opened up," says Baris, a graphic designer based in Havertown. "I also have sensitive gums, and I liked the idea of Invisalign being gentle and gradual. I could have another year or so till I'm done, but I never felt any pain [with the Invisalign aligners].
"My gums have vastly improved since I've gotten Invisalign," she continues. "The only time I take them off is when I eat, which is three times a day, so that means I floss three times a day. My periodontist couldn't be happier with the way my gums have improved."
Her point is an important one, as periodontal disease has been linked directly to serious health issues. Numerous sources, including the International Journal of Adult Orthodontics and Orthognathic Surgery, suggest crowded teeth contain more species of periodontopathogens present in subgingival plaque, which, in turn, can contribute to cardiovascular disease, stroke and other life-threatening health conditions.
A Remarkable Shift
For Lisa Rhome, Invisalign helped address a health issue of a different sort. For nearly two years she coped with a rare condition known as burning mouth syndrome, which is characterized by chronic or recurrent burning in the mouth without an obvious cause. Rhome sought out a number of prominent medical institutions to soothe the pain, but to no avail. When she met with Dr. Mastaj about straightening her crooked bottom teeth and widening her "narrow" smile, the doctor suggested Invisalign for Rhome's top and bottom teeth. The treatment led to a remarkable shift—not only in her teeth but also in the burning sensation.
"I had been living with this curse 24-7 for a few years, but [Invisalign] helped to diffuse the pain," says Rhome, a reading specialist with a master's degree in education. "Dr. Mastaj described the effect as similar to when you stub your toe and you use your hand to squeeze it tightly, which makes the pain subside."
Of course, Rhome also has the winning smile she had been seeking. Having completed Invisalign treatment over the summer, and also having benefited from whitening treatments courtesy of Dr. Mastaj, Rhome says the people closest to her have noticed a difference.
"Women our age tend to spend a lot of time and money keeping themselves looking good by eating right, exercising, cosmetic surgery—you name it," she says. "But their first thought should be seeing an orthodontist. I think when people hear the word orthodontia, they think of kids in braces, but [Invisalign] is something safe and easy you can do to better yourself as you age."
Lastly, there's Maria Chila, D.M.D., who runs a respected general dentistry practice in Ardmore. She's a longtime friend and referring doctor of Dr. Mastaj, so when she needed orthodontic work of her own, she knew exactly who to call.
"I was getting movement all over my mouth, so [Dr. Mastaj] suggested Invisalign," Dr. Chila says. "I finished the primary treatment and now I'm in refinement. Her work is impeccable, so I know she'll do it till my smile gets the way it needs to be. ... She's a real professional, a lovely person and everything you could want in an orthodontist."
Art Meets Technology
Dr. Chila is hardly the only one who recognizes Dr. Mastaj's many points of distinction. Last year, Dr. Mastaj became an "Elite Top 1% Invisalign Provider Worldwide," an honor earned by fewer than 100 dental professionals across the globe. In outlining the honor, Invisalign cited Dr. Mastaj's experience, knowledge and the sheer number of patients she has treated successfully.
"I started offering Invisalign more than 15 years ago, because I loved the combination of art and technology," Dr. Mastaj says. "Invisalign is the iPhone of orthodontics, because it blends smart technology, comfort and aesthetics, which are three things patients are seeking. On average, Invisalign treatment could be 10 to 15 months, compared to 12 to 24 months for traditional braces. It's also incredibly versatile; there aren't many candidates who aren't a good fit for Invisalign."
To complement Invisalign, Dr. Mastaj has adopted cutting-edge technology such as an iTero scanner, which eliminates the need for taking impressions and also improves turnaround time for beginning treatment. This technology works in tandem with ClinCheck Pro, an Invisalign software program that enables practitioners to make real-time adjustments directly on a 3D model of a patient's mouth. As a result, Dr. Mastaj maintains precise control over the patient's final tooth position to ensure a successful outcome.
"With every person who comes into my office, I always have a patient-first attitude, always with the best result in mind," she says. "I have used Invisalign to treat teens and young adults, but I have also seen a tremendous influx of older patients, who are typically underserved in dentistry. People want to know what their options are, and I think that's true whether they are 8 or 80.
"I do a lot of free smile evaluations at local health fairs," she continues, "and a typical response I get from older people is, 'I didn't know I could get into Invisalign at my age.' They see the connection between healthy mouths and a healthy lifestyle, and they want to do everything they can to look and feel their best. I think that's why they see the value in something like Invisalign."
LYNANN MASTAJ, D.M.D.
Mastaj Orthodontics

Published (and copyrighted) in Suburban Life magazine, June 2020.