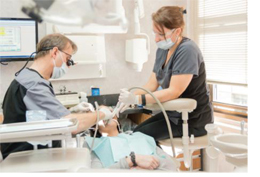 No Place Like Home
After Dr. Kenneth Soffer rooted his well- established practice, Soffer Dentistry, in Clementon N.J. for the past 27 years, he knew the time was right to expand into familiar territory, returning home to the city he says he and his wife have fallen in love with all over again.
"I grew up in Philadelphia on 22nd Street," he says. "I always knew I wanted to come back someday, and I knew in October 2016 when this opportunity arose that now was the time."
Although Dr. Soffer's location may have changed, one thing that hasn't is the abundance of services offered to patients—from dental hygiene, implants, cosmetic dentistry, restorative dentistry, oral surgery and more—and his dedication to providing patients the utmost in quality care.
Suburban Life/Philadelphia Life sat down with Dr. Soffer to learn more about his recent homecoming and what the future holds for his practice.
Congratulations on your recent expansion into Philadelphia. What can you tell us about your new space and why this location specifically?
The space itself is about 1,300 square feet. I spent a lot of time at The Racquet Club of Philadelphia—which, happens to be across the street from the practice—and I thought it would be a good opportunity to treat a lot of the people I already know. I still work at my practice in N.J., but what's really energizing me and getting me to become even more involved with dentistry again is the new practice. I absolutely love the facility—it's technologically up-to-date, and I've certainly put a lot of time and effort into making it a top-notch facility.
Backtracking a little, how did you decide on starting your own practice initially? ?
I always knew while attending dental school that I wanted to be in practice for myself. I feel that I've always been someone who makes their own decisions, and since I grew up fairly artistic, I knew I wanted a practice that had a vision I planned. I grew up being sort of an aspiring artist and I was always tinkering with airplane models and things like that—which somehow turned into sculpting teeth. I started out working at a few other smaller practices, but at the same time I was setting myself up to start my own.
Is there one type of patient you cater to in particular?
I'm trying to put a lot of focus on cosmetic dentistry more so in my practice in the city, and I'm especially trying to tailor my practice toward working professionals. I've come to find [cosmetic dentistry] is where my sweet spot sort of is, and the full gamut of all the procedures associated with full-mouth reconstruction, veneering, specialty whitening processes, etc. I definitely want to cater the practice towards cosmetic dentistry; however, I am versed in just about any form of dentistry all the way to the surgical aspect and dental implants. Essentially, I can do everything and provide anything for patients, but the cosmetic aspect is what helps me stand out.
What is it about cosmetic dentistry you like more than other areas of dentistry?
I think it all ties back to the fact that I'm artistic in nature. I've always strived toward creating that quintessential picture perfect smile. Whether?it's a full-mouth reconstruction or a single?tooth filling, I always try to pull out the art in it.
You mentioned earlier your practice is state-of-the-art and up-to-date. What are some notable pieces of technology your practice houses?
We use digital X-rays, which have become an extremely valuable asset to the practice in diagnosing issues quickly, and of course, we use intra-oral cameras as well. Aside from those, however, I'm within the only 10 percent of dentists that use all electric hand pieces. Electric drills are much quieter than air turbine drills, and they cut much cleaner and smoother. I also utilize my own laboratory technician for color modifications and use the highest quality laboratory materials needed such as Lumineers, which can add a little bit of life- like appearance to porcelain veneers. I always try to be in the know on all things technology.
Technology is constantly evolving everywhere. That being said, is there any new technology patients should expect to see in your practice in the near future?
I'd like to believe that I'm fully technologically advanced already (laughs)—but to be honest, I like the ability to take my time and make sure that the work I'm doing is precise and professional, as opposed to always rushing to have a crown made in a single day. I feel as if the people who are trying to step ahead of the technological curve some- times in essence, cut back on the artistic ability needed to get the job done nicely. I don't like to overstep my bounds when it comes to technology, but I still believe I'm on the cutting edge of it.
I noticed you provide CEREC Cad/Cam Technology—can you explain this?
CEREC stands for Chairside Economical Restoration of Esthetic Ceramics. In simple terms, we utilize an advanced computer to take a 3D picture of your tooth. This graphic is then sent to a milling device that designs and constructs a reproduction of your original tooth in less than one hour. It works amazing with cracked teeth and old broken fillings as it allows me to fabricate a new tooth with minimal drilling.
Dental implants seem a bit intimidating—what's the process like?
First off, getting a dental implant can be as easy as preparing a tooth for a filling or cap. The procedure is a three-step process. Step one is the placement of the implant or anchor. Step two is the preparation of the connection to the implant, and step three is the customized tooth replacement.
Wow, you make the process seem so easy. It sounds like you are really passionate about dental implants. ?
I am! It saddens me that more than 178 million Americans are missing one or more teeth. Luckily, dental implants are growing at a rate of half a million per year mainly due to the fact that their success rate is over 98 percent now. Since my first implant back in 1992, advancements have been staggering. I get a real charge when a patient discovers how much their life has changed. They look, feel, and function so much better—it's very rewarding.
I also see you offer sedation services—how often do you use them on patients? ?
I use it rarely, and not in the sense of putting them to sleep. Rather, I use it to sort of relax patients who still feel uneasy after the discussion. When it comes down to it, it's really important from the start to sit down and talk with patients and really explain things layer by layer. A lot of doctors just jump into things, but I believe it's important to show com- passion to the patient and give them a full understanding of what they're getting done.
It sounds as if patient education is a vital aspect of your practice?
It's the cornerstone of my practice—it's why I use the technology I use. Most of the time patients come in and they truly have no idea what you're going to be doing to them. If they have a bit of understanding prior to their procedure, it not only puts them at ease, but it allows them to put their confidence in me. And their being at ease makes my job easier. It's a win-win.
Lastly, is there anything that you believe sets you and your practice apart from others in the area?
I think that myself and my staff treat patients like our own family, and in a sense, there's not really a lot of practice around that still have that "mom and pop" feel. Dentistry is trending more toward clinic facilities and multiple doctors, and I just don't feel as if people are getting that genuine one-on-one relationship with a dentist that they should be. I think the relationship between the dentist and patient should be a fairly close one and one they feel they can trust and count on.
SOFFER DENTISTRY
1601 Walnut St. Philadelphia, Pa.
(215) 563-0138
132 White Horse Pike
Clementon, N.J.
SofferDentistry.com
Published (and copyrighted) in Suburban Life Magazine, July, 2017.
To subscribe to Suburban Life Magazine, click here.