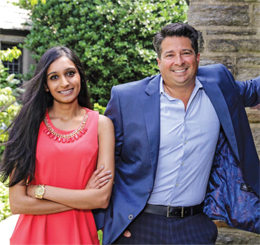 On Their Mission
Drs. Andrew Cohen and Kruti Patel have a unique practice philosophy of "providing comprehensive, unbiased and honest education to our patients which empower them to make the best decisions for their dental health." When asked about what drives their passion, both doctors believe that the best person to make health care choices for themselves is an educated patient. Though it's clear through their accumulation of five-star ratings that they take exceptional pride in the service they provide to their patients, Drs. Cohen and Patel don't necessarily care about "what" they do, so to say—it's "why" they do it that holds the highest caliber of importance.
Both doctors are passionate about their core values and implementing and embedding them throughout First Class Dental operations. "We believe that in attaching a 'why' to each healthcare decision, and the only way you can understand the 'why,' is if you become fully educated on your current dental condition," both state. "The 'what' [the procedure] becomes secondary."
Drs. Cohen and Patel are passionate in delivering and practicing "patient-centered care," in addition to remaining at the pinnacle of bettering their care and even their own education. Both Drs. Cohen and Patel are dedicated to furthering their medical and dental knowledge by attending courses throughout the country that are led by the top dentists in cosmetic, restorative and comprehensive dentistry. Dr. Cohen is also a visiting faculty at the Spear Education Center in Scottsdale, Ariz., where he mentors dentists in their continuing education. They pass along this knowledge to their team members making it vital information necessary to answering patient questions and delivering optimal care.
"We choose to listen to the patient's wants and desires to better understand what is important to them," Dr. Patel says. "This concept is unique for each patient and takes time and a lot of communication to fully comprehend. The most predictable and optimal outcomes are realized when patients play an active role in their dental care—and in order for our patients to be an advocate for their dental care, we need to provide them with the information that will help them under- stand their current dental status. In doing so, they can then make the best-informed choice they feel is appropriate for them."
This educational process includes the use of digital photography and obtaining a comprehensive history and exam to gather the appropriate information necessary to inform and diagnose the patient. Drs. Cohen and Patel then sit with each patient in a comfortable consultation room to re- view these findings, or what they refer to as a "tour of the mouth." Together the doctors and patient can understand areas of concern and all potential options for treatment.
"The tour of the mouth is a co- discovery process between the office and the patient, so the patient can fully understand what's in front of them," Drs. Cohen and Patel note. "The photos we take show a patient's smile in a manner they have never seen before. We can display a better overall picture of both the functional and esthetic concerns which demonstrates the current conditions regarding the patient's overall dental health. By creating a PowerPoint presentation with the photos, we provide a mode to help the patient communicate with us. The patient ends up asking questions before they are given a diagnosis or plan. It's not all about our words— it's the visuals that become critical in becoming aware of the challenges in regards to their treatment."
Drs. Cohen and Patel add: "We strive to create a trusting environment. Listening to patients and taking the time to hear their stresses, concerns, wants and desires are just as critical. Our goal is to work with the patient and help them achieve the goals that best suit their lifestyle. Having the patient weigh in on their care makes them more committed to achieving optimal dental health."
This trusting, non-threatening environment however, truly begins before patients step through the practice's doors. Encompassed by an enchantingly stone-built courtyard, patients may question whether or not they've arrived at the right place. Upon entering, patients will be placed in a homely atmosphere, garnished with Victorian-style furniture and fireplace. Peer into any of the patient rooms, and the aesthetic does not change, aside from the state-of-the- art technology housed in each of the rooms.
Drs. Cohen and Patel believe in having this comfortable, at-home like atmosphere in order to further their mission in creating an unparalleled dental experience for every patient.
And it appears they have achieved just that.
"We have patients that will drive an hour or more to see us," Dr. Cohen adds. "Our patients are really like family. We treat our patients the same way we would treat our own family members."
They also believe in providing care to patients that goes well beyond the mouth. As part of the practice's comprehensive approach, both Drs. Cohen and Patel perform a thorough head and neck exam to look at all muscles and joints involved.
"We want to understand and assist the patient in their medical and dental health," both state. "The teeth, muscles, and joints work as a system, and if one of them is not working properly, we can see damage in its counterparts. More and more research is showing there is a medical-dental connection. This makes our review of a patient's medical history even more critical. The medical history adds to the patient's story. We ask the patient about their sleeping patterns and screen patients for breathing disorders. All of this information sets the foundation for which we base the treatment on."
The words of their patients, however, hold a particular—and debatably higher—level of weight. In fact, both doctors mention the critical importance behind individual patient stories in carrying out their mission statement.
"After listening, we then give them the tools they need to make informed, educated decisions about their options for treatment," Dr. Cohen says. "Until patients have all of the information, how can we expect them to truly make the right decision? In the end, we end up becoming someone who simply facilitates individual goals."
Without a doubt, Drs. Cohen and Patel have arguably surpassed even their own definition of optimal health, continually remaining at the forefront of their industry by restoring patient confidence in addition to healthy and function smiles. Between each of their extensive qualifications, their devout staff and pristine facility, the practice name truly speaks for itself.
FIRST CLASS DENTAL
426 Cottman St.
Jenkintown, Pa.
(215) 572-7566
FirstClassDentalPA.com
Published (and copyrighted) in Suburban Life Magazine, July, 2017.
To subscribe to Suburban Life Magazine, click here.