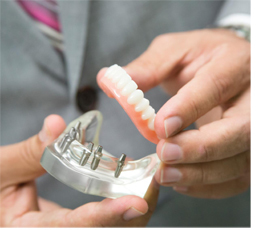 All in the Name
The power of modern day medicine can be truly astonishing—especially when a greater outcome lies on the edge of the horizon. For Dr. Mohammed Erakat, watching a real-time medical miracle to save a melting jaw structure of a young female was enough to encourage his career path and a bright future.
During his oral surgery rotation at Harvard Dental School of Medicine, Dr. Erakat witnessed a surgical procedure unlike anything he could've ever envisioned—the reconstruction of the young girl's jaw—which was made possible through utilizing two pieces from her ribcage. Dr. Erakat recalls this procedure to this day as being one of the most mind boggling—yet amazing— things he has ever seen.
"I always knew I wanted to work in dentistry from the time I was 10 years old, and the smell of a dentist's office as a child actually always gave me some sort of comfort," he says. Though all students attending Harvard Dental School of Medicine are required to dabble in every specialty of dentistry through clinical rotations, Dr. Erakat says it was "this procedure that sparked my interest in oral surgery specifically."
Among other things unexpected was the opening of his own practice on this side of the country. A San Francisco Calif. native, Dr. Erakat never visited nor anticipated residing along the East Coast, but an interesting turn of events allowed him not only to get acquainted with East Coast territory, but also provided him with the opportunity of a lifetime to receive an M.D. from a six- year program at the University of Medicine and Dentistry of New Jersey, in addition to his D.M.D. The day his practice—Prestige Oral Surgery—doors opened in August of 2014 in Princeton, little did he realize his double degree and board certifications would make him one of the leading practices in the area.
"I'm very proud of the fact that I am a double degreed board certified oral and maxillofacial surgeon," Dr. Erakat notes. "The practice since its opening has been growing extremely well mainly through word of mouth and satisfied patients."
Upon stepping foot through the practice doors, apprehensive patients are soon put at ease while gawking at the facility's remarkable décor. Dr. Erakat says a lot of the time devoted towards opening his practice was spent on the building's interior and aesthetic. He says patients often question if they've even come to the right place.
"People walk in and they don't even realize it's an oral surgery practice," he says. "I wanted to give my practice a modern and exceptional feel."
Exceptional abounds from room to room including Prestige Oral Surgery's services, which include wisdom tooth removal, tooth extractions, dental implants and even pediatric oral surgery. While any of these procedures would sound daunting to most prospective patients, Dr. Erakat offers the option of IV sedation dentistry, which he says about 90 percent of his patients utilize.
"I do offer three options—local anesthesia, nitrous oxide and then the full IV sedation where I can put a patient fully asleep," he says. "If a patient undergoes the full IV sedation, our practice has a very nice and comforting recovery room for after surgery where loved ones and friends can accompany them."
Other notable services include "teeth in a day"—a procedure that provides patients with an entire set of irremovable teeth; sinus lift for patients in need of bone grafting in the sinus area in order to install necessary dental implants but lack the proper bone density, and Botox and Juvederm.
"For teeth in a day, we're able to extract all of the teeth and place all of the implants that same exact day," Dr. Erakat notes. "During that same day, we'll place a full set of irremovable teeth onto the implants, and the patient will walk out with a full set of teeth the same day of their surgery. That's a huge deal."
Dr. Erakat also treats sleep disorders including sleep apnea—a disorder where a patient experiences shallow breathing or pauses in breathing while sleeping—and a disorder, which Dr. Erakat mentions, is highly disrupting to those vital hours of the human sleep cycle.
"Sometimes when a patient sleeps, if they have a larger tongue or the position of their jaw isn't quite right when they're laying down, the airway gets blocked by the tongue or the tissue in their mouth," he states. "What I can do is then fabricate a special sleep apnea device that they wear while sleeping that opens up the airway and moves the tongue and other tissues forward to prevent the patient from losing further sleep."
With Prestige Oral Surgery's outstanding services comes the state-of-the-art technology behind all of it. The practice remains fully digitally equipped from digital prescriptions for patients sent directly to their pharmacy of choice, online appointment scheduling, digitalized paperwork, and one of Dr. Erakat's most remarkable pieces of technology, the Conebeam.
"The Conebeam gives us a 3D rendition of the patient's mouth and skull on a computer prior to undergoing the surgery and even before the patient is in the chair," he adds. "Before we had this technology, we used to look in the mouth, take 2D X-rays and we'd either assume the patient did or didn't have enough bone for implants. Sometimes we'd realize once we opened the mouth and got to the bone they didn't and it would become a larger hassle. Because we can now do a simulated 3D surgery on the scan and show the patient exactly how it's going to go, there are really no surprises on anyone's end."
Though surprises are least expected on the surgical end of operations due to Dr. Erakat's impressive resume and superior educational background, one pleasant surprise patients will find is within the practice's standards. Dr. Erakat and his team at Prestige Oral Surgery believe in providing pristine, unsurpassed quality care that all patients should be able to afford without hassle— therefore, he says, they accept nearly all insurances.
"Patients come in to my practice and sometimes feel overwhelmed that they won't be able to afford treatment here," he says. "But when they find out we accept basically all insurances, they 're stunned. I'm offering top-notch care, top-notch technology and a top-of-the-line facility."
When asked to sum up the very nature of his practice, Dr. Erakat best describes his practice as "the Rolls-Royce for a fraction of the price." With the latest in technological advancements, a modernized facility, a comforting atmosphere and an extraordinary team of staff, there's not much to argue.
"I take the time and sit with my patients in a non-threatening environment and give them all the time in the world needed to ask any and all questions they have," Dr. Erakat says. "I'm available even after the surgery by phone for any follow-up. That along with our insurance policy, my credentials and our facility, I believe says it all."
Prestige Oral Surgery
3700 Route 27, Suite 103
Princeton, N.J.
(732) 297-7000
PrestigeOralSurgery.com
Published (and copyrighted) in Suburban Life Magazine, July, 2017.
To subscribe to Suburban Life Magazine, click here.