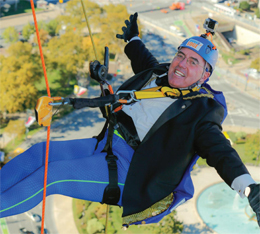 Invested in Others
Some spectators called it hair raising. A few found it jaw dropping. But beneficiaries of a Philadelphia Outward Bound fundraiser—one that saw Dennis Wallace rappelling down a 31-story building—more likely would have said that the event was about confidence boosting.
Last October, Wallace rappelled down the Philadelphia skyscraper One Logan Square to help provide Philadelphia Outward Bound School's programs to decrease underserved girls' vulnerability and raise their confidence and outdoor leadership skills. He also persuaded a team of Rotarians from the region to do the same. (Watch the video at www.dennismwallace.com/p/published-articles.) His commitment and service that went to great lengths—and, of course, heights— resulted in an Outward Bound Volunteer of the Year award for Wallace, as well as potential to change the lives of local teens.
What's more, Wallace is set to do it again this year. On October 21, 2016, he and other recruits will head up 31 stories using the building's inside elevator and head down by way of an outdoor rope.
Wallace's participation in the event exemplifies his philosophy for happiness and success:
Engage fully in your work.
Enjoy adventures with people you love.
Lend a hand to someone else.
Engage
When Wallace—a Rotarian, husband, sailor, U.S. Air Force veteran and professional financial advisor—commits, he doesn't go half way. He's all in.
In 2014, a photograph of a dramatic cityscape caught Wallace's attention. In the foreground West Chester Mayor Carolyn Comitta was rappelling from the roof of one of Philadelphia's tallest towers. Curious about it, he called Comitta and learned that she had accepted the challenge to benefit underprivileged teen girls. The project captured his imagination.
Not satisfied with leaving action to others, he committed to become part of a 2015 team. Now he is recruiting friends and fellow Rotarians to take to the ropes again in autumn. Pushing aside nerves over dangling 400 feet above the ground, Wallace asserts that he is fully invested in making it possible for girls' lives to change for the better.
Enjoy
Before his introduction to Outward Bound, most of Wallace's climbing adventures were up and down the 55-foot mast of his sailboat to make repairs.
Wallace and his wife are avid sailors, and they often navigate the Chesapeake Bay or the Caribbean Sea. Two notable trips showed Wallace that alarming situations requiring change can be memorable and meaningful when shared with friends.
"Once we were sailing in the Caribbean with five couples when the boat sprang a leak," Wallace recalls. "The pump couldn't keep up with the all the water coming on board, so everyone worked together to find and fix the problem."
Wallace discovered a leaky valve. Like the fabled Dutch boy, the sailor literally held his finger in the gap while the group rigged up a solution. They kept the boat from sinking, made it to the nearest island and continued their vacation with a different boat the next day.
Lend a Hand
Another excursion around the windward islands of the West Indies led to the discovery of difficult circumstances and an unmet need of Antigua's and Barbuda's inhabitants. Wallace learned that Mount St. John's Medical Centre, the only hospital serving the two islands, had no ultra- sound machine.
With 29 percent of Antigua's population beneath the poverty line—and additional people vulnerable to dropping below it because of a hurricane or economic shock—he grasped that island residents alone were unlikely to afford the medical equipment. Turning to his sailing buddies and fellow Rotarians, while also committing his time and funds for project development, Wallace led the charge to locate the best equipment to meet the hospital's specifications. In August 2013, dignitaries from the United States and the West Indies unveiled the ultrasound machine that still helps patients today.
Wallace is equally dedicated to serving the financial needs of his clients.
"Too often people come to my office concerned about their assets," he says. "Are they invested appropriately? How much risk is in their portfolio? Will they be able to retire? Some are afraid their ability to meet the future isn't what they hoped; others don't know what their financial situation is. They're not alone. It's never too late to look for guidance or a new investment advisor. Most importantly, there's more than one way to plan for the future."
Drawing from his philosophy for happiness and success, Wallace asks what engages clients, what adventures they desire and with whom they want to enjoy those adventures. Then he listens.
He carefully considers their answers. To take confusion out of investing, he helps ease clients through information if their eyes glaze over at challenging financial matters. With a no-pressure attitude, he offers an unbiased, independent eye to review their current financial situation.
By knowing their desires and fears, Wallace can help clients set realistic expectations. Together, they create financial goals that match tolerance for risk, whether clients enjoy rappelling down 31-story buildings or prefer watching boats from Adirondack chairs on the beach. He offers options and can implement strategies to meet those goals.
Wallace's continual listening and lending a hand has earned him the Five Star Wealth Manager Award each year since 2012. The honor is based on exceptional service to clients and excellence in a list of evaluation criteria.
What's next for Wallace? "Watching good things happen for people in the community because of time and effort we've invested," he says.
The high point of the rappelling event might have been the top of the skyscraper, but the highlight was the work that occurred after Wallace's feet touched the ground.
THE COMPREHENSIVE WEALTH MANAGEMENT GROUP
600 Willowbrook Lane, Suite 620
WestChester,PA 19382
(610) 436-8500
CWMGInc.com
Published (and copyrighted) in Suburban Life Magazine, July, 2017.
To subscribe to Suburban Life Magazine, click here.