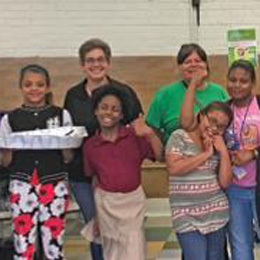 A Lasting Impact
August 2017
Over the past four years, b.good has donated about 19,000 servings of healthy food to people in need with the help of their loyal customers. The health-conscious restaurant chain prides itself on serving delicious, homemade, wholesome "food with roots."
"b.good aims to stand apart for its commitment to doing good in the community," says Co-Founder Jon Olinto, "… and we feature blackboards at every b.good restaurant highlighting our local partners who grow and raise the ingredients being served."
Recently, Philadelphia-area b.good chains were able to provide 168 meals to Sunday Suppers, a program at Memphis Academy in Kensington.
Suburban Life/Philadelphia Life recently spoke with Olinto and Philadelphia-area franchisee Deb Lutz about the impact the company is making in our local communities, how they are utilizing technology and their partnership with Sunday Suppers.
Why is it important for b.good to give back to their communities?
Jon Olinto: We have always been a company that strives to do good, but that definition of being good has shifted over the last 15 years to reflect the ever-changing world. We started out serving healthy food to a world that didn't have it, but as healthy food became more ubiquitous in recent years, we knew the mission had to change. Doing good and being socially responsible in the food industry is no longer just about making healthy food. Thus our mission has grown to encompass the notion of food justice—that real, good food should be available to everyone. We want to aim higher than improving the lives of our existing customers and focus on improving the lives of all with easily accessible healthy food.
How has b.good been utilizing technology to be able to give back to these local communities?
JO: Through our mobile app, our guests are able to donate healthy food to local organizations, and we are so pleased that we were able to distribute 4,300 healthy meals from all b.good locations throughout the country into the community in June. These donated meals were paid forward by actual b.good customers. All guests who are part of our loyalty program receive free food gifts (such as salads, smoothies and burgers) on the mobile app from the company or from friends, and the recipient has the option to share it with another friend, redeem the item or donate it to a local community partner.
What was b.good's recent involvement with Sunday Suppers at Memphis Academy?
Deb Lutz: The Philadelphia-area b.good restaurants (King of Prussia, Wynnewood, Mount Laurel, N.J. and Marlton, N.J.) visited Sunday Suppers at the end of May and served a "Sunday Dinner" to program participants at Memphis Academy. Every Wednesday, Sunday Suppers families share a healthy dinner around a family table and take part in a movement/exercise session. They learn about fresh and healthier foods, different cooking techniques and the importance of regular exercise. At the end, participants receive "goodie bags" with ingredients and recipes so they can make the meal at home. I selected Sunday Suppers as our community partner because of our shared belief in the value of family meals and the wonderful way Sunday Suppers teaches families how to access healthier foods.
What are some other ways b.good supports local organizations?
JO: We support our community partners, like Sunday Suppers, in all of our b.good markets. In addition to the good we do via our b.good app, we host "Community Partner Days" at our locations across the country where five percent of all proceeds are donated to local organizations to further their missions, as well as other local promotions and programming. Although each organization has their own individual mission, they all focus on bettering their community in some way whether it is through combating food justice or encouraging residents to volunteer.
What other ways does b.good give back to the Philadelphia-area community?
DL: We support our Philadelphia-area community throughout the year by using our restaurant for benefit nights, donating caterings and use of our food truck for charity events, providing gift cards and attending school and company health and wellness fairs.
Published (and copyrighted) in Suburban Life Magazine, August, 2017.
For more info on Suburban Life Magazine, click here.
To subscribe to Suburban Life Magazine, click here.
To advertise in Suburban Life Magazine, click here.