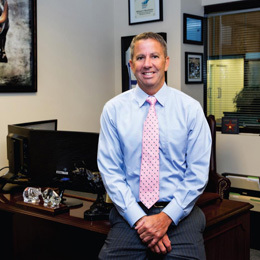 High Interest
August 2017
Aside from his job as a financial advisor at The Manchester Group of Janney Montgomery Scott LLC, there are a few things about William Manchester that are certain. His day commences at 4:30 a.m. and only finishes once he has exhausted the likes of his extensive, yet routine to-do list; that a morale of honesty and trust are the foundations of his business and personal interactions; and that Manchester has a limitless hunger in the pursuit of what sets his—and his clients'—souls on fire.
"I don't just sit back and not react," he says regarding his numerous involvements in client-based interests and organizations. "I do anything and everything I can to make an impact and help as much as I can. But at the same time, I don't consider myself or want to be seen as some swooping hero," he laughs. "It's my client-first mentality, and when I come across [the interests] of my clients, I get involved. It's about building the relationship with the client. Honesty and trust are key."
Manchester takes these client relationships seriously—on both building and managing investment portfolios and financial plans—and also on developing personal relationships intended to last a lifetime. When a client recently presented an organization to him, as always, Manchester did not walk—but ran at the opportunity to make an impact yet again.
Suburban Life/Philadelphia Life sat down and spoke with Manchester to hear more about his latest involvement in Living Beyond Breast Cancer and his unceasing dedication to clientele.
How did you get involved with this particular organization?
Like many of my other involvements, I became involved in this organization through a client of mine. I've been the president of Hunter Soccer Club and she's been on the board with me of the Hunter Soccer Club for about three years. In doing that, we've gotten to know each other. It was through the Hunter Soccer Club she became a client of mine [at Janney]. As I do with all of my clients, I really take the time to sit down with them and get to know them, and during that time I was getting to know her, I came across her experience with breast cancer. Recently, she came to me with this foundation called Living Beyond Breast Cancer, and I had a friend who had breast cancer, so naturally I wanted to get more involved with this organization.
How has your time working and fundraising for this foundation been thus far?
It's been great. Chestina Dowgiewicz—a client and friend of mine—and I are both now reaching for the same goal of making an impact on others and raising money for the organization. I've been invited to several of the events the foundation hosts as well. We've also had the opportunity to be able to do some sponsorships through the Hunter Soccer Club and other organizations.
Does the foundation have any notable events coming up?
One of the largest events of the year is right around the corner. The Butterfly Ball will be held in November.
What are some of the ways the foundation raises awareness?
Visiting the website, LBBC.org, provides information about the events, tickets and purchasing sponsorships.
You have an outstanding business philosophy which has in part, made you the success you are today. How have your business practices helped with your outside involvements, such as Living Beyond Breast Cancer?
Being involved in these organizations and my job have worked almost hand in hand, because a lot of my clients come to me with organizations or things they're involved in, and I enjoy getting involved, too. In the past, what got me involved with the Hunter Soccer Club was my children [when they were] playing soccer, and a few clients that got me involved in volunteering with the program and helping out. Now I'm on my eighth year on the board of the Hunter Soccer Club. With this foundation, it was sort of the same thing. When you do portfolio reviews, business plans and financial plans, you're delving into a client's personal life, and tend to hear more and more from them as they open up to you. You get to know your client and build that relationship through trust— because they're trusting everything with you. Over the years once you build that bond, you then, tend to get more involved. I find it great that I get to sit down with a client, and not only work with them on building their future, but also that I get to discover some of the things I love to do.
One final question: Are you still arriving at the office by 5:30 a.m.?
I may still be coming into the office early (laughs), but honestly, I spend most of my time out on the street driving to and visiting my clients more than I am in the office. My phone in my office really never rings—it's always my cell phone. I'm constantly available 24/7 to my clients, and constantly connected to and in front of them. I always say to put everything on the table, and I believe I do just that.
THE MANCHESTER GROUP
OF JANNEY MONTGOMERY
SCOTT LLC
150 N. Radnor Chester Road
Suite B100 | Radnor, Pa.
(610) 254-1118
WilliamTManchester.com
Published (and copyrighted) in Suburban Life Magazine, August, 2017.
.
.
.