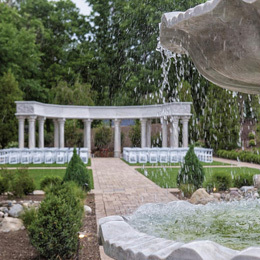 A Vibrant Venue
August 2017
When you get married, your wedding is a reflection of who you and your partner are. That might sound cliché, but your wedding is the first chance you get to present yourselves to your friends and family as a couple and oftentimes it will be one of their biggest memories of the two of you. So when searching for a wedding venue, you want to select the one that is most "you." And oftentimes, the venue is the champion for your special day.
If you're a couple who is one with nature, enjoys outside activities or even just prefers the fresh air, you want a wedding venue that can incorporate your favorite feature: the outdoors. Lucky for you, The Waterfall in Claymont, Del. can bring all of your wedding day dreams to life.
The Waterfall's outdoor space boasts everything from water to fire. Brides who are looking for that outdoor element to add to their wedding will not be disappointed when they step foot into the vast gardens at The Waterfall, equipped with enough space to sit 500 guests. A flowing river starts at the top of the ceremony site then trickles down to the base underneath a walking bridge. The venue even boasts three fire pits in different areas of the garden that can be lit once the sun sets to make an evening wedding all the more enchanting.
"The large appeal to our outdoor garden is the countless areas for breathtaking photos," explains Nicole Allison, event specialist. "We have fire as well as water elements that create a serene atmosphere. We can do daytime ceremonies as well as the candle-lit evening ceremonies which is appealing to a lot of brides."
Once the couple has said "I do," their party will move to a cocktail hour in a designated room right off of the outdoor ceremony site. This gives the bride and groom a chance to mingle with their guests before the real celebration starts.
Brides will get to choose from one of two elegant ballrooms for their receptions:
Grand Ballroom: "A modern masterpiece," the ballroom features 14-foot ceilings complete with Roman Corinthian marble columns, crystal chandeliers and a whopping 1,100-square-foot marble dance floor for your guests to enjoy. Perfect for special events fit for 100 to 500 guests, this ballroom—boasting with gold accents and giving off a regal vibe— also has access to the Grand Ballroom Patio to give guests a chance to roam outdoors near their waterfall.
Cascade Ballroom: Known as "The Crown Jewel," this ballroom has custom-arched French doors opening up into the 14-foot ceiling room with a hand carved marble oval dance floor. Giving brides more silver accented tones with this room, the ceiling has draped accents to boot. Accommodating up to 300 guests, this ballroom gives guests access to the entire back half of the building, including The Waterfall's enchanting gardens.
"In both ballrooms we have custom builtin uplighting that we can change to the clients' color of choice that definitely helps with their décor," says Allison. "We also have intelligent lighting for both ballroom dance floors. We can do a spotlight for the couple's first dance or we have some fun party lights as well. So if anyone is up and dancing regardless of the event, we can flip those lights on and it allows the DJ not to worry about bringing any if they don't want to."
And if you think The Waterfall is just a venue, you'd be highly mistaken.
"We always mention that the wedding couple will have a team working with them throughout the evening. Not only do they have the eyes and hands of their event specialist that they've been working throughout the process with, the day of their wedding they are going to have a bridal attendant who will be one of the first faces they meet," Allison explains. "They are there to make things easier. While the bridal party is taking pictures they are there to bring out food and beverages, they can help the bride bustle her dress, lend a bobby pin, anything of that nature."
The party will even have a maître d' to host the evening and to be sure the agreed upon timeline is being followed. They answer any questions that guests might have so the bride and groom can enjoy their evening with no worries. In addition, there is a captain of the party's exclusive wait staff to be sure food and service is being dished out as planned.
And while the venue and service is always a huge part of any special event, the other large piece of the puzzle is food. At The Waterfall, they provide all of the in-house catering and beverages as well. Executive chef Neil Kantner is poised in global cuisines like Asian, Italian and German dishes. Having trained at the Culinary Institute of America in Hyde Park, N.Y., the chef works with the rest of the staff at The Waterfall to make sure the special event is everything the client hopes for. In the past he has illustrated Jamaican cuisine, Louisiana Creole cooking and even a 100 percent gluten-free wedding party.
In addition to providing all of the linens, tables and Chiavari chairs in the ballrooms at no addition upgrade cost; The Waterfall goes a step further with their preferred vendor list. Including a range of DJs, bands, florists and even local hotel accommodations, Allison says the venue gives their list to clients upon the first meeting.
"Our preferred vendors are preferred for a few reasons," Allison states. "They are really easy to contact from the start as well as throughout the whole planning process, they're reliable, they are always on time, and the main reason is they put out the best product in our eyes."
While The Waterfall seems perfect for the wedding of our dreams, they don't stray from other types of events "A majority of our events are going to be wedding-based, but we do anything from church events, retirement parties, bat mitzvahs, birthday parties, baby showers—you name it and we do it," says Allison. "We make it really easy and simple on our clients throughout the planning process so they don't have to bring in too much other than their personal touches that they wish to see on their special days."
THE WATERFALL
3416 Philadelphia Pike
Claymont, Del.
(302) 792-2600
WaterfallBanquets.com
Published (and copyrighted) in Suburban Life Magazine, August, 2017.
For more info on Suburban Life Magazine, click here.
To subscribe to Suburban Life Magazine, click here.
To advertise in Suburban Life Magazine, click here.