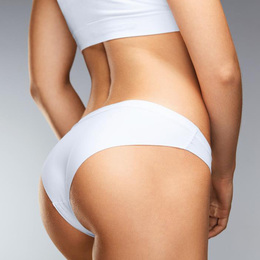 Bottom's Up
August 2017
One of the most requested and fastest growing plastic surgery procedures in the United States has been gluteal augmentation, more commonly known as the "Brazilian Butt Lift." Both men and women, of all ages and demographics, have been flocking to their plastic surgeons seeking consultations to review their options on how to improve upon the balance of their figure. In fact, according to the American Society of Plastic Surgeons, buttock augmentation has risen 26 percent in the last year alone, and continues to be desired as much as more commonly known procedures such as breast augmentation and "tummy tucks."
What is involved with the process of enhancing your shape? First, the journey begins by having a consultation with a skilled and well-trained surgeon in the field of body and gluteal contouring, such as Dr. Michael Shafran of Bucks County Plastic Surgery and Dermatology. By having that personalized conversation, he gains a 360 degree perspective specific to your body type and aesthetic goals, to ensure you will have a result that you will be thrilled with. During the surgery, he combines liposuction with fat grafting; removing fat from unwanted areas such as the abdomen, thighs, and upper back "bra rolls," and then places it into the buttocks.
"My patients that undergo this procedure are always ecstatic with their outcomes," explains Dr. Shafran. "That's because they have met two of their body goals in just one procedure. They not only have a narrower waist and re-contoured torso from the liposuction, but they have a shapelier buttock and hip from the augmentation. Overall, they have a sexier figure, and that has put their self-confidence through the roof."
There have been some other synthetic injectable options offered outside the surgical field, in an attempt to restore minimal volume to the buttocks, but have been met with criticism and poor patient satisfaction. According to Dr. Shafran, "nothing can duplicate or replace the results of a true Brazilian Butt lift. The procedure not only increases the roundness and projection of the buttocks, but also improves the curves and appearance of the body as a whole. Combining liposuction of stubborn fat from areas that patients dislike, and placing it areas such as the buttocks that they want to enhance, is a win-win scenario."
Tatiana Venegas, is Dr. Shafran's Post-Operative Care specialist. Having trained with surgeons in both the U.S. and Latin America, she knows the importance of proper follow up after contouring procedures such as the "Brazilian Butt Lift." "I offer a wide range of therapeutic massages, as well as skin care treatments and diet tips specifically designed for Dr. Shafran's patients." Tatiana goes on to explain. "Our post-operative plan is tailored to each individual, and will increase tissue mobility, reduce swelling and enhance patient comfort." Together, this team effort optimizes the patient's results, and accelerates the healing process.
It is easy to see why gluteal augmentation, the "Brazilian Butt Lift," has skyrocketed in popularity and desirability. Achieving a more lifted, rounder and youthful appearing backside, while simultaneously gaining a slimmer waist and a sculpted, sexy silhouette can be life changing. When performed by a surgeon considered to be a specialist in the field, the outcomes can be phenomenal!
The Art of Dermatology
With skin cancer awareness on the rise, not to mention the advancement of cosmetic treatments and aesthetic technology, the world of dermatology continues to evolve at a rapid pace. While that is certainly exciting news, it illustrates the crucial importance of finding a medical provider with desired credentials who puts the patient's needs first and foremost.
Dr. Ivy DeRosa of Bucks County Plastic Surgery and Dermatology is a board certified dermatologist, and knows firsthand why seeing a trained professional is paramount. Too often, she has seen patients being led in the wrong direction.
"Unfortunately, because of the growing aesthetic aspect of dermatology, a lot of 'med spas' will advertise dermatology— which can be cosmetic and medical—as a specialty. This often misleads patients who do not know the difference or importance of seeing a board certified dermatologist versus a medical practitioner in a different field.
"I routinely have patients come to see me that have been misdiagnosed, left with issues that should have been taken care of urgently, or have been placed on wrong medications," she continues. "This is extremely frustrating to me and the patient as well."
One such example Dr. DeRosa points to is a young female patient of hers. The young woman is being treated for severe scarring across her body, the result of an aggressive procedure, removing 20 moles - —none of which were medically necessary, according to DeRosa. Unfortunately, this is an issue that has become more commonplace in recent times, further stressing the need to do some homework on a provider before agreeing to any type of procedure.
Luckily, this issue of false advertising in dermatology is being brought to the attention of the American Academy of Dermatology, which will hopefully result in more education of the public and harsher outcomes for those who violate their trust.
Aside from being passionate about protecting patients from improper care, Dr. DeRosa was drawn to pursue her training in dermatology because of how diverse the specialty is. "In any given morning I may see a teenage girl with acne, an older man with skin cancer and then someone who wants a more youthful glow," she says.
That diversity in her day-to-day interactions coupled with the mixing of medical, surgical and cosmetic aspects of the field is rewarding and forces Dr. DeRosa to stay on top of the latest trends and techniques so she can provide patients with topnotch care.
"It really takes finesse to know what a patient's skin type is, what their skin needs are and how best to deliver it," DeRosa says. "[For example] a 14-year-old boy with acne is not the same as a 45-year-old female in terms of treatment."
Another passion of her profession is having the opportunity to educate her cosmetic patients. DeRosa loves discussing and customizing their skin regimens, advising them on the best techniques that will not only make them comfortable, but have them leave her office looking refreshed as if they just returned from a relaxing vacation.
Dr. DeRosa's proven credentials, passion for the job and ultimate desire to have her patients looking and feeling their best are what helps separate Bucks County Plastic Surgery and Dermatology from the pack.
BUCKS COUNTY PLASTIC
SURGERY AND DERMATOLOGY
104 Pheasant Run
Suite 123
(215) 702-8600
Published (and copyrighted) in Suburban Life Magazine, August, 2017.
.
.
.