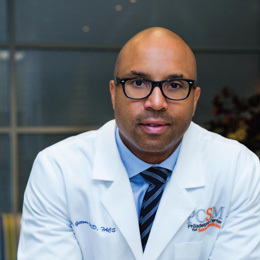 Restoring Intimacy and Function
August 2017
For most men and women, addressing their sexual medical concerns is not exactly something they look forward to. It can be the complete opposite—embarrassing and difficult to discuss due to the stress and anxiety it has caused in their personal lives and relationships. Luckily, there is one place where patients can feel at ease and be given numerous treatment options to overcome their obstacles—the Centers for Sexual Medicine founded by Dr. Paul Gittens.
Dr. Gittens—one of the leading sexual medicine physicians in the country—is a board certified urologist and clinical associate professor in OBGYN and fellowship trained in sexual/hormonal medicine and microsurgery. He was previously the director of Sexual medicine and male infertility at Einstein School of Medicine in New York City. He specializes in the treatment of sexual dysfunction for men and women and is a specialist in male and female hormone replacement and male infertility. He was voted as a top doctor in the Philadelphia area in 2016 and 2017.
Suburban Life/Philadelphia Life spoke with Dr. Gittens about why he chose this field, the technological advanced treatments he offers, and his passion for transforming his patients' lives and having them feel more confident in their intimate relationships.
What drew you to the field of sexual medicine?
Dr. Paul Gittens: I enjoyed all aspects of medicine, but I understood that there were a number of voids in how we care for our patients. These areas were male and female sexual dysfunction, male infertility and sexual wellness after cancer therapy.
What common conditions do you treat men for, and what technological advanced services do you offer?
PG:We treat every sexual problem in men from ages 18 to 90. Many of our male patients suffer from erectile dysfunction, ejaculatory problems, low testosterone, Peyronie's disease or chronic testicular pain and infertility. For men with erectile dysfunction, I focus on treating the disease and not putting a band aid on the symptoms. We attempt to get men back as close as possible to their natural erections. When treating low testosterone, we also focus on correcting reversible causes of the illness and provide therapies to either replace testosterone or treatments that will increase natural testosterone levels without the use of testosterone.
Corewave Therapy™ is a revolutionary treatment that we offer for men who want to regain their erectile function. This therapy rehabilitates the erectile tissue. It's a state-of-the-art technology that uses acoustic waves to regenerate the penis by causing new blood vessel formation and increasing nitric oxide. The therapy treats the core cause of ED, allowing men to have a more natural erection with no surgery or downtime.
What common conditions do you treat women for, and what technological advanced services do you offer?
PG: Approximately 40 million women in the United States experience some form of sexual dysfunction. Many women I see in my office have been told that their sexual function is due to age and they should deal with it, read a book or watch something exciting. That is not an acceptable answer. We treat women for sexual dysfunction from their late teenage years into the later decades of life. We offer many treatments for women, including those who have problems with orgasms, arousal problems, hormone replacement needs after menopause therapy and pain with [sexual] intercourse. We also treat women who have recently gone through breast cancer therapy. The MonaLisa Touch™ Laser is a painless treatment for vaginal rejuvenation that decreases pain during intercourse, increases lubrication and improves overall vaginal health and comfort. I recently presented our research and specialized technique at the American Urological Association, which examined breast cancer patients and women that were post-menopausal, and the results were outstanding. The laser has revolutionized how I treat vaginal health for women without the use of hormones. We use alone or in combination with a number of traditional or regenerative therapies to help sexual function.
Can you go into more detail about your treatment for women who have problems with intercourse after menopause and your Sexual Health After Breast Cancer Program?
PG: As many as forty-five percent of postmenopausal women find intercourse painful and even more have other types of sexual problems. We provide care for these women by either using non-hormonal or hormonal methods to assist them in their intimacy goals. The majority of women undergoing breast cancer therapy also have some form of sexual dysfunction. After chemotherapy, women may go through a premature menopause, which can lead to poor vaginal health and low desire. After their breast cancer has gone into remission, many of these women want a feeling of normalcy with their partners. We provide therapy to assist these women in their goals by using a number of non-hormonal methods.
How common is male infertility?
PG: Oftentimes men are overlooked when it comes to fertility problems. Men contribute to about 50 percent of couples having difficulties conceiving. I attempt to find the answers for these men. I either correct the cause by increasing their sperm counts or by using specialized surgical techniques to retrieve sperm for IVF. I am fortunate to have been able to contribute to the formation of many families in the Philadelphia and New York area.
What are other aspects of treating sexual dysfunction are important?
PG: Listening to patients is the most important. By listening to patients you realize that many patients feel defeated, have low self-confidence or feel that they have lost their power in their relationship because of their sexual dysfunction. For some, this causes relationship problems or may prevent them from starting a new relationship. For me, it's about correcting the problem and helping to solve these other issues.
What separates your practice from others, and how do you approach your patients over this sensitive topic?
PG: One of the advantages I have in my practice is we spend a lot of time with our patients—an hour and sometimes more for our first visit. Both of my offices are patient centered from the time the original call is made, to the first and last appointment. We make it easy, personable and comfortable. I also provide the most advanced treatments available for sexual dysfunction and hormone replacement therapies. We are efficient and we get great results. Oftentimes my patients have already been seen by multiple physicians in this area and around the country and I am their last and only hope. I think outside the box to get success. Along with everyday citizens, we treat many physicians, public officials and professional athletes; no one is beyond sexual dysfunction.
It seems like you are extremely passionate about your profession and making a difference in patients' lives. What drives you to get your patients the results they desire?
PG: I am fortunate to truly love what I do and I hope the passion I have for my field is reflected onto my patients. I feel like am providing an unmet need for these patients in an environment where they feel comfortable and they can truly express themselves. I like to think of my offices as safe places… I am laid back in my office, but I'm very serious when it comes to realistically solving the problems of my patients. I wholeheartedly care about their outcomes and believe we are providing some of the best care in the states.
CENTERS FOR SEXUAL MEDICINE
2 Bala Plaza |Bala Cynwyd, Pa. |(610) 668-8300
23 E. 79th St. | New York, Ny. | (917) 924-4445
DrGittens.com
Published (and copyrighted) in Suburban Life Magazine, August, 2017.
.
.
.