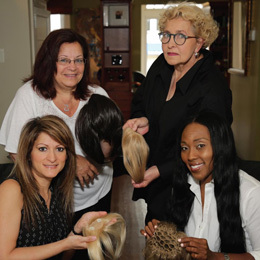 The Root of the Problem
August 2017
Images Hair Studio is a salon experience truly quite like no other. When one generally thinks of a hair salon, they tend to think of lavish pampering, meticulously crafted highlights, and a fresh, sleek cut. But for Salon Owner Gloria Harrelson, she took it upon herself to originate a salon devoted to serving women—and men—struggling with something more common than most know: hair loss.
"I originally started Images Hair Studio because I do have a personal connection to hair loss," she explains, "and it is more common today than one would assume for a variety of reasons."
Images Hair Studio is a full-service hair salon located in Jenkintown, Pa., and offers a breadth of restoration services devoted to the replenishing of hair loss in men and women of all ages, in addition to free 15- minute consultations for new clientele. Harrelson says Images Hair Studio provides a plethora of customized options to treat hair loss, far more successful than the traditional days of wigs and hairpieces.
"When people start to lose their hair, so often they think, 'Oh my goodness, I need a wig'—but they really don't," she says. "There are so many wonderful and better hair systems we offer that can create a more natural appearance."
One widely used method Harrelson mentions is bonding, or attaching a hair system with an adhesive. With this method, clients can swim, shower, go to the gym and do daily rigorous activities, without worrying about the hassle of wearing a wig or other hairpieces.
"Clients do have to see me once a month for touch ups, but you can leave this on indefinitely," she adds.
Another particular method which happens to be Images Hair Studio's most notable and successful hair restoration techniques remains in laser hair restoration. Through the strength of 175 pure LED lights, necessary blood supply is returned to the scalp in the ultimate goal of stimulating hair growth. Though Harrelson says this particular method isn't always successful among every client she encounters, the results for those who are regularly treated with the machine are truly astonishing.
"Your head is the last part of the human body to get blood supply, so the cold laser brings that blood supply back to the scalp and encourages hair growth," she states. "I've seen really great results.
"After three months, if we don't see any hair growth, we don't even allow the client to continue, because it's a waste of time and money at that point," Harrelson adds. "I have some clients who are doing [laser hair restoration] for the third year, because as soon as they stop, they tend to begin shedding…if this system doesn't regrow a lot of hair for you, then what it does is stops you from losing hair, which is really advantageous."
Fortunately for those few who have not had much success with laser hair restoration, Images Hair Studio offers "Tech Hair," a service entirely unique to this side of the East Coast through technician and salon specialist Sue Drain. A system implemented from Germany requiring much attention to detail, ties three to four strands of hair on to one single strand at the scalp—though Harrelson says this method is not to be confused with regular hair extensions. Despite being a tedious and arguably tiresome process roughly taking two hours to complete, clients can expect to achieve hair volume up to 400 percent thicker.
"They can maintain this as often as they want, too," Harrelson explains. "We have some clients who are completely addicted to this method and are in here every month for an hour getting more added, and then there are some who only come in about three to four times a year. It really all depends on how fast your hair grows, because it's that one little knot that's growing away from your scalp." Harrelson also mentions one of the salon stylists, Daphne, who specializes in highend super extensions, along with hair and scalp health treatments.
Although women constitute the majority of Harrelson's salon clientele, she frequently treats men—both younger and older—as well. For men genetically suffering from male pattern baldness, Harrelson and her team of specialists provide "Transitionals"— a method also unique to Images Hair Studio, replacing the traditional needs for a toupee or hairpiece.
"This is really a means of hair restoration particularly for men," Harrelson states. "They're going to be a hairpiece wearer simply because their hair isn't going to grow back. If you have a little bald spot on your crown or your hairline is receding, you can't just show up the next day to work with a full head of hair. This method adds a gradual 25 percent more hair than what you have now—you wear this for four to five months, and then get another Transitional with even 25 percent more hair later."
Those curious as to the safety and effectiveness of each system can be rest assured that all methods and treatments are 100 percent safe and FDA approved—including, Harrelson says, the laser hair machine.
"Surely there are over-the-counter products such as Rogaine and Propecia that you're supposed to rub on, but many women don't end up liking them because the formulas are greasy and they end up having to wash their hair everyday more than once," Harrelson says. "This is where laser hair restoration has the advantage, because a laser session is only 25 minutes and only a twice a week commitment, with at least one day in between treatment."
Harrelson draws a cultural comparison between European versus American routine skincare, explaining how European culture tends to get to the root cause of skin problems rather than notoriously covering it up with cosmetic product. In other words, a common misconception among young men and women is waiting until a problem arises before treatment—but Harrelson says it's never too early to be proactive about hair loss.
"As soon as you start to notice any signs of hair loss, do something about it," she says. "Don't wait until you have a dome-sized bald spot—because the next day, you can't suddenly have an entire patch of hair there. You're aware of what's in your brush and what's in your drain. The sooner you begin treating the problem, the better you'll be in the end."
Harrelson is a true artist in more ways than one. Aside from her eclectic contemporary works of painted canvases, wood sculptures and wire work residing in the confines of her artist studio in the Philadelphia suburbs, she creates art everyday with her ability to restore hair and confidence among her once heartbroken clientele.
"It's so hard for women especially," she says, "because I see them and how they don't want to sit under bright lights or have their photos taken—but I also am fortunate enough to see the other side of it, too, after they've done something about [hair loss] … They really start to blossom. Their clothing changes, their lifestyle changes—psychologically, it's amazing how these [restoration services] affect women.
"More importantly, we have a sense of camaraderie in the salon," she continues. "Most of the people who come in are generally in the same boat … We're filling a need and changing lives."
Images Hair Studio
122 Old York Rd
Jenkintown, Pa.
(215) 887-2284
ImagesHairStudio.com
Published (and copyrighted) in Suburban Life Magazine, August, 2017.
.
.
.