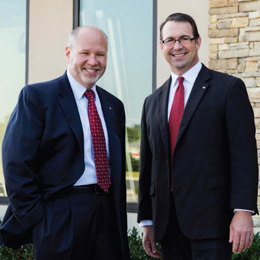 Your Community Bank
August 2017
With 19 branches serving Berks, Delaware, Montgomery, Philadelphia and Schuylkill counties, the bank is expanding and opening its newest branch in the growing Centre Square Commons complex in Blue Bell on September 7. As Tompkins VIST Bank grows and expands, its mission is still the same it was when it was established more than 100 years ago—to provide long-term value and earn the trust of the clients and communities they serve through local decision-making and individual attention to each customer's needs.
"Tompkins VIST Bank combines the full range of products and services of much larger banks with a community bank feel and touch," says James Whitton, SVP and commercial lending manager. "We believe this approach is valued. We've heard from customers that we are more economical than many of our competitors as well as more efficient. What that means to me is that customers don't have to sacrifice quality and service for price. In addition, we don't use a 'one size fits all' approach. Instead of focusing on the metrics of lending, we treat each business customer as unique, and want to support the communities in which we all operate."
The new Centre Square Commons branch in Blue Bell is approximately 2,500 square feet and has a drive-up and ATM, as well as another standalone ATM available in the shopping square. This follows the bank's successful 2016 branch openings in Boyertown and Pottstown, after Tompkins VIST Bank noticed a number of Philadelphia-area banks merging, which they knew would result in a gap in community banking.
The new offices are growing beyond expectations as new customers are switching over to Tompkins VIST Bank. "We believe this success validates our customer approach," Whitton says, "and our new Centre Square Commons office will allow us to enhance our services to consumers, the retail community, and businesses in the Blue Bell area."
Scott Stimson, vice president and manager of the new branch, believes the bank is an excellent fit for the complex. "Centre Square Commons has a town center feel that fits right in with our bank's community-focused approach," he says. "Residents will be able to enjoy great places to eat, shop and bank in one convenient location."
Choosing to open a branch in Blue Bell was virtually a no-brainer. Tompkins VIST Bank has long been part of the Blue Bell community through its corporate office on Sentry Parkway. The location houses the bank's commercial lending group, as well as offices of Tompkins Insurance and Tompkins Financial Advisors. A retail branch also previously located at Sentry Parkway is being consolidated into the new Centre Square Commons location. Having all three entities operating in the same town helps Tompkins build more relationships with its customers.
"Tompkins has an initiative called Power of Partnership that encourages collaboration among the banking, insurance and wealth management groups to serve the needs of our customers," says Jim Turner, SVP of Tompkins Insurance. "This approach has been very successful, particularly in the Blue Bell area."
Whitton says the bank is known for its senior staff getting to know customers. "For example, our CEO Scott Gruber and our Chief Lending Officer Gary Moyer often have face-to-face meetings with prospects and clients," he says. "This direct involvement by bank leaders helps to speed the turnaround process on loans and other services."
Tompkins VIST Bank provides a complete line of deposit, loan, and cash management services. In addition to serving consumers, they focus on small businesses, which they serve through a wide range of online and branch capabilities—including small business and commercial loans and cash management services such as remote deposit capture. They also offer the latest technology with mobile and online banking, and a service called "Lighting Loans," which was launched earlier this year.
"It's a streamlined online application process that allows customers to quickly apply for an affordable business loan and receive a decision in days or sooner," Whitton says. "The online capability means borrowers can apply for a loan wherever they are, whenever they need it, without having to come into the bank."
As a local bank, one of Tompkins main priorities is giving back to the community. Some of the area organizations it supports are the support include the Whitpain Police Association, Plymouth Meeting Girl Scouts and the Montgomery County Development Corporation. Additionally, employees devoted 7,700 hours of community services and fundraising activities for area nonprofits last year."
Since our employees live and work in the communities we serve, we know the needs of local organizations," Stimson says. "We support hundreds of economic, arts, education and healthrelated organizations."
One business Tompkins recently donated funds to is the Centre Square Fire Company. They are currently building a state-of-the-art station that will include improved training facilities, meeting space, bunk rooms and a fitness room. The total new cost is $4.5 million, and Fire Chief Lee Miller says Tompkins VIST Bank's contribution is an enormous help in making this much needed new station become a reality, and a perfect example of Tompkins willingness to help out the community in any way they can.
"We've been banking with them for a little over a year now, and they are a great local bank," Miller says. "They have been really good to work with and our treasurer speaks highly of them. …They [Tompkins] reached out wanting to partner with us to help with the new building, and it's nice when local businesses reach out to you."
Stimson is equally complimentary. "We're pleased to have strong relationships with the local fire company and police association and look forward to seeing them grow in the future," he says, "and we're thrilled to be part of Centre Square Commons and the great things it will bring to this area. When our customers and communities are strong, we all benefit."
TOMPKINS VIST BANK
998 DeKalb Pike
Blue Bell, Pa.
(610) 279-1991
VISTBank.com
Published (and copyrighted) in Suburban Life Magazine, August, 2017.
.
.
.