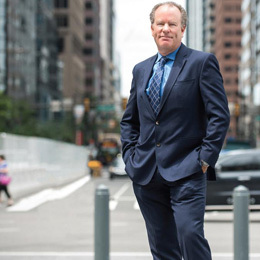 Fighting for the Working Class
August 2017
Workplace injuries happen all the time and in many different settings, oftentimes when you least expect it. While most people probably picture slip-and-fall accidents or back injuries from lifting as the most common workers' compensation claims—and they certainly are common workplace injuries—work-related injuries can happen anytime and in various ways. The truth is that anyone who is injured while at work, no matter whose fault it is, is entitled to wage loss benefits and appropriate medical care. But Attorney Richard A. Jaffe says that too often injured workers are mistreated and given bad advice by their employers that steers them in the wrong direction.
Attorney Jaffe, who started the Law Offices of Richard A. Jaffe LLC, 23 years ago, has seen a lot of different cases—from workers who were injured driving a company vehicle; those who have developed occupational asthma, who have had heart attacks, or who even developed carpal tunnel syndrome from a cumulative repetitive trauma like excessive typing. Many of his clients—approximately 10 percent have been nurses or nursing assistants injured on the job (such as lifting a patient).
One of Jaffe's more memorable cases involved a woman who had placed a screwdriver on top of a television set, which slid off and blinded her in one eye. She was unrepresented and living out of state when she called Jaffe—the night before her settlement was to be approved in court. After speaking with Jaffe and retaining his services, he helped her to get 10 times the amount of money the workers compensation carrier was pushing her to accept.
Unfortunately, Jaffe says that most people who are injured at work are worried about losing their job and never seek legal advice, and are often taken advantage of as a result. Jaffe explains that the first thing that someone needs to do after a workplace injury is inform their employer about their injury; the second is to seek appropriate medical care as soon as practicable, and the third is to contact a certified specialist in Pennsylvania workers' compensation law. The latter is a certification that Jaffe was one of the first in the region to be awarded in 2013. While many attorneys may dabble with workers' compensation issues, Jaffe can truly say he specializes in this complex area of law as a result of receiving this certification.
"We often see folks who were not getting the medical care they really needed since they were unrepresented and received poor advice from their employer," Jaffe says. "Most 'company doctors' are more concerned with getting injured workers back to work, rather than getting them healthy. If they don't order an MRI or an X-ray that they really should have, that can lead to further injury or longer disability down the road. It's so important that you get the right medical care you really need, when you need it."
The Law Offices of Richard A. Jaffe, LLC prides itself on making sure that their clients get the proper medical treatment they deserve so they can get better and go back to work on their own terms, not the workers compensation carriers.
"If they are unable to get back to work in their previous occupation, we will negotiate a lump sum settlement on their behalf," Jaffe adds.
As someone who spent his young professional years in various manual labor positions, Jaffe has a real heart for the working class. He has worked as a construction worker, elevator operator, maintenance man in an apartment building, taxi cab driver and even as a soda vendor at Veterans Stadium. He knows it's hard—often unappreciated— work. When he decided to pursue a career in law, he decided to help out the working man (and woman).
After graduating from The University of Pennsylvania and then Tulane University Law School, Jaffe spent eight years working for a prominent Center City insurance defense firm. He says that even then he gravitated toward helping injured workers and eventually determined he was much more passionate about helping the working class than representing big insurance firms. The experience of working for the insurance companies, however, has been invaluable when representing injured workers. With more than 31 years of total experience and more than 1,000 cases under his belt, Jaffe remains as passionate about helping workers today as he was when he first started out.
While a lot of people come to Jaffe knowing they want help, but are concerned about covering costs, it is good to know he only works on a contingency basis. That means that all consultations are free and the client is charged nothing—unless he wins their case.
Clients are also pleased to learn that when you work with the Law Offices of Richard A. Jaffe LLC, Attorney Jaffe will personally handle your case from beginning to end. Although he initially hired some associates to help him out, he found that clients didn't want their case handed off to someone else— they hired his law firm to work with him. While most other law firms pass their workers compensation cases off to young associates, Jaffe says he remains the sole attorney of the law firm.
"If you hire me, you get only me," he says. "I'll be at all the depositions and all the court hearings. Some people are surprised to get that kind of personalized service these days, but it is commonplace at our firm, where you will never be treated like a number."
When Jaffe isn't busy fighting for the working man, he's fighting for other charitable causes he believes in. Having lost a mother to colon cancer, he has become involved with raising money for the American Cancer Society (ACS), including participating in the last eight ACS Bike-a-Thons.
In his spare time, he's spending time with his beautiful wife of 17 years, Kate, and their two daughters Brianna and Jolie. They love to travel or spend time at their Shore house in Cape May Point. This summer they will be attending the Fringe Festival in Edinburgh, Scotland where Brianna will be preforming with her high school theater group. He is also part of the West Chester Cycling Club, where he enjoys fitting in 40- or 50- mile bike rides when he can.
But most of all, it's his work that he is passionate about.
"Representing the working man—and woman—is something I've always felt strongly about," Jaffe says. "We understand that work injuries affect not only the injured worker but also their families. People work very hard for the companies they're employed by and when something goes wrong, the whole family suffers. We make sure the bread winner gets all the wage loss benefits and medical treatment they need to get back on their feet. Entire families shouldn't be torn apart because one parent got hurt at work, and the insurance carrier denied their claim. We will aggressively fight for our clients, no matter how big or small the case, to make sure they get all the benefits they deserve."
LAW OFFICES OF
RICHARD A JAFFE LLC
Two Penn Center, Suite 1922
1500 John F. Kennedy Blvd.
Philadelphia, Pa.
(215) 496-9607
PhillyWorkInjury.com
Published (and copyrighted) in Suburban Life Magazine, August, 2017.
.
.
.