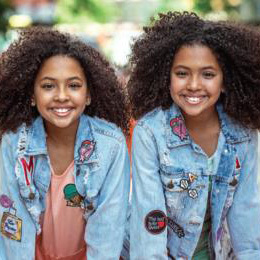 Double the Inspiration
August 2017
Photography Courtesy of Pawel Lukas
ANAIS AND MIRABELLE LEE LEAD A PRETTY NORMAL LIFE as far as 10-year-olds are concerned—at least ones who have amassed over 200,000 Instagram followers. The Philadelphia-born identical twins catapulted into the modeling stratosphere at the young age of 3 and since then, their celebrity has only blossomed.
"We got started by luck," explains Anais and Mirabelle. "We were 3-years-old and a photographer came up to us while we were in the park with our babysitter." After the sisters modeled for the photographer's kids fashion line, Llum, their mother sent their photos to New York modeling agencies and the calls started pouring in.
Soon came print campaigns for advertisers including L'Oreal Paris, Saks Fifth Avenue, Disney and FAO Schwarz, walking in New York Fashion Week and by the age of 5, film and TV appearances became the norm. The twins had a co-starring role in 2013's Blood Ties, playing Zoe Saldana's daughter, in addition to appearances on shows from The Blacklist, Veep, Madam Secretary to The Following, opposite fellow Philadelphian, Kevin Bacon.
Separately, Mirabelle has a regular role on Nickelodeon's pilot Sit and Stay Pet Café, while Anais appeared in comedy skits on Late Night with Stephen Colbert and the NBC Red Nose Day Special's Tracy Morgan's Red Nose Fairy Tale. So how do these 10-year-olds juggle it all, in addition to school and giving back to their community? Suburban Life / Philadelphia Life spoke with the twins on their rare day off to get a glimpse inside their big and inspiring world.
SL/PL: You must get asked this a lot, but what's your favorite part about being identical twins?
Anais and Mirabelle Lee: The best part about being a twin is that we have a built-in best friend. Whenever we are feeling lonely or sad, we have each other [and] when we work together, we have an automatic friend on set. We are able to create things together like dances and synchronize easily, which helped us book commercials like Nickelodeon's Shimmer and Shine and Philadelphia 76ers commercials. There really is no [bad] part to being twins in the industry— we love being twins and couldn't do this without each other.
SL/PL: How do you balance school, charity work, modeling and now acting?
AML: The hardest part about being a model and actress is not being able to go to school every single day. We love school but we have to miss sometimes to be on set. After our go-sees, jobs or auditions, we study for our tests and always keep great grades. Charity is [also] very important to us. Last year, we started an annual Halloween party and invited over 60 of our friends to collect new toys to donate to our favorite charity, The Black Cotton Foundation. The charity raises money and items for underprivileged children in Newark, N.J. … We were able to raise over 150 new toys to donate. Every year in January, we have a big birthday party and raise new clothes, socks and underwear to donate to the children.
SL/PL: What do you both like to do when you're not in school, modeling or acting?
AML: We love social media and spend a lot of time on our Instagram page @AnaisMirabelle thanking people for their nice comments and liking photos. We like to make slime and hang out with our friends at the movies. We make a lot of musical videos and watch YouTube videos like RCLBeauty101. We also love creating hoverboard dance videos. We are always working on fun content for our YouTube channel about fashion, cool hair and beauty.
SL/PL: You worked on a film with Zoe Saldana, how was that experience?
AML: Filming the movie Blood Ties with so many great actors like Zoe Saldana was an amazing experience. We filmed for several weeks and learned a lot and we got to work with the amazing director Guillaume Canet and stars like Mila Kunis and James Caan. It was so cool when Zoe played with us and talked to us between filming scenes. It was also amazing going to the premiere of this movie at the Cannes Film Festival.
SL/PL: What's it like appearing in a film or TV shows?
AML: We always have so much fun when we're on a film or television set. We love to learn and we feel happiest when we're on set acting. Mirabelle's favorite acting job was when she was filming Sit and Stay Pet Café because she got to work with animals and she actually met her best friend on set. Anais' favorite acting job was The Following, where she played the role of actor Michael Ealy's daughter and worked with actor, Kevin Bacon. It was amazing working with these two actors.
SL/PL: You have 200K Instagram followers and you're both 10! How do you wrap your head around that?
AML:We love our fans! We didn't realize that our following was real until we traveled to San Antonio, Texas for the KidFash Fashion Show and fans recognized us. We were in Hollywood recently and while we were on the Walk of Fame, a pair of twins recognized us! We have 209,000 followers [as of press time] and keep our followers engaged by posting beautiful photos, great captions (usually quotes) and interacting with our fans.
SL/PL: Any favorite spots in Philadelphia?
AML: We love everything about Philadelphia. … Our favorite spot is Kelly Drive [because] we love walking or riding bikes there with our parents. We love the Arden Theatre and are frequently there watching great plays. Our go-to spot for eating—especially in the summer—is the Trolley Car Café. We like hanging out on the patio with our dog Emerald, eating waffles and talking modeling/acting shop. We find a lot of peace from the hustle and bustle of the business when we hike in Wissahickon with our parents.
SL/PL: What do you both want to be when you grow up?
AML: Our goal is to be a great all-around entertainer—actor, model, dancer and role models to others. We want to win an award for acting like an Oscar, Golden Globe or Emmy and use our popularity to help others [because] we think helping others is very important. … One day when we are huge actors, we will be able to help even more people.
Published (and copyrighted) in Suburban Life Magazine, August, 2017.
.
.
.