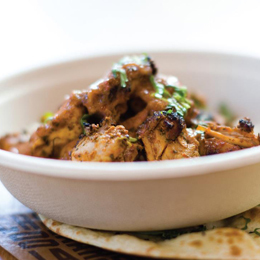 The Choolaah Experience
September 2017
Give the team behind Choolaah Indian BBQ credit for disrupting the culinary landscape. From the "exotically familiar" food on the menu to the comfortably hip interior to the culture that attracts employees driven to excel, the newly opened Choolaah in King of Prussia is unlike any other restaurant concept its guests have previously encountered.
As its creators intended, this "fine casual" restaurant—fine-dining quality in a fast-casual format—puts a decidedly modern spin on a culinary art form with ancient roots. Their goal: to create joyful experiences that "wow" all five senses through "real food with irresistibly craveable flavors." By all counts, they are succeeding.
Co-CEOs Raji Sankar and Randhir Sethi recently brought Choolaah—the first in the Greater Philadelphia Area—to the posh King of Prussia Town Center. There, guests discover an authentic yet approachable experience in a space designed to bring people together. In fact, Choolaah draws its name from the Punjabi phrase sanjha chulha, which translates to "community oven."
Anyone expecting design elements reminiscent of a traditional Indian restaurant are in for a bit of a shock. For inspiration, Choolaah's designers used museums of contemporary art as their muse. More Apple Store than Panera, more Crate & Barrel than Chipotle, Choolaah features a bright, airy interior, with soaring ceilings and soft-toned artisanal wood tables, all complemented by deft splashes of intense color. Fanciful yet sophisticated works of art adorn the walls, courtesy of Chief Creative Officer Jay Nesbitt. Guests can sit at communal tables, if they choose, and peer into the "kitchen as theater," where employees cook almost every menu item in four ornate tandoor ovens behind a floor-to-ceiling wall of glass.
Even small touches aim to impress: a creativity wall where people can fashion poems out of small magnets; or the whimsical signs on the restroom doors; or an automated hand-wash machine—"a Jacuzzi for the hands," as it's called internally— near the communal tables so guests don't have to leave the dining area to wash their hands before mealtime.
Going to Great Lengths
Although guests will certainly find the restaurant's design compelling, Choolaah's food is what truly deserves the headlines. This should come as no surprise considering the amount of research that went into devising the menu and fine-tuning the supply chain. Sethi and his wife, Simran, the company's director of culinary R&D and product management, went to India on a two-year "R&D adventure" to craft the recipes for their then-fledgling concept.
"We go to great lengths to use nothing but premium ingredients: antibiotic-free chicken and lamb; salmon from the Faroe Islands [in the Kingdom of Denmark]; and organic, non-GMO tofu," says Sethi. "We make everything from scratch, and even though some of our dishes take six hours to make, we have the food in the guest's hands within just a few minutes of taking their order."
Just a few of the menu's highlights: BBQ meals starring the tandoor-cooked protein of the guest's choice; chicken or vegetable biryani, which the co-CEOs describe as "an Indian potpie in appearance only"; pav bhaji, a hearty vegetable stew served with a trio of grilled slightly sweet slider-like rolls that some guests have likened to "a Sloppy Joe for vegetarians"; and the amazingly creamy kulfi, an all-natural Indian ice cream available in either mango or malai, the latter of which sings with the brightness of cardamom.
Each dish rings with flavor, not fire. Although intensely flavorful and wonderfully authentic—appealing to devotees and newcomers alike—the dishes are moderately spiced with spice blends imported from India. For those who wish to "spike up" the heat level, fear not; Choolaah's popular condiment station allows guests to dole out freshly made sauces such as Choolaah Lava and Choolaah Fire, as well as diced green chili peppers.
"The food is approachable and authentic," adds Sankar. "We understand that people who are not familiar with Indian food might have some questions, which is why we spend so much time educating the customer in the restaurant, either with signage and technology or by having our employees walk the customer through the ordering process."
Examples of the lengths Choolaah goes to exceed guests' expectations include its paneer— a traditional Indian cheese used in many Indian dishes—and the mangos used as a base for its creamy mango lassis, among other menu items. Choolaah wanted to offer the highest-quality paneer possible, so it partnered with a co-op of Amish cheesemakers in Ohio to craft the paneer according to a proprietary recipe. It also imports Alphonso mangos— considered the "king of mangoes," Sethi says, both in terms of flavor and expense— from a family-owned orchard in India, despite the considerable cost.
A guest following just about any dietary lifestyle will find multiple options at Choolaah, which offers full vegetarian, vegan and dairyfree, gluten-free, and onion- and garlic-free menus. So-called "meat-a-tarians" have plenty of choices, too, ranging from the salmon tikka masala bowl to a Choolaah salad with chicken to a lamb BBQ meal. Kids eat well, too; pizzas made out of Choolaah's tandoor-baked naan are popular favorites. As for prices, a single guest can expect to spend approximately $10 dining at Choolaah.
From Startup to Expansion
Despite Choolaah's seemingly meteoric rise, its creators spent more than a decade perfecting the concept. Sankar and Sethi got their start working in technology startups, where they met. Over time, they formed a shared vision to create a company that could "transform the quality of life of everyone we touch." They formed Wholesome International in 2004, initially as franchisees for the ballyhooed Five Guys Burgers & Fries enterprise.
Although they enjoyed tremendous success with Five Guys—their store count has grown to 20 locations throughout the Pittsburgh and Cleveland markets—Sankar and Sethi kept honing an idea for a concept with unlimited potential: a fast-casual restaurant designed to share the cuisine of their native country in an authentic yet approachable way. Their first Indian-themed foodservice never made it past the business plan, but by 2011 they felt Choolaah's time had come. They opened the first location in Cleveland, and Cleveland Scene magazine quickly dubbed it a "genre-busting eatery."
Fast-forward to 2017: Choolaah now has four locations, including the newly opened King of Prussia site, with a fifth on the way in Pittsburgh. Eventually, the team behind Choolaah expects to introduce new forms of guest engagement, through online ordering, delivery and a smartphone app. For now, though, they are working hard in King of Prussia to become as indispensible as Apple or Google in fast-casual dining—creating "raving fans," as the company mission puts it, by delighting every guest every time, be it in the dining room, takeout or a catered order.
"I could eat at Choolaah for seven days straight, because the food is fresh and healthy, it's flavorful, and there's so much variety," says Sethi. "Our goal is to have other people feel the same way—people who love our food so much they can't wait to come back every day."
Choolaah Indian BBQ
Choolaah.com
King of Prussia Town Center
155 Main Street, Suite 120, King of Prussia
(800) 459-8860
Published (and copyrighted) in Suburban Life Magazine, August, 2017.
.
.
.