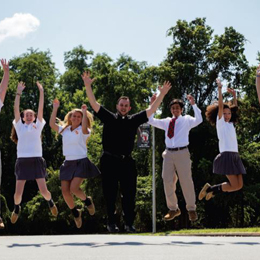 Celebrating 50
September 2017
photography by Jody Robinson
Ideally-situated on Philadelphia's historic Main Line, Archbishop John Carroll High School in Radnor is celebrating 50 years of developing young men and women who excel in the classroom, on stage, on the playing field and in serving others.
To celebrate its half century of service, several events are planned, beginning with Archbishop Charles J. Chaput celebrating the opening Mass on Friday, Sept. 22. Carroll will host the first Hall of Fame induction Saturday, Oct. 7, honoring Barry Kirsch, a beloved teacher, coach and club moderator who has been at Carroll for 50 years. A two-day event in April will showcase the school and its 55-acre campus, including sporting events, a party featuring Chico's Vibe, fireworks, and on Sunday, Apr. 29, at 2 p.m., Bishop Michael J. Fitzgerald, auxiliary to the Archbishop of Philadelphia, will celebrate an outdoor Mass for about 2,000 people on the football field.
In preparation of the 50th anniversary, school president Francis E. Fox (class of 1977), along with a talented team, including board members, Jane Mullany of JMM Consulting, an alumnus of Carroll, developed a strategic plan named CARROLL50, a comprehensive examination of the school that has led to continuous improvement of the students experience and importantly, investment in college preparation.
"Our top priority is making sure we continue to give each student a profound experience in faith formation and our next priority is continuing to improve the variety of academic experiences our students have," Mullany says. "All of that planning and envisioning is still continuing with more plans to roll out in the coming year."
"CARROLLU—the guidance department— plays a key role in preparing our students for their four-year college prep journey," Fox says. "Spiritual development, with a strong focus on academics, are a priority."
Senior Anthony Warnick, Student Council president, Community Service Corps member and Carroll football player, has seen this program work firsthand and feels he is ahead of the pack when it comes to preparing for college.
"Having the opportunity to take AP courses and meet with counselors whenever needed are just some of the ways I will be prepared," he says. "I was able to have multiple college essays finished during my junior year because of the importance our teachers place on the college application process and being able to excel when we get there."
In addition to focusing on academic success and preparation for college, Archbishop Carroll has invested time and money on upgrading their athletic fields, including a $2 million turf baseball field that was completed in collaboration with nearby Cabrini University in March, a brand new all-sod soccer field and upgrades to the football and lacrosse fields.
"While we work tirelessly in academic success proposition, we put a great deal of emphasis on hiring the absolute best coaches possible and provide some of the best facilities in Philadelphia," Fox notes. Archbishop Carroll has evolved over the last 50 years, but the school's mission has stayed the same: "To provide the most enriched Catholic education in supportive, deep, gospel teachings," Fox says.
The biggest change Fox says is keeping up with the latest technology, and new principal Dr. Anchen Schulz is making sure the school and its students are ahead of the times. Carroll recently implemented a 1:1 program where this month, each student was given a free Chromebook to use in the classrooms and at home.
"Much like the face of Philly has changed over the last 50 years, so has Archbishop Carroll," Fox says. "While we still have a diverse student body and great academics, we are changing with the times and offering the best teaching practices available."
For Marita Finley, Archbishop John Carroll High School is her second family. A graduate of the Class of 1986, the last graduating all-girls class before the school transitioned to co-ed, she was one of seven siblings who graduated from the Catholic school and says it was a very positive and enriching experience.
"My time at Archbishop was absolutely wonderful," she says. "Some of my closest friends are the young women I met at Carroll. It gave me incredible friendships and further deepened my love for my faith by being around all these great people. I am grateful for Archbishop until the day I die."
Finley wanted her children to have the same experience, and three of her children graduated from Archbishop Carroll and one is currently a junior.
"Archbishop Carroll is a really diverse place with a lot of different backgrounds, and the school has a real commitment to building up these young kids and a strong appreciation for each other and Catholic faith," she says. "That is so evident at Carroll."
Warnick says what he loves most about Archbishop John Carroll is the people who, like Finley, are a second family to him. "The people at Carroll, whether students or faculty, care so much about the community because Carroll is a home," he says. "Whenever I am at Carroll, I am truly happy because the people around me make it that way."
Archbishop John Carroll High School
211 Matsonford Road
Radnor, Pa.
(610) 688-7610
JCarroll.org