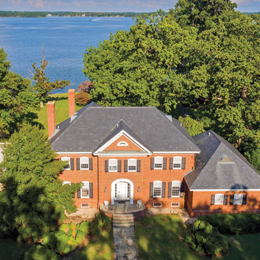 Shore Bet
Meredith Fine Properties
Anyone who has seen the film Wedding Crashers will remember the scenes featuring the sprawling compound with the all white mansion, complete with Greek-inspired columns. Cliff Meredith, owner of Meredith Fine Properties, certainly remembers. After all, he's the one who listed and successfully closed on the sale of that famous multimillion-dollar property.
Meredith, who was ranked No. 16 out of 1.35 million real estate agents in the country by The Wall Street Journal, has helped shape Meredith Fine Properties into a trusted, established name in real estate for more than 30 years. Residents from the Greater Philadelphia Area and beyond turn to the firm for luxurious waterfront estates, farms, second homes and investment properties, particularly along the Eastern Shore of Maryland.
Although Meredith is the firm's namesake, clients have a team of highly skilled, ambitious professionals to walk them through their real estate needs, including Trey Rider, Craig Linthicum and Henner Gibbons-Neff. Since the team's expansion, Meredith has watched his business flourish right along with the Eastern Shore, now known as one of the East Coast's most desirable areas.
We sat down with Meredith and his team to hear more about the firm, the evolving nature of real estate and why, now more than ever, homeowners from the Greater Philadelphia Area are eyeing the Eastern Shore for their second-home retreat.
Tell us about the real estate business and how it has evolved over the years.
Cliff Meredith: The business started in 1980, and today remains branded more as a luxury real estate company. Although our brand generally revolves around high-end homes, we do a lot of sales in other price ranges as well. We're a full-service brokerage firm; we will take listings for small lots, doing everything we can to help every client. Our staff today is very capable in every area across the board, and it has evolved over many years. We've sold properties to a few celebrities and wellknown people in the corporate world. We've developed an exceptionally great client base.
Are there any specific styles of properties you primarily specialize in?
CM: We mainly work with the Eastern Shore in Maryland and waterfront homes and estates. But we also do farms, building lots, commercial office buildings, hotels, bed and breakfasts—we can almost do anything. Anyone who's seen the movie Wedding Crashers has seen the house with the white columns, in the scene where they're playing football in the yard. We listed and sold that house. Two properties currently listed, however, are Presqu'ile and Bruffs Island.
Trey Rider: We all have our niche markets and our own areas of expertise, which allows us to work with all ages and demographics in the marketplace here.
Craig Linthicum: We've sold homes worth anywhere from $100,000 to $7 million. Each one of us has our individual expertise, and I think each of our strengths and knowledge in different areas, from waterfront properties to high-end hunting properties, brings something unique to the marketplace.
What can you tell us about each property?
CM: Presqu'ile originally belonged to Rogers C.B. Morton, congressman and Secretary of the Interior from Maryland. The home was built in 1820, and sits serenely at the end of a lengthy alley of trees, overlooking the east branch of the Wye River with Wye Island, Bruffs Island and Bennett Point. It's about 177 acres total along the Wye River. The home itself is two and a half stories, and on the east and west entrances of the home are the original Doric porches with hip roofs. With a few exceptions, most of the home is the original structure and design, and it has been well maintained.
Bruffs Island is a 40-acre island located at the entrance of the Wye River. The property has sandy beaches with very deep water and broad water views, sunsets and sunrises, which is unusual to find that combination and usually unlikely to find on an island. This house was built in 1888 and has been razed. The property also has high elevation with massive matured trees, a park-like setting and is accessible by a causeway, so you don't have to take a boat to access it.
What are some of the notable aspects of the Eastern Shore?
CM: Water on the Chesapeake is usable— and, by that, I mean you can go sailing, boating, fishing, swimming and waterskiing— whereas the ocean is typically limited to sitting on the beach, unless you plan to go deep-sea fishing. It's a different feel altogether in this area. There are wonderful shops, great restaurants and top-notch medical facilities—we are home to some of the best doctors in the county and pristine medical care. There's always something going on or something to do, without having to travel to Baltimore, Washington, D.C., or New York City for entertainment. St. Michaels even has a museum, which a lot of people visit to learn more about the history of water-related activities.
TR: Aside from being a gorgeous area, a lot of movies have been filmed here, including Silent Falls, Failure to Launch and, most recently, the movie Jackie, which was filmed here at one of the homes we had listed. I think that says a lot about our area.
For those coming from the Greater Philadelphia Area, what advantages does the Eastern Shore have compared to, say, the Jersey Shore?
TR: Our real estate taxes are about 70 percent less than they are in the New Jersey and New York areas, which is a huge draw. Forbes recently wrote an article about the Eastern Shore of Maryland, comparing us with the Hamptons, and saying that residents of New York should travel here instead of traveling to the Hamptons. You can get a lot more for less money.
CL: The commute also is not as bad as it is going to the Hamptons. From South Jersey and the Philadelphia area, it takes a little over two hours.
Given your excellent reputation in the industry, what do you feel ultimately enables Meredith Fine Properties to stand out?
CL: It really comes down to being recognized as having that knowledge in each of our individual areas and developing a trust within the marketplace. The Meredith name is a brand that is clearly recognizable across the Eastern Shore.
CM: My team of guys is the best of the best. They complement what has already been an excellent business, because of their capabilities in diverse areas. We're able to associate and understand the needs in my age group, and even a younger age group, that might be a little different. Because of the diverse background we have collectively as owners, we can talk to anyone on almost any scale dealing with real estate. We are suited to handle their needs and find exactly what they're looking for.
MEREDITH FINE PROPERTIES
101 N. West St., Easton, Md.
(410) 822-2001
MeredithFineProperties.com
Published (and copyrighted) in Suburban Life Magazine, August, 2017.
.
.
.