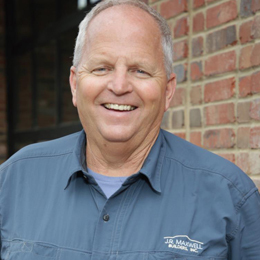 A Tradition of Excellence
J.R. Maxwell Builders
photography by Kim Billingsley
Expertise, professionalism and attention to detail—that's what one should expect with J.R. Maxwell Builders. Whether it's building your dream kitchen or creating a one-of-a-kind outdoor space, their experienced team of builders, carpenters, electricians and masons are known for building custom spaces designed to your exact style and taste.
"We are a full-service builder who specializes in everything from residential to commercial, to custom built-ins, cabinetry and millwork," says co-owner James Maxwell. "We build custom homes, additions, renovations, detached garages, kitchens, bathrooms and more."
A unique aspect of J.R. Maxwell Builders is they have their own mill shop—Mink Run Millwork—located in Bedminster, where they build the highest quality custom cabinetry.
Every project from design to construction involves supervision by Maxwell and his team with at least one member on-site at all times. "We walk through our projects, we see what needs to be done, develop a plan with an architect and we stay involved the entire time to keep the budget in check and make sure the logistics work for the building," Maxwell explains. "Anytime the client needs anything, they can always get in touch with me."
In addition to the entire construction team, at Maxwell's side for every project is his dad, Jay, who started the company in 1976. Maxwell has been a full-time member of the company for 20 years, but he remembers working on projects with his dad from a young age.
"Ever since I was a little kid, my mom would throw me out of the house and I'd work with my dad," Maxwell recalls. "I worked with him all throughout high school before I went to Drexel [University]."
He graduated from Drexel with dual degrees in construction management and operations management, but worked for a pharmaceutical company right out of college. Four years in that industry was more than enough for him, and he hasn't looked back since.
"I've always been a builder," Maxwell notes. "I like framing and doing footings. I'm less of a paperwork guy and more of a hands-on guy. I like to be out there in the field building."
And working with his dad makes his job that much sweeter. "It's great; it's like working with your best friend every day."
Although the majority of J.R. Maxwell Builders work is residential properties, they have completed quite a few renovations on farmhouses and other historic properties in New Hope and the surrounding areas with Playhouse Inn Properties. The Carriage House—one of the oldest homes in New Hope—is one of them. They had to gut the entire building after it had been in poor condition for decades. Now an upscale riverfront hotel space, it includes three rooms—one of them a two-story luxury room with a top-of-the-line chefs kitchen.
"We left three quarters of the exterior of the building together, took the back wall down and left some stone exposed," Maxwell says.
Another larger project J.R. Maxwell Builders successfully completed in the area was the Bucks County Playhouse, which they renovated from the inside out. In fact, they were recognized for the stunning work they did on this building by winning the 2013 Pennsylvania Historic Preservation Award, an honor recognizing contributions to preserving the state's heritage.
"We were honored to win that award and are excited to be working with the owners again on their continued revitalization in New Hope with the expanded deck and restaurant on the Bucks County Playhouse, Playhouse Inn and Ferry Market," Maxwell says.
Ferry Market in New Hope is their latest project—a one-of-a-kind culinary experience serving fresh, seasonal produce; healthy and flavorful prepared foods, and artisan coffee and chocolates. Offering stunning views of the Delaware River, the 7,000+ square foot space will house 13 local vendors and restaurateurs when it opens, including Skylands Roastery, The Pork Shack, Unionville Vineyards, Bonjour Creperie, Greenstraw Smoothies, Sciascia Confections, Blue Moon Acres, Happy Mixer and Lima Fusion. Parking will be available as well as indoor and outdoor seating.
Playhouse Inn Properties, the creator behind the concept, has visions of Ferry Market becoming a must-see destination for locals and visitors alike, and they plan to add entertainment, food education classes and various community events. A soft opening is slated for the end of September and the grand opening will take place the beginning of October.
Maxwell couldn't be more excited to be a part it, which he calls a "farmers market food court."
"It's a very unique group of food and drink vendors in the middle of New Hope," says Maxwell. "Ultimately, this whole building is going to be one awesome place."
There are three phases to the project which are expected to be completed over time. In Phase II, they plan to add more vendor booths—19 total—and a restaurant is projected to be built in Phase III.
The building home to Ferry Market was originally a car dealership before being turned into the Four Seasons Mall, and Maxwell and his team gutted the entire structure. In turn, an industrial aesthetic was created with Ralph C. Fey Architects, and farmhouse materials also incorporated for a unique setup. Maxwell claims that once people set foot in Ferry Market, they will know J.R. Maxwell Builders was behind the project.
"We've worked with designer and architect Ralph C. Fey Architects on multiple projects and Ferry Market has been a great collaboration with them," Maxwell says. "With their design, we are creating the most unique, versatile and exciting space in all of Bucks County. … We exposed the mechanicals, the HVAC ducts and we put in industrial feel concrete floors—the micro topping floor stimulates stained concrete floor with its textures and color. All vendor booths were made of custom cabinetry from our mill shop and we also used a lot of barn wood on the walls. There was no preservation because the building was in such bad shape, but it aesthetically matches with the town and we met criteria for a historic building. When people walk in, they will notice our signature look dispersed throughout the entirety of the market. Our fingerprints are all over the place—there's no mistaking it."
J.R. MAXWELL BUILDERS INC
PO Box 1327 | Doylestown, Pa.
(215) 345-1953
JRMaxwellBuilders.com