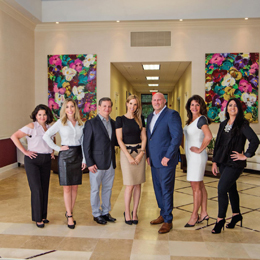 Revitalize
Bucks County Plastic Surgery & Dermatology
Photography by Jody Robinson
While the "jack of all trades, master of none" philosophy may be accurate in some situations, bringing several "masters" together under one roof is more of a sure bet.
At Bucks County Plastic Surgery and Dermatology, that is exactly what is happening. In order to provide the highestquality plastic surgery and dermatology experience and care for you as a patient, a select team of providers who are experts in their field have been assembled.
According to Robert Skalicky, D.O., president and creator of Bucks County Plastic Surgery and Dermatology, "we live in a world of medical and surgical specialization. Bringing specialists together under one roof allows patients to have all of their cosmetic needs addressed by the best aesthetic providers, making the process seamless for a patient."
This specialization begins from the surface of the skin inward. Starting from the outside, dermatologist Ivy DeRosa, D.O. addresses all aspects of skin diseases, rashes, and benign and malignant lesions. She is an expert in skin analysis and treatment and has treated countless patients for everything from acne to psoriasis to melanoma.
"People frequently ignore their skin until they have a problem," says Dr. DeRosa. "I try to educate them on both skin care and skindisease prevention to avoid bigger problems before they occur."
In addition to skin treatment, healthy skin "glow" is provided by aestheticians Barbara Hagan and Brittany Bray. Their roles involve daily skin care through products that revitalize the skin and eliminate superficial signs of aging such as fine lines and pigmentations.
Moving inward, "plumping" of facial lines and depressions is performed by the Bucks County Injection Team (the "IT" department, as it's known) comprised of Michelle Petrillo, R.N., and Kaitlyn Nelson, P.A. This team of experts eliminates signs of facial aging through the use of Botox, Dysport, Voluma, Restylane, Vobella and Sculptra. The team provides expert facial analysis with each patient and formulates an aesthetic plan to best correct signs of facial aging through injectable products and laser treatments.
When surface treatments just aren't enough, two board-certified plastic surgeons—Dr. Skalicky and Michael Shafran, D.O.—take over. Their expertise includes all aspects of facial and body rejuvenation. From head to toe, Drs. Skalicky and Shafran can transform your appearance through procedures that truly turn back the clock.
As Dr. Shafran says, "my role in the Bucks County team is to take over when smaller procedures just aren't enough. There is nothing more satisfying to me than seeing a woman look in the mirror after I've operated on her and seeing her smile."
Drs. Skalicky and Shafran provide a full range of plastic surgery procedures, including breast enhancement and reduction, tummy tucks and Smartlipo, as well as facelifts, eyelid rejuvenation, hair restoration and rhinoplasty.
The key to the team approach is the integration of specialists. When all aesthetic issues can be addressed at the same time by each expert, a patient gets the highest level of care in the most efficient manner. As explained by Dr. Skalicky, "any great recipe involves several ingredients. But the ingredients work only when they are mixed together. That is what we are creating at Bucks County plastic Surgery and Dermatology. Bringing all the necessary specialists together is what makes the recipe successful."
Bucks County Plastic Surgery and Dermatology has all the right "cooks in the kitchen," so to speak, meaning they may very well be able to create an aesthetic "meal" well worth savoring.
BUCKS COUNTY PLASTIC SURGERY AND DERMATOLOGY
BucksPSD.com

104 Pheasant Run,
Suite 123 | Newtown, Pa.
(215) 860-9600
4920 York Road
Doylestown, Pa.
(215) 794-9900
700 S. Henderson Road
The Merion Building
King of Prussia, Pa.
(215) 860-9600
Published (and copyrighted) in Suburban Life Magazine, August, 2017.
.
.
.