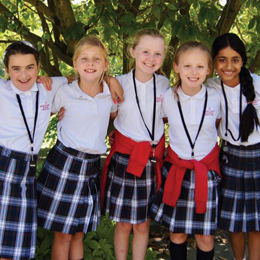 What's In a Name?
Sacred Heart Academy
On a grassy hillside off a well-traveled road in Bryn Mawr, the new name "Sacred Heart Academy Bryn Mawr" was selected for the school after a year-long study including market research and surveys of the community. Often shortened by friends to "SHA," the updated name is not just easier to say, it also reflects an effort to take stock of what's in a name: identity, character, unity.
"We all knew our proper name," explains Deirdre Cryor, head of school since 2016, "but we were calling ourselves different things." Research showed a number of fond nicknames and considerable variation in how stakeholders—alumnae across decades, parents, current students, friends—referred to the school. "What doesn't vary is who we are, our academic excellence, and our love for our school community."
The name change takes into account the world SHA girls live in today, including how people communicate. Considering both traditional and digital media outlets, the school worked with a graphic designer to develop the new logo. "The heart—both literally and figuratively—is an integral part of who we are," says Cryor. "We may have a new name, but our heart remains the same."
Rooted in the liberal arts with contemporary applications, academics at Sacred Heart Academy Bryn Mawr empower girls to develop their potential as scholars and leaders. Always facing the future, the school's approach looks beyond college and postgraduate studies to career potential, to impact on community and the world. According to the U.S. Department of Labor, more than 47 percent of U.S. workers today are women. This is more than double the percentage in 1948; and the school fosters self-confidence and awareness of students' unbridled potential in the decades ahead.
Just a few examples: as part of the Women in Achievement Program, Lower School SHA students choose a woman who has made an important contribution in the world (from Temple Grandin to Queen Noor of Jordan), conduct research and write a report, then present both an oral and dramatic presentation to the school community. In a recent eighth grade assignment, computer students worked with the 3D modeling program Sketchup to design realistic homes and other structures. During Engineers Week each year, science teachers across grades oversee hands-on exercises combining math, science and technology to highlight the importance and profession of engineering.
During a typical day on campus, one might also find girls engaged in Microsoft Office certification training, the U.S. Constitution Bowl, and study of world languages. Outside the classroom, SHA girls are part of a robust community service program, participating in more than twenty clubs and organizations, and ten PIAA sports as student- athletes.
As one current parent puts it, "the difference in the SHA education is the focus on students as individuals, as well as the impact they have on the community, and their ability to make a real difference in the world."
From day one, the school has represented the ideals of the 19th century "country day school movement" (educational rigor, inspirational atmosphere, camaraderie), combined with the tenets of the Religious of the Sacred Heart of Jesus. An exceptional faculty of more than forty provides context for these values, and instills passion for their academic subjects. Comprising the true foundation and core of the school, they do this by lending their own hearts to the goal of raising bright, compassionate young women who are prepared to make a difference in the world.
Sacred Heart Academy Open Houses will be held Saturday, Oct. 21 (Upper School) and Tuesday, Oct. 24 (K-12). For more information or to register, visit SHABrynMawr.org.
Published (and copyrighted) in Suburban Life Magazine, August, 2017.
.
.
.