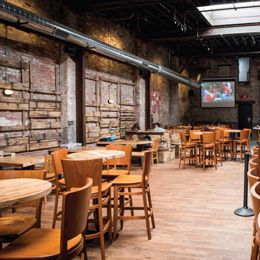 Hop Around
Dining
With the fall season setting in, here at at Suburban Life / Philadelphia Life can't wait to sample a few local and seasonal brews—pumpkin beer, anyone? Here, you'll find our picks for some of our favorite breweries and brewpubs—not to mention some of their "beer food." We're talking about artisanal pizza pies, savory sandwiches and delectable finger food from pretzels to cheesy dips. To that we say, cheers!
Conshohocken Brewing Company, CONSHOHOCKEN AND BRIDGEPORT
With at least 12 drafts on tap—including seasonal and year-round brews—and food served at both locations, there's something for everyone to enjoy. We recommend the English-style ale Puddlers Row ESB, it has equal amounts of bitterness and sweetness thanks to its toffee-like caramel taste, or the Type A—an IPA full of hop flavor with a dry finish. ConshohockenBrewing.com
Evil Genius Beer Company, PHILADELPHIA
If the name of this cult-favorite brewing company wasn't enough to spark your interest, step inside "the lab" and experience its brews from the "Bye Felicia," a passion fruit IPA, or "Trick or Treat," a chocolate pumpkin porter. It also wouldn't hurt to try one of their savory items like the grilled cheese and tomato or House Sloppy Joe Sliders. EvilGeniusBeer.com
Forest & Main Brewing Co., AMBLER
Straying away from the industrialized aesthetic, Forest & Main allows patrons to enjoy a craft beer under the roof of its yellowhued 19th-century house. With select beers on tap and further selections from their line of terroir-driven cellar beers, connoisseurs can leave quenched, stuffed with snacks from pickled veggies to beer battered onion rings, all with a growler in hand. ForestandMain.com
Naked Brewing Co., HUNTINGDON VALLEY
Expect the unordinary with flavors like Mexual Chocolate, a porter inspired by Mexican hot chocolate with chipotle peppers, and Jalapeño Bizness, a jalapeño infused Saison with a taste of banana. If those beers are too extreme, we recommend Ginger's Spiced Wheat, a seasonal wheat beer that boasts fall flavors such as cinnamon, nutmeg, clove, allspice and freshly grated ginger. NakedBrewingCompany.com
Sly Fox Brewing Company, PHOENIXVILLE AND POTTSTOWN
Founded in 1995, Sly Fox serves up artisanal beer thanks to its 50-hectoliter production brewery. Beers worth sampling include the Chester County Bitter, a cask-conditioned British Ale or the Black Raspberry Reserve for those with a sweet tooth. The kitchen also serves up pub-style food—varies from location—from wings, tacos to pizza and "munchies" including chili and pretzel bites. SlyFoxBeer.com
Sterling Pig Brewery, MEDIA
This quaint brewery goes above and beyond with their beers, like the Leaning Jowler, a refreshing pale ale flavored with White Fir Tips from Tyler Arboretum. Additionally, their lengthy food menu includes the likes of classic barbecue—pulled pork, ribs, beef brisket and more—from their smoker, complete with all the fixings. With plenty of outdoor seating, you might want to make this visit a long one. SterlingPig.com
Tired Hands Brewing Company, ARDMORE
The James Beard-nominated brewing establishment features countless brews on tap between its Brew Café and Fermentaria, including our favorite: Pineal, a hazy IPA brewed with oats and Pennsylvania wildflower honey. When it comes to food, their menus go beyond finger foods with octopus tacos, pork belly bun and candied bacon. Oh and did we mention they also serve brunch? TiredHands.com
Triumph Brewing Company, NEW HOPE AND PRINCETON, N.J.
Whether you're keen on an IPA, lager or a porter, there's something for every beer drinker's palate at this New Jersey brewery and restaurant. If you're looking for more to satisfy your stomach, the menu is replete with the likes of house-made pretzels and calamari to entreés from braised oxtail to pappardelle with sweet and spicy sausage. TriumphBrewing.com
Vault Brewing Company, YARDLEY
Housed in an old bank, Vault Brewing Company has over 50 rotating beers available—not to mention a woodfired kitchen oven that serves burgers, sandwiches and pizzas of every variety, whether it's topped with duck confit or a classic Margherita pie. As far as beers go, each one is brewed on-site and offered via draft, nitro or cask. VaultBrewing.com
Victory Brewing Company, DOWNINGTOWN, KENNETT SQUARE AND PARKESBURG
What began in 1996 is now a full-scale brewery accompanied by its namesake restaurant at all three locations. Victory Brewing Company's beers include 10 year-round brews, over 15 seasonal and specialty offerings and more so you'll never get bored with the same pint again. Victory also sells beerinfused cheese spreads, making it the best beer-accompaniment for your next get-together. VictoryBeer.com
Published (and copyrighted) in Suburban Life Magazine, August, 2017.
.
.
.