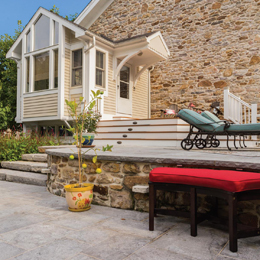 Dream Builders
Chester County Craftworks
photography by Nina Lea Photography
When Andi Vernon hired John Grablewski and Keith McEneaney from French Creek Masonry and Ryan Barger from Concept Carpentry to revitalize her entire backyard—the installation of a porch, patio and pergola, as well as a hanging swing and stonewall restoration— she didn't realize it would mark the beginning of something much greater. A few short years later, she partnered with the three artisans to combine the companies and launch a now thriving design-build business, Chester County Craftworks.
"In addition to my patio, John and Keith did amazing work on restoring several stone walls that I had on my property," Vernon says of her home, which was once a former church dating back to 1850. "They managed to source the stone—both existing on my property and from outside—to make the walls appear as if they were original to the structure."
Vernon was awestruck by Grablewski, McEneaney, and Barger's impeccable work, so she went to them a second time in hopes of creating a replica of a high-end table for sale in an upscale retail store. She says the end result of the table was representative of the promise their future business would hold: "individually, a unique set of skills, combining carpentry, Old World masonry, and my solid marketing and business foundation." Their work has since been featured multiple times on the DIY Network.
"We take pride in every aspect of helping you make your renovation dreams a reality," she adds. "Once you bring us into your home, we are confident that we will become your go-to consultant, collaborator and craftsman for all of your custom design needs."
We spoke with Vernon to learn more about the evolution of the business, the firm's unique skill set and how the team at Chester County Craftworks provides homeowners with one-of-a-kind designs they will love for a lifetime.
Tell me how your own home project sparked your idea for a business.
Andi Vernon: I hired John [Grablewski] and Keith [McEneaney] from French Creek Masonry and Ryan [Barger] from Concept Carpentry for a complete backyard makeover. In addition to my patio, John and Keith had done amazing work on restoring several stone walls I had on the property. Ryan handled a complete porch re-build, made-to-spec corbels, a custom pergola complete with a hanging swing, and a complete fence re-build and replacement. Later, I saw a table I liked from a high-end housewares store, but wanted something authentic and not mass produced. Having already worked with the guys on my project, I knew that collectively they were skilled in artisan carpentry and masonry, so I sent them a photo of the table and asked if they would be willing to build me a statement table that complements the new space. The table combined wood and stone with an amazing juxtaposition, and it became clear relatively quickly that the table was representative of us. Together, we invoke creativity from each other.
How has the business expanded since its origin?
AV: Originally, our focus was limited to creating a side company making custom tables and outdoor patio accompaniments. But with an organic evolution of ideas, expertise and passion for projects that allow people to love their home, the company began to take shape swiftly. Something that started through word-of-mouth referral evolved quickly and accordingly to accommodate the sudden demand. Our goal was not to become an e-commerce company, because we don't have the bandwidth or logistical infrastructure. However, we realized the complementary talents of the team actually had us poised to handle the broader spectrum of home improvement renovation, which was a hard fact to ignore when we were contracted on two separate renovation productions with the DIY Network in our first year.
What are some of these unique services and artistic creations you offer homeowners?
AV: We specialize in custom work in outdoor living spaces, stonescapes, kitchen and bathroom renovations, custom built-ins, pergolas, porches, design-built functional home solutions, fireplaces, wood-fired ovens and Old World masonry and woodworking. We also have a lot of experience in working with historic homes and maintaining the integrity of the times.
Design processes vary with each company, so how does your company carry out a project from start to finish?
AV: It varies greatly depending on project. The design process stays consistently proportionate to the scope of work. A larger project may start with an initial meeting consisting of our team, a designer and an architect, whereas a smaller, more intimate outdoor living space could be a meeting with the team in collaboration with the customer, where the customer can identify their wish list and our team can assist in refining or expanding it, depending on the vision.
From where does your design team draw its inspiration?
AV: The initial design inspiration comes from the client directly. Typically the client will have a sense of the skeletal framework for what they are looking for. It's our job to collaborate with them to make sure their project truly realizes its full potential. We listen to the overall vision and, from there, make suggestions that would complement the feel of the project. Ultimately, our goal is that everyone has the same feeling when we are finished with the project as I did upon the completion of my own backyard.
You offer an array of home projects, so do any of your projects vary seasonally?
AV: Absolutely. Weather can be a dictating factor for all of our outdoor projects, and with the heightened popularity of some particular jobs, fall, spring and summer are always busy. However, there are plenty of other indoor projects, such as kitchen and bathroom remodeling, that are not weather dependent or seasonal.
What would you say is currently popular in home renovations and design?
AV: Full outdoor spaces have become increasingly popular. Generally speaking, we have seen a bigger appetite for creating spaces that are made for entertaining and complete outdoor living. Where at one time, people settled for a nice patio and picnic table, there is now a heightened demand for outdoor living that mimics the comfort of your everyday indoor amenities, including full outdoor kitchens.
Is there anything else aside from your artistry that makes Chester County Craftworks unique?
AV: The business itself is not "unique," because the crafts of carpentry and masonry have existed forever. What make us truly unique is our team and the types of projects we take on. We enjoy challenging projects that allow us to push the limitations of the materials, the space we are working in, and the team itself. We love the challenge of taking on a space or project that the customer is dissatisfied with, and transforming it into a space they love that brings an invigorated sense of pride and solace into their home.
For more information, visit ChesCoCraftworks.com, or call (484) 639-3838.
Published (and copyrighted) in Suburban Life Magazine, August, 2017.
.
.
.