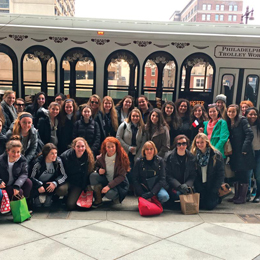 No Limits
Villa Maria Academy High School
Imagine touring Philadelphia's historic streets by trolley car, or solving the intricate puzzles of an "Escape the Room" adventure, or using strength and stamina to complete a CrossFit class—all with close friends. While most high school students only dream of pursuing such hands-on experiences, the girls of Villa Maria Academy High School in Malvern now get to explore these opportunities as part of the school day.
It's all part of an immersive three-day experience known, simply, as "J-Term."
J-Term made its first appearance in January 2017. The program enables students to explore coursework and experiences that the regular school schedule would not otherwise allow. By offering these "deep dives" into curricular interests, service projects and creative outlets, J-Term gives prospective students yet another reason to want to become "Villa girls," according to Jeane McNamara, Villa Maria's director of curriculum and instruction.
"Students chose from a variety of curricular options that provided them the most meaning, relevance and fun in learning," says McNamara. "They participated in everything from 'Escape the Room' adventures related to their literary study, to a film analysis of women in science."
Put another way, J-Term lets Villa girls experience valuable hands-on learning, offcampus exploration and, above all, fun.
STRONG CONNECTIONS
For the first day of the inaugural J-Term, known as All Class Experience Day, Villa girls made strong personal connections to their history and faith curriculum. Freshmen explored ancient cultures at the University of Pennsylvania Museum of Anthropology and Archeology in Philadelphia. Sophomores took guided tours of both the Basilica of Saints Peter and Paul and the St. John Neumann Shrine. Juniors spent the day in South Central Pennsylvania, walking the hallowed grounds of Gettysburg National Military Park.
Seniors had the opportunity to peer into the future, so to speak, through something called "Business Etiquette: The Villa Difference." The program, designed by Villa alumna Karen McGuckin Spofford, included three breakout sessions: "Packaging Brand YOU"; "The Art of Effective Communication"; and "Behavior and Body Language for the Workplace." The event culminated in a white-tablecloth business luncheon to give Villa girls the chance to practice what they learned. One senior described the event as "the best day of my Villa career!"
For the second day of J-Term, students immersed themselves in service projects— everything from working as teaching aides to moving furniture to helping local socialservice organizations. Freshmen stayed on campus to attend a social justice retreat led by the Romero Ministries, while sophomores and Senior Peer Ministers attended a Sophomore Retreat.
The third day offered a remarkable variety of on- and off-campus activities for a theme Villa girls know well: "Choose Your Own Adventure." Onsite courses included Learning Korean Culture, Musical Theater, Leadership and Stress Management, among others, while offsite adventures included a guided discussion and viewing of the film, Hidden Figures, which tells the story of the women whose behind-the-scenes efforts helped America win the Space Race. Fitness-minded students participated in CrossFit workouts, while more adventurous students branched out to tour Philadelphia by trolley or work together in small groups to "Escape the Room."
"Not all of our learning here happens inside the classroom," says Jennifer Pixley, an English teacher at Villa Maria. "We always have new initiatives, activities and opportunities for the girls and we never shy away from travel, getting outside of the campus or outside of the school building to learn. Students even go abroad to other countries. I really love the commitment Villa Maria has to seeing the students as whole learners."
After the overwhelmingly positive reception of the first-ever J-Term, students will soon have the opportunity to experience J-Term's second iteration. The administration is now in the process of fine-tuning the program for January 2018.
Villa Maria has been empowering and developing young women—through spiritual growth, intellectual inquiry and Christian service— since the school opened its doors in 1872. "People know there is an integrity to the Villa Maria Academy product," says McNamara. "We say what we do and do what we say, and we explicitly model that for our students. Families seeking an all-female Catholic education know that Villa Maria Academy High School will deliver the return on investment that they are seeking."
For those interested in learning about all the other opportunities Villa Maria provides, the school welcomes prospective students to visit the Malvern campus and witness a "day in the life" of a Villa Maria girl. In addition to an Open House on Sunday, Oct. 15, the school will open its doors for several "Visit Villa Days," where eighth graders can shadow a freshman or sophomore through a typical school day. The school also offers seventh- grade preview breakfasts in the spring, so families can begin their search with an overview of the Villa program.
Lauren O'Donnell, a senior and National Merit Semifinalist, says attending a "Visit Villa Day" convinced her that Villa Maria would offer the kind of educational experience she had been seeking.
"I wanted to come to Villa Maria after I observed the way that Villa girls treated each other with the utmost kindness," says O'Donnell, who participates in eight clubs and activities at Villa Maria. "They seemed genuinely happy to be together, and I could tell that they loved their school. My favorite thing about being here is how I feel comfortable talking to anyone, even if we are not close friends. This type of atmosphere facilitates bonding between classmates and lifelong friendships."
O'Donnell's experience captures the essence of a Villa Maria education: to develop young women who are empathetic, analytical, and ready to put themselves to the test in the real world.
Villa Maria Academy High School
370 Central Ave., Malvern, Pa.
(610) 644-2551 | VMAHS.org
Published (and copyrighted) in Suburban Life Magazine, September, 2017.
.
.
.