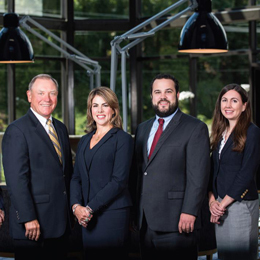 Experience Is What Matters Most
Cozen O'Connor
Happily ever after—that's what every couple thinks when they go to the altar to get married, but today, divorce is the end result for quite a few marriages. Many things factor into getting a divorce and couples who decide to end their marriage need a lawyer who will be there to consult them, guide them through this difficult process and make sure they make the right decisions. Look no further than Cozen O'Connor—a full-service international law firm that resolves complex family disputes. Family Law co-chairs and experienced lawyers Bernie Zbrzeznj and Jennifer Brandt lead the division and take care of your every need from start to finish with your best interest in mind.
"Nobody gets married with the idea of getting divorced," Brandt says. "Most times, people find themselves in a state of emotional turmoil when it happens—whether they are initiating or on the receiving end. It's a major life event and we try to guide them through and help them in all aspects of this process. … We really care about our clients and pride ourselves on being very responsive to clients' needs. That's the key thing and it's very important in family law."
"We are very accessible," Zbrzeznj concurs. "When you go to a larger law firm, there is a different level of accountability to clients."
Brandt says the first thing potential clients should do is meet with a lawyer so they can understand the law, their rights and responsibilities and what may happen if they pursue a divorce. "Oftentimes, we are dealing with people who have not been involved in the legal system before and haven't dealt with lawyers," she says. "It's important to explain everything to them and be receptive to what they may need at the time."
Zbrzeznj says there are typically five areas in a divorce case:
• How a party gets divorced
• The division of marital property
• Alimony
• Child custody
• Child support
"If there are no children, we don't have to review the custody and child support areas, but I will go through and explain the law on all of the areas that are relevant to the case—whether it's three or five of those areas," he says. "Then I'll explain how the system works and the legal process of how you get from where you are today to an ultimate divorce. … I want them to walk out with some comfort level and some understanding of the law."
"Some of the proceedings can be separate issues. You may have people fighting over child custody or support and they were never married or already divorced," Brandt says. "We also do pre- and post-nuptial agreements. People are delaying marriage a little bit more than perhaps years ago. Also, most people have their own careers and have accumulated assets by the time they get married."
In this process, Brandt says that parents need to be honest with their children and discuss any changes that will impact them.
"The hope is to keep the children's lives as normal as possible," Brandt says. "If the children need therapists or a third party to get involved, the parents should seek out help that is needed to help transition to a new family life. The best thing of course is to try to keep animosity away from the children as much as possible."
It can be a highly emotional time for clients, and Cozen O'Connor has the desire and ability to connect with them by being sensitive to their needs, but also being upfront with them so they make the best decision.
"I try to impress upon my clients that I am going to be a straight shooter. I'm not going to tell them what they want to hear; I'm going to try to be as understanding as possible, but oftentimes I'm going be a reality check," Zbrzeznj says. "I have so many dependent spouses who are apologetic and beat themselves up. They say, 'I trusted him/her, I didn't pay attention to the finances.' I tell them, 'That's OK. We'll get through this.'"
Another advantage to having Cozen O'Connor on your side is all the other fields of law they cover, which could potentially help clients and their cases. "Being part of a large full-service law firm allows us to access so many resources that can help our clients—real estate, corporate, bank and tax attorneys. You name it, we have it," Brandt says. "In a family law case, oftentimes you need expertise from other areas, and we have the ability to tap into those resources very easily."
Brandt says social media plays a big role in divorce proceedings today—mostly in a negative way—and offers one piece of advice: "Think hard before you post anything on social media."
"They [clients] really need to think about everything they are putting out there because it may hurt them later in any type of legal proceedings or in their lives in general," Brandt explains. "Using social media is great to communicate with a lot of people, but it can also cause problems if it's abused. We find cases where people are developing other relationships over social media, causing disruption in their married life."
Ultimately, Cozen O'Connor knows the decisions clients make while going through a divorce or any other dispute in a family law case will affect their lives and their children's lives for years to come, and they will do whatever it takes to make sure the outcome is the best for their families.
"Our best referral source is a satisfied client and we keep that in mind every day," Zbrzeznj says.
Cozen O'Connor
One Liberty Place
1650 Market St.
Suite 2800
Philadelphia, Pa.
(215) 665-2000
200 Four Falls Corporate Center
Suite 400
West Conshohocken, Pa.
(610) 941-5400
Cozen.com
Published (and copyrighted) in Suburban Life Magazine, August, 2017.
.
.
.