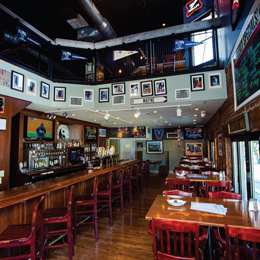 Serving with Spirit
Garrett Hill Ale House, Kelly's Taproom and Flip & Bailey's
photography by Jody Robinson
If you're in the hunt for a great place to watch the next actionpacked Eagles or Villanova University football game, Gene and Angie Mitchell might suggest the Garrett Hill Ale House, Kelly's Taproom or Flip & Bailey's, all of which are nestled along Philadelphia's Main Line. They might be biased, considering they own all three restaurants, but the scores of fans who flock to these restaurants on game day couldn't agree more.
"The three restaurants are so close in proximity, but so far apart in terms of style, patronage, offerings and décor," says Gene, a Villanova alum. "We can't hide that Kelly's is home to the Villanova community. I'm an '89 graduate of Villanova and proud to be a part of this community since relocating in 1985." However, all three are close to the community.
Their pride in their service, food and community has resulted in numerous accolades accumulated over the years, including the praise of renowned food critics. Accolades aside, the Mitchells say they'll never stop searching for ways to improve the customer experience.
"We face each challenge with an ability to learn from our mistakes and improve our processes for future success," she says. "Our community is a partnership, and we take pride in helping those who are our friends, neighbors, and our customers."
Suburban Life/Philadelphia Life spoke with the Mitchells to learn more about the personality of each restaurant, their unique culinary creations and their commitment to the surrounding community.
Tell me about what each restaurant offers in terms of the experience it provides.
Angie Mitchell: The Garrett Hill Ale House is my passion and creative canvas for our custom gourmet creations. The food and service have never-ending detail, offering 30 rotating craft beers. From the local garden we created in the backyard to grow and offer fresh vegetables, to the innovative events we host, we always try to do things out of the box and create culinary creations that impress. We are working with who we think is the best local chef in the area, and will be sure to make your experience one to remember.
Gene Mitchell: The atmosphere here at Kelly's is electric. It appeals to locals, students, faculty and [Villanova] alumni, as well as professionals in the community and neighbors who want good food at an affordable price. In 2016, Kelly's was the place to be for the NCAA Championship game, when Villanova won on that iconic shot. Flip & Bailey's has a more local feel; there's never a day where you can't find someone to talk with over a cold beer. The crowd can be loud, verbose, animated and creative, but they're always friendly. We are booked many times a week with various organizations, companies, clubs and social happy hours. The game room has an antique shuffleboard table and each booth upstairs has their own TV with all channels. Did I mention it's a great place to watch the Birds?
When you acquired your three iconic Main Line restaurants, did you feel the need to do any substantial renovations?
AM & GM: Kelly's was a complete rebuild. We spent two years in development approvals at the township. Everything was new, built from the ground up. We even had an Irish bar builder come out and hand-carve the first floor bar. Every year we make improvements to be more appealing and attractive to the neighborhood and an outside deck has been approved and hopefully will take shape next spring. Flip & Bailey's was a long renovation process; we redid both bars, installing a custom concrete bar on the second floor. Since opening, we have essentially replaced the entire interior adding a custom wine cuvée to feature signature wines, two draft tables where customers can have a pour your own beer experience, an antique shuffleboard table and various improvements to bring families and community together in a social and fun atmosphere. At the Ale house, we recently gutted with new flooring, windows and furniture, draft lines and updated the equipment.
How does the cuisine vary per location?
AM & GM: At Kelly's, what is most hidden is in fact the food—it really is a gem. The chicken cheesesteak is our favorite—a one-pound fresh chicken cutlet diced on a foot-long Amoroso roll. It has won the Main Line award and was a finalist in Best of Philly. At Flip & Bailey's, we have 24 diverse beers on tap from the hoppiest IPA to the local lights, and our happy hours offer a variety of items from hors d'oeuvres to full-service lunches and dinners. The Ale House brunch and "Beer- Mosas" are great after a morning workout and a great way to spend Sunday afternoon.
Tell me about some of the most notable menu items.
AM & GM: Kelly's is absolutely known for its cheesesteak, and has won several awards for Main Line Best cheesesteak by both guests and food critics. Flip & Bailey's is gaining momentum with our handmade artisan pizzas, which are a Neapolitan-inspired recipe. I would almost challenge the other Main Line establishments on these levels. The Ale House is a scratch kitchen, and the daily special features are an absolute must. It's hard to pick one, but I would have to say our Ale House 10-ounce grass-fed beef burger is the best. We own a ranch in Missouri with my parents, and my father, who is a grassland biologist, has converted cropland to native prairie for grazing cattle. It's been an experimental process and another great learning tool, but one that has inspired this signature burger. So many customers are looking to more health-conscious alternatives, and grass-fed beef is an important step to healthier dietary selections.
What can you tell me about your catering services?
AM & GM: Catering began when Gene was asked to be a keynote speaker at the Villanova Business School, telling his inspiring story of his career. We provided the food for the reception and from there, it sky-rocketed. I've coined it "custom catering," as we personally create and design all events, menus and execute onsite for flawless attention to detail. It allows for a blank canvas for creative ideas to blend with our incredibly talented culinary designs. This is now our fourth year of off-site catering, and each year it gets better with the products and services we provide. Our clients say that we make them look good, which makes us happy and proud of what we do.
How are your restaurants involved in the community?
GM: We live here, we eat here, and we have friends and family here. This is our home. I travel 200 days per year all over the world—I've been to more than 35 countries in 25 years—and Angie and I still joke, the best day of any business trip away from home is the last day: boarding a flight back to Philadelphia.
AM: We host the event for the charity golf outing, "Fore Garrett Hill," who raises money for the Garrett Hill community, the Fourth of July Garrett Hill Parade committee who just put on their 68th annual parade. We also helped in 2015 to raise money to bring the K-9 unit to the Radnor Police Department. Our key event each year is the Philadelphia Treats for Troops annual packing event, held each December at Kelly's, where volunteers donate supplies to package boxes for overseas military personnel. Treats for Troops is in its 11th year of supporting those overseas, and Kelly's has been there for everyone.
FLIP & BAILEY'S
900 Conestoga Rd.
Bryn Mawr, Pa.
(610) 527-4826
FlipAndBaileys.com
KELLY'S TAPROOM
1107 E. Lancaster Ave.
Bryn Mawr, Pa.
(610) 520-9344
KellysTaproom.com
GARRETT HILL ALE HOUSE
157 Garrett Ave.
Bryn Mawr, Pa.
(610) 519-0500
GarretHillAleHouse.com
Published (and copyrighted) in Suburban Life Magazine, September, 2017.
.
.
.