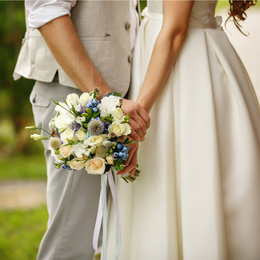 A Marriage Made in Heaven
Weddings
Fewer things in life bring about as much joy as two people coming together in marriage. Even so, many couples find the stress of orchestrating all the pieces of this monumental day so overwhelming that it obscures the meaning behind their looming union.
We spoke with several bridal experts and asked for their best advice on how to overcome the common hurdles associated with planning the "big day." Whether it's a wedding of 300 attendees at a lavish venue in Center City or a more intimate ceremony in a refurbished Bucks County barn, here's how to do it right.
Where to Begin
The first step is to establish a budget and venue, according to Michelle Finley, vice president and sales manager of Finley Catering, which has several elegant event venues in Philadelphia and the surrounding suburbs. She suggests the anticipated wedding date, overall theme and the number of guests should steer the decision-making process.
"The first step is really envisioning what the wedding day is going to entail and, ultimately, what the bride wants, because each venue is going to have a different feel," Finley says. "There's also the guest list, which could also help determine your venue; some venues have a guest minimum and a guest maximum."
Date flexibility can improve a couple's chance of reserving their dream venue, while generously providing a shorter planning window— less than the typical year and a half required for most venues. In some cases, discounted rates may apply.
"If the couple is open to having a Friday or Sunday wedding, the timing is nearly not as far in advance, but if they're looking for a prime date on a Saturday, you're looking about a year to a year and a half out," she adds. "There are always open dates where we do discounts for brides who are flexible with their dates of getting married."
Aside from personal aesthetic preference and date, couples also must consider whether the venue has a day-of coordinator who handles the event from start to finish. This individual offers tremendous value, because he or she will "make sure everything runs seamlessly," Finley says. Also, there's the issue of catering services—meaning, does the venue provide them, or does another vendor need to bring them in? Having a venue with its own kitchen—as well as associated needs, such as tables, linens and chairs—may be the most efficient way to get everything accomplished.
The next step: choosing a bridal salon. Shopping for a bridal gown should never evoke stress, according to Gabrielle Frederico, co-owner of La Belle Mariée in Bucks County. She advises beginning the search early to weigh all dress options—from the mermaid silhouette, to the classic A-line gown—and to make sure the "right" dress can be delivered in time for the big day.
"Brides should begin looking for their gown on average for eight months prior to the wedding date, and the average for them to be made is anywhere from four to six [months]," she says. "It gives you ample time to shop around if you want to look at multiple stores, but it also allows you to have a larger selection to narrow down from and choose the right dress."
Not all newly engaged couples have the luxury of an eight-month shopping period, however. Circumstances can arise unexpectedly— a sudden military deployment, for example. In these cases, an able bridal boutique will have an ample selection of off-the-rack gowns for sale—and they're usually available at significant price reductions. But for brides who would rather not buy a dress off the rack, Frederico says select designers offer rush shipping.
"The trend as of late is that women are having shorter engagement periods of only four months, so the bridal industry has to keep up with that," she says. "Some designers can have a dress made in four weeks."
Changing Traditions
While some aspects of wedding planning have not changed, some traditions have. This includes the shapes, styles and colors of bridal gowns. For example, some brides want something livelier and more unique than the historically popular white gown.
"We're seeing a lot of color—nudes, beiges, taupes, blush pinks and even blues," Frederico states. "Color is huge right now. A lot of women come into the store and say there's less white than what they expected. Ivory white is still the No. 1 color, but taupe and beige are coming in at a strong second."
Likewise, wedding day cakes have evolved, too. Popular trends include the naked cake—with minimal to no icing— and, quite the opposite, the elaborately detailed ombre cake. Robert Bennett, owner of Classic Cake, which has a production facility in Philadelphia and a retail location in Cherry Hill, N.J., says the flavor and customization options are nearly endless. The fun comes from tasting all the different flavors—everything from a seasonal pumpkin spice buttercream frosting, to an indulgent chocolate chip pound cake—but, like every other aspect of wedding planning, be sure to leave plenty of room for due diligence.
"We get a lot of cake orders that are placed a year before the big day, and I always recommend that couples shop around and do as many tastings as possible because you want the cake to taste just right," he says. "In the past, we've had frantic calls from caterers up until two or three days before a wedding, and while we can turn a cake around that quickly, it's not something that we want to do. These cakes are like sculptures, and those blown sugar decorations just can't be pulled out of a hat."
Some couples choose to forgo a traditional wedding cake and have instead offered smaller, less intricate desserts—or, in some cases, none at all. Bennett has a theory: "Some couples have dietary restrictions, and others might not be able to afford it, but that shouldn't prohibit a couple from getting a cake. We make a delicious gluten-free cake for those with celiac disease, or can even make a personal-sized cake for just the bride or groom if they would prefer not to have an entire gluten-free cake.
"The wedding cake is a longstanding history," he continues. "You don't have to have the smashing of the cake in each other's faces, but the cake is a sweet symbol of matrimony and is one tradition that is wonderful."
Of course, don't forget the floral arrangements. But the planning should go far beyond a beautifully made bridal bouquet.
"What's been interesting to see is how brides are thinking about the tables in their entirety, and how the tablecloths, overlays, runners and chairs will look with the centerpieces," explains Steve Letendre, co-owner of Willow & Thistle, a Blue Bell floral boutique that provides arrangements for approximately 350 weddings per year. "All of these should be thought of as one whole thing."
If you're envisioning an exact color palate for your flowers to seamlessly assimilate into your bridal party colors, Letendre suggests re-thinking your vision.
"I come across this a lot where a bride is very specific about a color—such as blush pink—which can pair better with either a peach or pink flower, but it depends on the shade of blush," he explains. "Don't ever get your heart set on matching exact flower color with a bridesmaid dress. One is made by man, the other is made by nature, and they don't always cooperate. You can always find a color that's close, or the photographer can adjust the colors in final touchup. … It's always important to approach your arrangements with an open mind."
Above all, experts agree on the most important piece of advice: Simply enjoy the journey.
"Yes, it can be overwhelming and stressful, but you have to remember it's only temporary," says Frederico. "Take it all in— the highs and the lows—take it in and enjoy every moment while it lasts. Make it memorable for both you and your family, because they're the ones truly excited for you."
"If you want to plan the perfect wedding, you have to keep an open mind—things are going to happen," Letendre adds. "If you can trust your vendors and roll with it, you will be a much happier person and have a much happier day."
Published (and copyrighted) in Suburban Life Magazine, October, 2017.
.
.
.