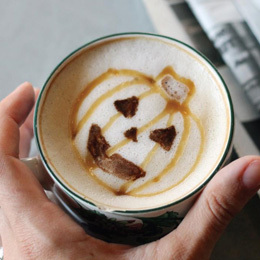 Brew Masters
The Daily Grind
Photograph by Jackie Q. Botto
There's certainly nothing wrong with getting your caffeine fix by running into the nearest Wawa, Starbucks or Dunkin' Donuts for a 20-ounce cup of freshly brewed joe. But the area's many excellent coffeehouses provide much more than a finely made cup. Stop into one of these 10 coffee hot spots to see what you've been missing.
Broad Street Grind, SOUDERTON
This place may be less than a year old, but it's emblematic of the renaissance that's been brewing on and around Souderton's main drag. You want a maple latte made with pure Pennsylvania maple syrup? You'll get it here. You want a drip coffee originating from Honduras, Ethiopia or another locale known for producing exquisite beans? No problem. You want a bowl of steel-cut Irish oats or espresso maple-bacon sandwich to go along with it? Coming right up. If you want it, Broad Street Grind delivers. BroadStreetGrind.com
Burlap & Bean Roast House,
MEDIA AND NEWTOWN SQUARE
USDA Organic Fair Trade Certified coffees from around the world? Check. Plush couches and other creature comforts that make you want to linger? Check. At Burlap & Bean, everything has an extra touch, right down to the house-made almond milk. Burlap & Bean makes you want to stay a while—and you just might, considering B&B's full calendar of upcoming performances, ranging from jazz musicians and contemporary folk artists to rock bands and open-mike nights. Although Burlap & Bean has given locals a lot of reasons to become regulars, the biggest reason remains the coffee-based beverages crafted by baristas who know exactly what they're doing. BurlapandBean.com
'Feine, CONSHOHOCKEN
What this coffeehouse on Conshy's bustling Fayette Streets lacks in size, it makes up for in substance. The folks behind 'Feine (pronounced "FEEN") clearly have a deep respect for the art of coffee making. Besides a full menu of brews—a range of drip, pourover and Vietnamese offerings, as well as French press and café au lait options—'Feine has earned a reputation for its cold nitro brew, signature drinks and seasonal offerings. Jalapeno mocha, anyone? DrinkFeine.com
Grindcore House, PHILADELPHIA
It's an entirely vegan coffeehouse, and— based on its awesome logo, décor and playlist—its owners seem to have a deep appreciation for, shall we say, music with an edge. Yes, it's got something of a counterculture vibe, but it also makes a damn good cup of coffee. (We also hear good things about the chocolate cake and other vegan baked goods.) Even if you don't subscribe to a meatless diet, you'll be happy to stay for lunch. (We suggest the Greenwich.) Do so, and you'll gladly make Grindcore House part of your daily constitution, regardless of your taste in music. GrindcoreHouse.com
Gryphon Café & Coffee Co., WAYNE, ROSEMONT
AND PHILADELPHIA
Imagine: It's November in Wayne, and a cold wind lashes the streets. That's when you see Gryphon, a bastion of artisanal coffees, so you step in to thaw your hands against a warm ceramic coffee cup filled to the brim with your brew of choice. The inevitable result: Your day quickly improves. Gryphon has two other locations—one in Rosemont and another in Philly's Kensington neighborhood—but the one in Wayne has our hearts. It can get crowded at peak times, but it's worth the wait. Find a cozy spot to sip your macchiato or hot chocolate, and just enjoy letting the day unfold around you. GryphonCoffee.com
Kawaii Kitty Café, PHILADELPHIA
It's rare to have to make reservations for a coffeehouse, but it's "highly recommended" at this Queen Village spot. Sure, Kawaii Kitty Café offers a full menu of local coffees, teas and espresso-based beverages—pastries, too—but it's the café kitties that make this place purr-fectly unique. Take your beverage into the "cat lounge," where felines from the Philadelphia Animal Welfare Society roam and play. A word of caution: You might fall for one or two of the cats—but good news: They're up for adoption. KawaiiKittyCafe.com
La Colombe Coffee Roasters, MULTIPLE AREA
LOCATIONS
Be thankful for Todd Carmichael and JP Iberti, the coffee craftsmen behind La Colombe. This small chain of coffeehouses treats each batch the way microbrewers treat a new batch of beer: with reverence and loving devotion. In fact, La Colombe is one of the few places in the Philadelphia area where you can get a textured latte (cold-pressed espresso and frothed milk, served cold) on tap. Each café has its own look and feel, but you'll be satisfied no matter which one you choose as your so-called "third place." LaColombe.com
Homestead General Store,
UPPER BLACK EDDY
If you're departing New Hope and riding north on the towpath along the Delaware Canal, keep an eye out for the Homestead General Store. It's been a local treasure for nearly 40 years, and it's easy to see why: It's the perfect place to pick up provisions at the deli counter, some locally made snack items and, oh yeah, an excellent cup of coffee. The general store is the birthplace of Homestead Coffee, which now has a full-scale roasting facility a stone's throw away. Good news: You can enjoy Homestead Coffee even if you're not in this neck of the woods; check them out online and have a bag of beans shipped directly to you. HomesteadCoffee.com
Steel City Coffeehouse, PHOENIXVILLE
Steel City is a Phoenixville institution, not only for its coffees, but also for its food and entertainment schedule. On its ever-growing menu of food and beverages, you'll find a host of housemade items, and whatever isn't made in house is brought in from local vendors, such as Hobo Ed's Coffee and Bucks County Biscotti Co. Also, as of this month, Steel City is launching its own homemade ice cream, perfect for affogato—an Italian-inspired dessert consisting of ice cream "drowned" in coffee. We're on our way. SteelCityCoffeehouse.com
The Zen Den, DOYLESTOWN
There's something transformative about walking into The Zen Den. Although Doylestown is always hopping, The Zen Den has made its home in a quiet part of the borough, a block or so off the main drag, almost hidden in a charming grotto. Then you step inside, and you're greeted by the scent of freshly roasted beans (or "cherries," as they're called in industry parlance). Place your order—the iced coffee gets our vote—take a seat on a comfy couch and make some new friends. ZenDenCoffeeShop.com
Published (and copyrighted) in Suburban Life Magazine, October, 2017.