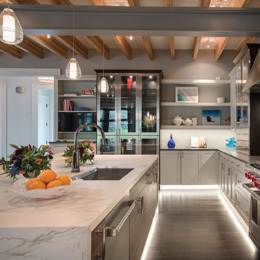 Like a Rock
Colonial Marble & Granite
Homeowners in our region know that Colonial Marble & Granite is the place to turn not only for the high-quality variety of stone, but for the world-class customer service the company has built its rock-solid reputation on. Since opening its doors in 2008, Colonial has seen unprecedented growth— even growing through the recession and coming out stronger on the other side. But from the very start, it has been their service to the customer that has sky-rocketed the company to success.
As a full-service supplier of natural stone and quartz materials for both residential and commercial customers, Colonial offers a vast selection of the finest stone materials including granite, marble, onyx, quartz, quartzite, travertine and more. There is truly something for everyone. Whether it's a new countertop for your kitchen or bathroom or the perfect tile to match it all, Colonial Marble & Granite can help.
Already offering a slab yard featuring more than 5,000 slabs in over 500 different colors, Colonial is now taking it even further by introducing three new design centers within their facility. James Freeman, the company's chief operating officer, says these design centers will combine inspiration and samples with training and expertise.
"The design centers will include areas where partners and designers can sit down with their clients and have a private time to review their options," Freeman says. "It will give them an opportunity to really focus on the details of the project they're working on."
It's really just another way that Colonial has the best interest of its clients in mind. Freeman says that Colonial is "constantly looking for ways to improve and to put forth the best for our customers." These new design centers are another way to do just that.
"We are focused on ensuring that we're aligned with what's going on in the market," Freeman says. "And we know that our customers value having a lot of options to touch and feel in the showroom."
Expanding the brand
As Colonial has become more and more of a household name, the brand has expanded even further with Colonial Home Services. Colonial Windows and Doors recently launched and Colonial Generators has already been gaining momentum under the Colonial Home Services umbrella. At the heart of it all is the company's commitment to offering the very best to the market. Because homeowners already know and trust Colonial in their homes, it only makes sense for them to want the same type of quality and service for their other household needs.
"There was a demand for us to expand our services and we're branching out to meet it," explains Freeman. "We're constantly looking at areas where we can meet the demands of our loyal customer base."
In addition to expanding their offerings, Colonial has also grown by adding new locations over the years. After realizing how far customers were driving to be able to work with Colonial, it became obvious that there was a need to introduce new locations. The flagship King of Prussia location remains the largest but those living outside of the region have other options including Center City Philadelphia, Harrisburg, and New Castle, Del.
Putting customers first
Despite all of their growth and success, Colonial has not lost sight of what matters most— serving their customers. In fact, Freeman says it's been their customers' loyalty and support that have helped bring them this far and all of their decisions are made with that in mind.
Colonial came into the marketplace with unbeatable pricing that was truly unheard of in the natural arena. Their (now famous) $1,999 Countertop Special gave homeowners what Freeman calls a "break-in price point," allowing those who couldn't previously afford to have natural stone in their house, some options. Following that, Colonial introduced a $1,499 Countertop Special, making their beautiful options even more affordable to homeowners.
And Colonial has continued to expand their options, now even offering financing with zero to low interest rates.
"Our focus has always been on keeping the customers happy," Freeman says. "As we've grown, the emphasis has always been on how we can better meet their needs."
Connecting with the community and a variety of local charities has also been an ongoing part of Colonial's growth. They have focused a lot of their efforts on funding childhood research, maintaining a strong partnership with Alex's Lemonade Stand. Recently, Colonial also hosted its first-ever Colonial Marble and Granite Charity Golf Outing which was done to benefit Saint Demetrios Greek Orthodox Church in Upper Darby. The event raised more than $150,000 for the church.
"This year we're looking at creating our own charitable foundation," Freeman says. "Supporting and giving back to our community has always been a top priority for us. As we've grown we've had even more opportunity to do just that."
COLONIAL MARBLE & GRANITE
ColonialMarble.net
475 S. Henderson Road
King of Prussia, Pa.
(610) 994-2222
2000 Washington Ave.
Philadelphia, Pa.
(215) 732-7800
768 Corporate Circle
New Cumberland, Pa.
(717) 774-2110
240 S. DuPont Hwy.
New Castle, Del.
(302) 947-3000