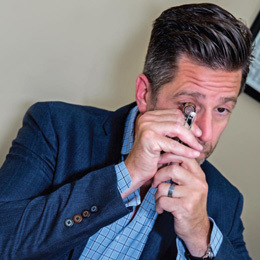 A True Gem
Michael's Jewelers
photography by JODY ROBINSON
Michael Kanoff knows a thing or two about turning dreams into reality. Aside from the fact that he owns Michael's Jewelers, the gift of making dreams come true is practically in his blood. Kanoff's great-grandfather emigrated from Russia in 1918 in search of the American dream, ultimately putting down roots in Philadelphia. He was skilled watchmaker, so he opened a shop on Sansom Street devoted to mechanical watch repairs, and the shop thrived. The business was passed down to the second generation and then to a third, Kanoff's father, who recreated it as an independent retailer of fine jewelry.
"My parents Lenny and Karen purchased the store back in 1976," Kanoff recalls. While his parents ran the business, Kanoff was studying at the prestigious Gemological Institute of America in Santa Monica, Calif. "In 1983, they opened a second location in Richboro that my mother ran from 1983 to 1997."
Shortly after matriculation, Kanoff found himself living in the famed Southern hot-spot, Atlanta, and traveled the Southeast region meeting and learning from various retailers in different capacities. Eventually, fate intervened and drew him home.
"My parents relocated our second location store from Richboro to Yardley," he remembers. "I received a call from my father while I was living in Atlanta, telling me space became available in a new shopping center in Lower Makefield. He said he would love to do it, but wanted me to come home to help him do this—and this was always my dream. I grew up here, and it was always my dream to open a jewelry store in Lower Makefield."
Years later, Kanoff continues to live his dream: using his skills, passion and industry connections to make dreams come true for brides-to-be throughout the Greater Philadelphia Area.
THE EVOLUTION CONTINUES
Today, Michael's Jewelers enjoys a sterling reputation as a full-service jeweler, with two locations in Yardley and Fairless Hills. Each store boasts what Kanoff describes as "the largest selection of engagement rings in Bucks County." The business has accumulated numerous accolades since its inception more than 40 years ago—including Best of Bucks for 11 consecutive years and one for Bucks Happening— which he considers a testament to the service, selection and craftsmanship the store provides.
"When I entered the business, the one thing that I brought was a fresh perspective," he adds. "While my parents did well as owners, I was always the one who stressed evolving and changing with the times. Today, it's a little more challenging because the Internet is debatably our biggest competitor, and that wasn't a factor to consider back in the '80s. But we're constantly evolving."
Kanoff's expertise is unparalleled, dwarfing that of his competitors working in the socalled chain stores. His years of networking with professionals throughout the industry, not to mention the plethora of seminars and tradeshows he attends each year to build on his knowledge, have given him a keen eye for the latest jewelry trends, pieces and styles.
"When something new comes into play, I'm one of those guys who have to be the first to have it, and I even want my own wife to be the first to wear it," he explains. He notes one major—and timeless—trend: the halo engagement ring setting. "When I first saw the halo setting about nine years ago, I had my wife's ring re-set. Now you see them all over. They're a huge trend that's not going anywhere anytime soon; they provide the illusion of a bigger stone that so many people like."
Kanoff thoughtfully selects his inventory from, quite literally, hundreds of designers. When asked how he comes to a final verdict when making these decisions, his answer is both simple and practical: "I'm all about putting money into the quality and presentation. I tend to stay away from the overpriced brands; with those designers, you're paying three times the price all for the name. When it's on your finger, you're never going to know it's a particular designer.
"Everything we sell is made extremely well and at a sensible price," he continues. "Quality, value and exceptional designs are passed onto every customer that enters the store."
All rings from Michael's Jewelers are oneof- a-kind pieces, tailored to each customer's stylistic preferences, ring size and stone selection. Along with staying current on industry trends, Kanoff also continually explores new technologies that can add value to his customers. Through CAD/CAM technology, for example, Kanoff can conjure up nearly any ring designed to exceed the expectations of any bride-to-be.
"While we do have the largest selection in Bucks County, we still custom make every single ring," he says. "Today, every man comes in here with a cellphone and they show me a picture telling me what his lady wants. If he shows me a ring we don't have, we create a computer-generated design through CAD, and email photos of the mockup design to the customer." After a few backand- forth exchanges to ensure the design is what the customer wants, Kanoff then develops a wax casting for the initial "try on." Then, after one final confirmation, it's time to create yet another masterpiece.
"Customers ask me all of the time: 'How do I know I'm going to get what I want?'" he adds. "My response is always that I've never made a ring for someone that they haven't absolutely loved, because we will keep redesigning it until it's exactly what you want before taking that next step."
DREAMS TO LAST A LIFETIME
Before customers take the next step of designing and purchasing an engagement ring for their significant other, Kanoff says it's important to plan in advance. On average, the design process from start to finish takes three to four weeks, according to Kanoff, but he suggests allotting up to two months.
For customers who think they're "getting a good deal" by shopping online or at a chain store, Kanoff advises against it. Rarely, if ever, are these "deals" as good as they seem.
"Chain stores don't sell customized creations, and the salespeople don't have the knowledge we have," he says. "Nearly every time someone has purchased a ring on the Internet, they come back and say that it's not what it appeared to be. If it looks or sounds too good to be true, that's because it is. Use the Internet as a guide to gather information and pricing. We will match that pricing in order to remain competitive."
In other words, Kanoff and his team are committed to standing fully behind each lovingly crafted creation. The same passion that helped him turn the dream of Michael's Jewelers into a reality now drives him in helping each customer find the perfect engagement ring—or other piece of jewelry—to be remembered for a lifetime.
"I feel like I'm living my dream every day when I wake up," he says. "This is exactly where I want to be. We love our customers and have built such a great rapport with the community. I'm a lucky guy, and I want our customers to feel the same way."
Michael's Jewelers
JewelryByMJ.com

1619 Big Oak Road
Yardley, Pa. | (215) 369-1700
445 S. Oxford Valley Road
Fairless Hills, Pa. | (215) 547-5155
Published (and copyrighted) in Suburban Life Magazine, October, 2017.
.
.
.