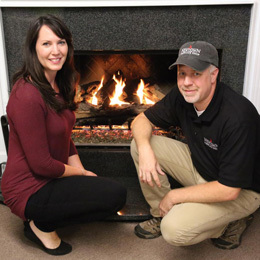 All fired Up
Newtown Fireplace Shop
photography by KIM BILLINGSLEY
You might say Ed O'Sullivan trades in fire. Besides serving the Newtown Fire Company as a volunteer firefighter, this Newtown resident owns Newtown Fireplace Shop with his wife, Jen Gaynor. The couple is in its third year of ownership after purchasing the business from its previous owner who had worked to establish it as a staple of Newtown and surrounding communities since its founding in 1994.
"We wanted to spread our entrepreneurial wings and serve our community a little bit better," O'Sullivan says. "We have a strong sense of community, and taking care of our neighbors is important to us. We thought this was a great way to do that. I am always helping out my neighbors, whether it is volunteering with the fire department or taking care of fireplace needs at the shop."
Because Newtown Fireplace Shop was already a successful enterprise when O'Sullivan and Gaynor took over, they took what the previous owner was doing and enhanced it further. That includes continuing to focus intensely on customer service and consumer safety—the latter of which should come as no surprise considering O'Sullivan's firefighting background.
"This industry is highly unregulated, to an extent," he says. "As a local fireman, we try to pride ourselves on doing everything by the code, by the book, because we believe that codes and standards are the minimum we have to meet; ideally we try to exceed those codes. We take our jobs real serious, and we take safety as our top concern."
For added assurance, Newtown Fireplace Shop has received accreditation from the National Fireplace Institute and certification from the Chimney Safety Institute of America. In other words, Newtown Fireplace Shop never takes shortcuts, under any circumstances.
"I'm big on education—always learning and keeping up with the standards and codes," O'Sullivan says. "If we get asked to cut corners to save money, we're probably not going to be able to work with that customer. We are not going to compromise safety or quality to save someone $300."
But they will work with each customer to deliver a product that suits their budget and taste. "That's the trick," O'Sullivan says. "We always try to present options that are within their budget, but there is usually some compromise when getting an efficient heater that looks beautiful, yet inexpensive. We strive to find a happy medium."
Education Is Key
O'Sullivan and his staff of dedicated professionals take their time explaining the fireplaces they offer, from gas, wood, electric and freestanding stoves to different types of doors, mantels and accessories. Their goal is never to oversell or upsell. Instead, they want to educate every customer to make sure all their needs are met.
"A lot of people think they know what they want from doing research online, but it's not until we explain to them their options and discuss the pros and cons of all the different technologies where we uncover what they truly want," O'Sullivan explains. "After the initial consultation, we usually have a good idea of what they want and are able to find products and services that fit their needs and work within their budget."
The education process often includes undoing common misperceptions about certain technologies.
"A lot of people think gas logs are inserts that will provide heat, when in reality gas logs will behave just like a wood fire," O'Sullivan says. "Although it's decorative, it's not very efficient. People don't understand that gas logs don't produce a lot of heat. If they want heat, we try to talk to them about a different technology called direct vent; it's a different type of gas technology that gets its air for combustion outside rather than inside—and that's what makes it way more efficient."
Before choosing which type of fireplace they want, O'Sullivan says the first thing he has to find out is what fuel type the customer has at their home. This is important because some people want to burn wood while some want to burn gas—and, in some cases, people either don't want to do or simply cannot do because of where they live.
"Some people live in townhomes and don't have natural gas so they can't put a propane tank on the property," he says. "Some people are limited in choices and have to go with electric, which is not a very good heater, but it's less expensive and more decorative. Some people enjoy a ritual of burning wood, starting the fire and maintaining the fire— maybe they have an abundant supply of firewood—and along with that comes routine maintenance and cleaning that some people don't want to deal with."
Creating Memories
Fireplaces not only add to the ambiance of a night at home, but they can also enhance the appearance of the home and even increase its value. Most importantly, though, a beautifully installed fireplace can provide a vehicle to spend more quality time with friends and family, creating lasting memories for years to come.
"I believe fireplaces are one of the most desired things to have when people are looking to purchases homes," O'Sullivan says. "Fire is an important part of the home, and people should be able to enjoy it safely, whether it is for heating, cooking or just spending quality time together. Anyone that wants fire in their home, we want to give it to them."
NEWTOWN FIREPLACE SHOP
434 Penn St.
Newtown, Pa.
(215) 968-3981
NewtownFireplaceShop.com
Published (and copyrighted) in Suburban Life Magazine, October, 2017.
.
.
.