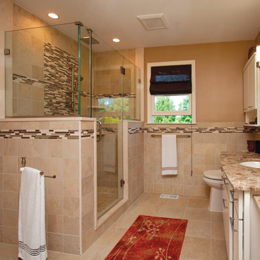 The Diamond Standard
Diamond Kitchen & Bath
Bob and Ginny Childs loved their spacious five-bedroom home in Churchville, with one glaring exception: a master bathroom they considered devoid of personality and fraught with wasted space. That changed in 2012, when the bathroom received an ambitious renovation, complete with the addition of elegant cabinetry and beautiful tile work, orchestrated by the masters at Diamond Kitchen & Bath.
"Now it's the Taj Mahal of bathrooms— gorgeous, contemporary and very warm," says Ginny Childs. She was not surprised by the end result, given a similar result when the Childses hired Diamond Kitchen & Bath to renovate their kitchen years earlier.
"We didn't think twice about going to them again," she says, mentioning principals Mike Reisbord and Paul Selitskiy by name. "Mike and Paul brought so many wonderful ideas to the table. We had to rein them in sometimes, but that's the way it's supposed to work. … What draws me to a contractor, besides the quality of the work they do, is when they do what they say they are going to do, and Diamond certainly did."
Diamond Kitchen & Bath has earned its place as one of the region's most sought-after design ers of beautiful home renovations, as well as a leading provider of high-quality, American- made home furnishings. Even so, such quality does not necessarily come with a high price tag, according to Reisbord.
"We do everything here, and we're less expensive because we're not buying from someone who's buying from someone else; we're getting it directly from the manufacturer or importer," he says. "What customers are getting from us is not a commodity. If we put our name on something, it's going to be something we're proud of and they will be proud of. We care about the final product, and we're not going to do it if we can't do it right."
Diamond Kitchen & Bath has options for every homeowner and every project, from the basic to the ornate. It does not offer, however, options of low quality or, worse, something that can actually harm the homeowner or detract from the value of their home. This includes cheaply made cabinetry of Chinese origin, which is becoming an unfortunate trend in the cabinet industry.
Many Chinese cabinet brands are laden with formaldehyde, sulfur and other chemicals that are banned by the U.S. Environmental Protection Agency but are sometimes hard to regulate. These noxious chemicals can result in health problems such as headaches, dizziness and nausea, among others. Also, Chinese-made cabinets often have dull, thin, worn-looking finishes that simply do not last, and they almost never carry a warranty. This is why Diamond Kitchen & Bath works only with North American manufacturers it knows and trusts.
"There's a big difference in quality between the products we carry and the Chinese cabinetry that's flooding the market," Reisbord says. "The funny thing is, we can compete with these products on price with superior products that were made in the United States. There's no reason to accept something of lesser quality that's not going to last, especially when it's made outside of the country.
"We handpick the products we want to work with, whether it's cabinetry or tile or something else," he continues. "I like to be able to connect with the owner of a manufacturer and don't like dealing with people I can't talk to face to face. There are exceptional products and companies out there that we choose to work with, and they don't always have a famous name or a billion-dollar marketing budget. It's about the product itself."
In Control
Whether a homeowner's goal is to purchase a new faucet or have a kitchen or bathroom fully renovated, Reisbord welcomes prospective clients to visit his company's Huntingdon Valley design center and showroom. There, they will find countless flooring options, 11 different lines of cabinetry and an array of other furnishings. These include a number of "green" products made by trusted manufacturers, from faucets, tubs and showers to cabinetry hardware and natural stone such as granite and quartz.
"If they come to the showroom I guarantee they will see something they didn't expect, and they have the benefit of being able to see, touch and feel it," he says. "If and when we get to the contract phase and we schedule them for installation, everything here is done in house—and that's the single most important thing for us: The project manager controls the project, so there are no headaches for the homeowner."
The formula seems to be working well, as more than half of Diamond's business comes by way of referral, according to Reisbord: "I have customers coming to me five or 10 years later for their second or third project, and when we walk through the door, the previous project we did looks like the day we installed it. That's a testament to our craftsmanship and the quality of the products we use."
Brad and Stacy Wertz of Richboro are examples of clients who have turned to Diamond Kitchen & Bath for various projects. The firm recently completed gorgeous renovations of the kitchen and master/hall bathrooms, as well as a redesigned fireplace/finished bar as part of a reinvention of the family room. Based on their positive experience, the Wertzes would recommend Diamond Kitchen & Bath to anyone.
"I could have said let's move on to next contractor, but it's rare to find someone as responsive and responsible as they have been," says Stacy Wertz. "Mike is always checking in constantly, letting me know what the next steps are going to be. For someone who has little kids, it's very much appreciated when someone is keeping you informed so you can live your life even though your home is going through some upheaval. I could not be happier."
Yardley homeowners Natasha Adamov Falcone and her husband, Brian, had a similar experience. Until they met Reisbord, they were apprehensive about partnering with a contractor to help them contemporize their home's kitchen, making it stand apart from the traditional kitchens found in many homes throughout Bucks County.
"From start to finish, there were no surprises," she says. "Mike made everything seem so easy, but everything was exceptional, from the showroom to the attention we received to the quality of the cabinetry that was used. He knew the dealers to make sure we got exactly what we were looking for in terms of colors, styles and quality. He sat there and absorbed everything, and then he went on his computer and showed us how he could change the layout and how it would make the unused space fully utilized."
The process started in April 2012, and within a few weeks the renovated kitchen was complete. Years later, Adamov Falcone remains thrilled with the look, feel and layout of the space. "I hated being in the kitchen before," she says. "Now it's the central spot of the house."
"The bottom line is that we have a passion for what we do and for getting it done right," says Reisbord. "What we do is not easy, and there's a lot of craftsmanship involved. A decent- sized bathroom might take four to five weeks, but do you want it right or want it fast? We love what we do, and we make it so when it's done, we look at this job and are proud to say it was done by Diamond."
Ask Ginny Childs, owner of the Churchville home that Reisbord and his team helped revitalize, and she'll agree that Diamond Kitchen & Bath's passion is apparent. For this, she has many reasons to be thankful.
"We live in a five-bedroom house, and our children are grown now," she says. "When and if we decide to sell it and move somewhere else, kitchen upgrades and bathroom upgrades are what [home buyers] look for, so I feel like we're in a great position now. In the meantime, we get to enjoy what we have."
Diamond Kitchen & Bath
1442 County Line Road
Huntingdon Valley, Pa.
215-752-4400
DiamondKB.com
Published (and copyrighted) in Suburban Life Magazine, October, 2017.
.
.
.