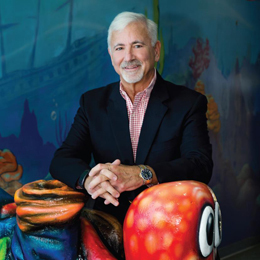 Still Growing
Children's Dental Health Associates
The steady expansion of Children's Dental Health Associates means one thing for children throughout the Greater Philadelphia Area and beyond: more healthy smiles built to last a lifetime. Children's Dental Health Associates has grown to more than 20 pediatric dentistry offices, not only in the Philadelphia suburbs, but also as far north as Easton and Allentown, as far west as Harrisburg and, soon, south into Delaware. But the organization's ever-widening footprint applies to more than office locations alone. Earlier this month, for example, Children's Dental Health Associates formally added Barry Lyon, D.D.S., as its chief dental officer.
Dr. Lyon says he's excited about joining a group of people who "have the highest goals for quality of care, beyond anything else." In his new role, Dr. Lyon will work to continue to ensure the consistency of highquality patient care provided in every office under the Children's Dental Health Associates umbrella. Additionally, he has pledged to continually refine the patient experience by evaluating the latest research and technology germane to modern pediatric dentistry.
"My approach has always been to consider patients based only on what their needs are, not the type of pocketbook they carry or the kind of insurance they have," says Dr. Lyon, who previously served Main Street Children's Dentistry and Orthodontics of Maryland, as the dental director. "I'm happy to be joining an organization that has the same approach I do."
Under its unique operational model, Children's Dental Health Associates provides centralized business services to support each office and allow pediatric dentists and clinical staff to spend their time focusing on what matters most: patient care. Dr. Lyon says patients who receive care from an office run by a dental support organization tend to pay 10 percent to 13 percent less than they would for treatment from a single, independent practice.
"Young parents have so much influence over their child's dental health," he says. "There are a lot of things parents should and should not be doing for their children, even before the age of 12 months, and these are things that are touched on when visiting a pediatric dentist but tend to get overlooked elsewhere. It is entirely possible to go through life without tooth decay, but children can be prone to dental caries if good habits aren't established early on."
A Higher Standard
Eric Felix, D.M.D., pediatric dentist and chief executive officer with Children's Dental Health Associates, says Dr. Lyon's background and expertise will bring even greater sophistication to the organization as a whole.
"When you bring in someone like Dr. Lyon, it reflects positively on how patients are treated because it helps to ensure that the quality is maintained at the highest possible level," Dr. Felix says. "While we've always held great pride in our treatment, Dr. Lyon brings an even higher level of sophistication than we've ever had, and will ensure all work performed by the practice is reaching or exceeding our standards. He will ultimately help to further ensure we're providing the best possible treatment plan for every patient."
This commitment to consistency in delivering high-quality health care—not just oral care— was in place prior to Dr. Lyon's arrival. For example, the practice rates every single patient according to a "caries index" established by the American Dental Association, ranking each patient's susceptibility to tooth decay, from low to high. A pediatric dentist may adjust how to treat a particular child based on a patient's caries score.
"We're putting in models based on wellness so we can monitor and improve a patient's overall health," Dr. Felix adds. "By identifying someone who has a high incidence of caries, we might want to bring them back for cleanings every three months versus every six months because they have a higher probability of decay, and that's going to affect a lot more than just the patient's smile. In other words, we're treating the whole patient, not just the patient's teeth."
An Early Start
Likewise, Dr. Lyon will lead Children's Health Dental Associates' efforts to investigate and adopt newer, more conservative and less invasive approaches to treatment, according to Dr. Felix.
"We're not doing dentistry the way it was being done 20 years ago," he adds. "We're offering the most effective and cost-effective procedures as possible in accordance with the most modern technology and techniques. Dr. Lyon will help to identify these areas in the future, but he will also make sure there's a consistency among all our doctors, so if a patient in our system goes from one office to another, they receive the same experience."
Echoing guidelines from the American Academy of Pediatric Dentistry, Dr. Lyon recommends scheduling a first dental appointment by the time a child's first tooth comes in or by the first birthday, whichever comes first. Why so soon? The greatest value of taking a child to the pediatric dentist as soon as possible may come from educating parents how to prevent tooth decay.
"Young parents need guidance from pediatric dentists," Dr. Lyon says. "Dental caries are preventable, and it's been shown through research that regular visits to the dentist dramatically reduce the incidence of decay. If children start receiving high-quality dental treatment at an early age, they're very likely to grow up with 100 percent healthy mouths, and that's going to have an effect on just about every other aspect of their lives going forward."
Published (and copyrighted) in Suburban Life Magazine, October, 2017.
.
.
.