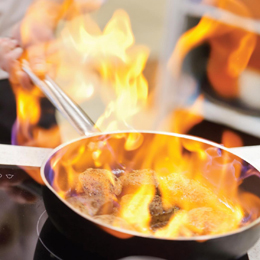 Stirring the Pot
November 2017
Any food lover who's been paying attention will have noticed a shift in the Greater Philadelphia Area's dining scene. While a handful of big-name chefs and restaurateurs may have put the city (and its surrounding suburbs) on the culinary map, scores of bright, young chefs are showcasing their art—cleverly disguised as food, but without the pretense— in ways that are not only satisfying but also intensely flavorful and even surprising. On the following pages you'll meet five chefs whose names you should get used to hearing.
Dave Con - El Vez
Growing up outside of Baltimore, Dave Conn was 14 when he started worked his way up from bussing tables and washing dishes. Three years later he landed a job at the revered Ethel and Ramone's (now Ethel's Creole Kitchen), which was "the intro of cooking" for him. He then made his way up I-95 to Philadelphia, a city he thought was ahead of the game in the restaurant world.
"Philly seemed like a natural progression where I could be exposed to new things to learn and new opportunities," Conn recalls. The new opportunities came quickly, leading Conn to work with one of Philadelphia's biggest restaurateurs— Jose Garces, whom Conn calls a great mentor. Conn built a lengthy résumé under Garces, having worked at Amada, Tinto, Village Whiskey, JG Domestic, The Olde Bar and Volvér, and he became one of the most versatile chefs in the city.
Recently, Conn came into the employ of another Philadelphia powerhouse restaurateur—Stephen Starr—and took over as executive chef at El Vez, the Mexican restaurant in the heart of Midtown Village. Conn says it's been a positive change.
"We have a fantastic team in the front and back [at El Vez]," he says, "and the [STARR] organization as a whole is highly professional, efficient and highly passionate about what they do every day."
Since he started at El Vez six months ago, Conn has made some seasonal changes but nothing drastic, he says. He is in the process of working on more substantial changes to the menu, incorporating what he's learned from Garces in the new kitchen.
"The No. 1 thing he [Garces] stressed that really stuck with me and, surprisingly, we don't see enough of is freshness— freshness of individual components and all items in the kitchen; that was a major point of emphasis, always," Conn says. "The food [at El Vez] really does have to hit on so many levels in terms of being fresh, delicious, intriguing and modern, and we think the menu encompasses all of those things and satisfies a really diverse guest base."
In addition, Conn says it's important to bring something new to the table because guests are more knowledgeable than ever before about the food on the plate. He's excited about the challenge.
"The food scene in Philadelphia has blossomed in the last decade," he says. "Diners definitely are savvier, and I think it allows you to push limits to a degree. People are open to taste and try a little bit more. … It's a great time to be a chef in Philly." —JS
Christopher Heath - Paxos Restaurants
Whereas most kids his age were wrestling with dilemmas such as where to spend spring break, Christopher Heath at 19 years old was running his own kitchen. He studied at L'Academie de Cuisine in Washington, D.C., but Heath would say his best education came while working at the legendary Galileo, learning his craft from celebrity chef Roberto Donna.
"I was 18, 19 years old, and it opened my eyes to so much," he says. "It was an amazing time in the D.C. food scene. It was my first exposure to fine dining, and it's where I made my bones."
By the time he was 20, he was in New York, working with another culinary giant, Daniel Orr. He had the opportunity to travel— to London, where he "lived" in restaurants—and also got his first couple of lessons in how to effectively open a new restaurant.
He took a year off soon thereafter, traveling to Italy, South America and Thailand, and then to Anguilla in the Caribbean. He brought his knives along with him, of course.
"It was a chef's paradise," he says of Anguilla. "For me it was the freshest seafood I've ever dealt with. A fisherman would come from the boat to my back door, and I'd say, 'Go get two conchs,' and I would have that as a special that night. … I could have stayed there the rest of my life."
But Heath returned to the States, where he crossed paths with restaurateur George Paxos. This connection led to Heath being named the opening chef for Melt—Paxos' first restaurant in Center Valley—in 2006. He has since become executive corporate chef over all Paxos locations, to include two other Center Valley restaurants, Top Cut and Torre, as well as Blue in Bethlehem and Firepoint Grill in Newtown Square. Right now he spends most of his time at Firepoint Grill, which opened in late 2016, but some days he'll make an appearance at all five restaurants. "I listen to a lot of books on tape," he says.
Each Paxos restaurant aims to deliver on "the whole package"— not only excellent food, but also service and ambiance. Heath looks at the art of opening a restaurant as a form of theatrics: "We have to put on a show for our guests, and give them an experience they can have only with us."
He says he sees something special in each of Paxos' five restaurants, though he admits that Melt has a special place in his heart because Italian cuisine "is what made me first fall in love with food when I was 14 years old."
What's next for Heath? Considering his passion for opening new restaurants—"every aspect is electrifying to me," he says—the burgeoning Paxos culinary empire has the potential to expand its reach even farther.
"George and I definitely have dreams, some definite possibilities," he says. "Right now our concentration is on making these five [restaurants] perfect. Once we accomplish that, who knows what the future will bring?" —BD
Joshua Smith - General Warren
When it comes to building a menu, Joshua Smith doesn't believe in pretension or fanciness. He does believe, however, in creating dishes that let the ingredients speak for themselves.
"Food has come full circle," says Smith, executive chef of the General Warren in Malvern, a fine-dining destination with roots dating back to 1745. "When I first learned how to cook, the salmon came in whole and you had to know how to make the chicken stock from scratch. Today, that's not the norm; you see terms like 'house-made' and 'from-scratch,' but they're used as marketing tools. Back then, making things from start to end zone was just how you did it."
As a boy, Smith spent a lot of time by himself. His love of cooking came from watching weekend cooking shows on PBS. "This was before PlayStation," he says, "so you could say I learned out of boredom."
Then, as a teenager, his mother got him a job at a steakhouse in Delaware County.
"The chef there took me under his wing, and I stuck with it," Smith says. "At the time, culinary school existed, but not like it does today. Everything I know now I learned in three or four years there. I don't have some grand story; I didn't study under any wizards. I make ingredients-focused, good food people want to eat, and I think that's why my food is so appealing."
Truly, the General Warren has earned and maintained its reputation as an institution in Malvern. Although some consider it a place reserved purely for special occasions— menu staples include beef Wellington, the tableside Caesar salad and the snapper soup—Smith says it's much more than that. For example, he has added a degree of "casualness" to the restaurant with a unique tavern menu, featuring food that is "reflective of the General Warren brand."
"It's food you want to sit at a bar and eat, but people come here for ribeye and duck, not chicken wings and French fries," he says. "We have a reputation. We have a backstory. And those need to be maintained."
As restaurant trends have come and gone, the General Warren has remained consistent—and Smith says people of all ages now crave the kind of cuisine the restaurant has been serving all along. One thing that hasn't changed: He loves cooking as much now as he did when he was a kid.
"I'm one of the few people I know who are doing what they've always wanted to do," he says. "I love this life. Every night I go home knowing I made someone's day better. It's stressful and it drives you crazy sometimes, but I wouldn't trade it." —BD
Sylva Senat - Maison 208
Sylva Senat doesn't call himself a perfectionist. Rather, he sees himself as someone one who expects a high level of commitment, dedication and excellence.
"I push myself, and I expect a certain level when it comes to projects and aspirations," says the Haitian-born, Brooklyn-raised chef. "I tend to fall in love with a project I'm involved in because if I'm not in love with it, I don't do it."
One of those projects is Maison 208, his restaurant in a beautiful, two-story building that had been razed and rebuilt from the ground up. The restaurant boasts three full-service bars, outdoor seating and a retractable roof—the first in Philadelphia. Even with all the bells and whistles, the New American spot with a French twist has a comforting, homey feel, which is exactly what Senat intended, especially considering maison in French means "home."
"We wanted food to be more inviting that is not super fine dining, but still elegant and nice in such a way that when you cook at home and a guest is there, you treat them differently, but it's still home," says Senat, who first made his name in Philadelphia as executive chef of the since-shuttered Tashan. "You may say it's a little nicer because you have guests, but it's very homey."
On the menu are some items he created during Season 14 of Top Chef, including whole dorade—a pan-fried Mediterranean fish with petite vegetables and mushroom broth. The dish earned him high praise during an episode where each chef had to create a dish inspired by Edna Lewis, an African-American chef known for her traditional Southern cuisine.
"Top Chef as a whole was truly a once-in-a-lifetime experience, and when we got to that episode, I truly connected with Edna Lewis," Senat recalls. "For her to be not just a woman, but a woman of color, there was no black anything during the time she was cooking and she still had multiple restaurants and brought new ideas. She was super fascinating to me, and I really wanted to put out a dish that showed all of that—showed the farmer and her legacy as a chef."
Senat rolled out a brunch menu in mid-October, and the menu features another Top Chef dish that stuck with him, the Skuna Bay salmon frittata, though not for a necessarily good reason.
"Here we are talking about brunch and making up dishes, and my wine and beverage manager goes, 'You should make a frittata,'" he recalls. "I was, like, really? That was the dish that sent me home [on Top Chef]."
He says he always envisioned doing brunch at Maison 208, but he doesn't love brunch nearly as much as most Philadelphians do.
"I think brunch should be more fun; I think it's delivered too formal," he says. "It's breakfast and lunch; it should be fun, it should be good food, and you shouldn't have to wait for it for six hours. … It goes with my hashtag, #ihatebrunch. I hope Philadelphia gets it— it's a love/hate thing. I follow it with a little heart outside the hashtag." —JS
Eric Yost - Suburban Restaurant & Beer Garden
It's been a remarkable eight months for Eric Yost, owner and chef of Suburban Restaurant and Beer Garden in Exton. Less than a year into existence, his newly opened hotspot has made quite a stir. The restaurant—or restaurants, really, as Suburban essentially has two distinct personalities—even earned a spot in Philadelphiamagazine's "Best of Philly" lineup, as best beer garden. But it's so much more than a place to grab a cold glass of suds.
"When we opened, I thought it was what the town needed, having a more casual menu on one side and a more upscale or elevated menu on the other," he says. "It's been well received by most people, but some people don't get it."
For example, some patrons might be surprised at the response they get when they ask for a Grey Goose martini, because Suburban doesn't carry Grey Goose. Instead, it might offer Stateside, from a local vodka distiller. Yost has a deep loyalty to all things locally produced. His goal: to turn guests on to Pennsylvania-made products, whether it's craft beer, spirits or fresh pork.
"We'll get a pig in from Green Meadow Farm once a week," he says. "It will come in on a Thursday, and it's on the smoker by Friday. That's what turns into our pulled pork."
Yost, who is a Chester County native, built up quite the C.V., prior to opening Suburban, having wandered both near and far. He cut his culinary teeth in kitchens on Cape Cod. He was sous chef at the Gables at Chadds Ford. He opened restaurants for Tommy Bahama in Florida and Nevada. He gained a passion for sustainable, locally harvested foods as a partner in White Dog Café and, later, as executive chef of Wyebrook Farm. He even spent a few years as M. Night Shyamalan's personal chef. Now he's happy doing his own thing, giving his customers what he calls "something new to discover."
"There was nothing like this in Chester County," he says. "There's definitely a market for awesome local beer, but I think we're helping to make the market for local spirits, too. We have 10 to 15 different gins, 10 to 15 different bourbons, all local. … A lot of these guys are self-distributed, so I'll have to call on 20 distilleries per week. It's a lot of work, but they make high-quality products, so it's worth the effort."
Yost manages to carve out blocks of downtime—mostly Sundays, which he reserves for his family. Occasionally he'll indulge in a habit he brought back from his time in the tropics: fishing. ("For a while I always had a fishing pole in the car," he says.) Based on his goals for the near future, however, he'll likely have fewer opportunities to cast into Brandywine Creek: "Suburban's doing great, but look out for a brewery in our future." —BD
Published (and copyrighted) in Suburban Life Magazine, November, 2017.
.
.
.