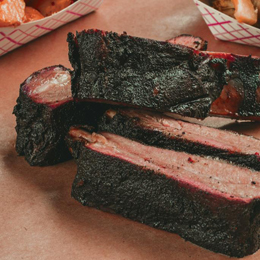 Rubbing It In
Crave
Memphis, Kansas City and parts of North Carolina and Texas have become meccas for barbecue, but our neck of the woods is no slouch either. Check out these 10 local hotspots for pulled pork, brisket and other finely smoked meats. A word of caution: When you go, bring an appetite and a shirt you don't mind getting dirty. Making a mess is expected and, in fact, encouraged.
Deke's Bar-B-Que, PHILADELPHIA
For those who've been dreaming of moving South, check out this best-kept secret right on the dividing line between East Falls and Wissahickon. Just off of Ridge Avenue, Deke's Bar-B-Que serves up "one serious smorgasbord" of authentic Southern-style barbecue from all the barbecue meccas: spare ribs from St. Louis, Texas-style brisket, and pulled pork from North Carolina. Sticking true to its Philadelphia roots, Deke's offers some entrées with a classic Philly twist; the brisket cheesesteak is a perfect example. Of course, you can get it "wit" or "witout." DekesBar-B-Que.com
Fette Sau, PHILADELPHIA
Best known for its smoked meat, craft beer and a broad list of American whiskeys, Kensington's Fette Sau has it all. German for "Fat Pig," the name truly speaks for itself; get the tender Duroc pork belly or the smoky pulled pork sandwich. All meats are sourced from small, local farms and smoked in house, with a rotating selection of meats available for purchase by the pound. FetteSauPhilly.com
Hood's BBQ & Deli, UNIONVILLE
Hood's BBQ & Deli lives up to its title as best barbecue in Chester County. With a longstanding commitment to dishing out quality barbecue with a home-style touch, Hood's remains a thriving establishment for locals both near and far. Choose from one of the country classics, such as the "honey stung fried chicken," or try the infamous "Hoodie" sandwich, which is piled high with generous portions of pulled pork, sharp provolone and tangy coleslaw. Either way, Hood's will linger in your memory long after the meal is done. HoodsBBQ.com
Jesse's Barbecue & Local Market, SOUDERTON
Family-owned and operated Jesse's Barbecue & Local Market specializes in all of the bold flavors Southern barbecue has to offer—from wood-fired, slow-smoked meats to delectable handmade salads and desserts. For barbecue aficionados, all meats are prepared fresh daily. Whether you opt for a single serving (or a half/full rack) of slow-smoked ribs, or the hearty BBQ sampler (three ribs, two slices of brisket, one drumstick and a plentiful serving of pulled pork), you'll leave Jesse's with a smile on your face. Note: Most meats sell out by day's end, so arrive early. JessesBarbecue.com
The Lucky Well, AMBLER
It's not every day we come across a local restaurant with celebrity ties. When Food Network star Chad Rosenthal teamed up with barbecue expert Chris McHugh to create The Lucky Well, they brought the distinctive tangy flavors of Memphis barbecue into our backyard. With a topshelf whiskey collection, classic cocktails and a live blues lounge, guests can enjoy all the flavors—and atmosphere—of Memphis, but without having to cross the Mason- Dixon Line. Good news for Philly residents: Word has it "The Well" will soon expand into Center City. TheLuckyWell.com
Mabel's Barbeque, WEST CHESTER
Mabel's Barbecue in West Chester is putting the true meaning of "soul" into soul food. Paoli's Mabel Spann brought the knowledge of generations and family traditions to create barbecue unlike any other. The secret to her success? Patience—meaning, no short cuts to cooking the meat to tender perfection. Regulars say once you've indulged in Mabel's fried chicken and barbecue, you'll never go anyplace else. Don't believe us? Stop by and taste for yourself. MabelsBarbeque.net
Meat Wagon BBQ, DOYLESTOWN
With food on wheels in high demand, Doylestown's Meat Wagon is gaining momentum. From the slow-smoked, dryrubbed pork used in its pulled-pork sandwiches to its homemade mac-andcheese in a creamy béchamel sauce, it's no surprise that the Meat Wagon is, as they say, having a moment. Good news: The fittingly named Meat Wagon is on the move, so it roves beyond the confines of Doylestown. If you're in need of catering, be sure to reserve them to make your next big event one to remember. TheMeatWagonBBQ.com
Smoke-N-Grill, HAMILTON, N.J.
While New Jersey is predominately known for its tomatoes and corn, it's also home to some of the best barbecue joints in the Northeast. Take Smoke-N-Grill, for example. This Hamilton hotspot is particularly well known for its iconic Texasstyle barbecue, but it's got all the bases covered and then some. Company founder Pete Curran tells visitors not be afraid of getting a little messy; it's practically a rite of passage. TheSmokeNGrill.com
Suburban Restaurant and Beer Garden, EXTON
Fresh, sustainable, locally grown pork is the name of the game at this newly opened destination. Each pulledpork sandwich begins as a pork shoulder from Green Meadow Farms that gets liberally slathered with a house rub, sprayed with apple cider and tossed gently onto the smoker, which is fueled by fruit wood. The sandwich comes with apple fennel slaw and a mustard barbecue sauce, which is always served on the side. The sauce complements the pork all right, but we think the meat does OK all by itself. SuburbanBG.com
Zachary's BBQ, NORRISTOWN
Keith Taylor, founder of Zachary's BBQ, knows a thing or two about classic Southern barbecue. His Southern roots—and his grandmother's expertise—are evident in every hickory-smoked platter, sandwich and side he serves. With a considerable variety of options to choose from—smoked turkey breast, fried freshwater catfish and classic Southern sides such as fried okra— everyone is guaranteed to leave with a full belly and love in their heart. ZacharysBBQ.com
Published (and copyrighted) in Suburban Life Magazine, November, 2017.
.
.
.