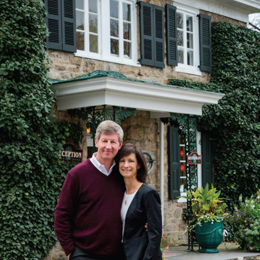 A Feast for the Senses
The Inn at Barley Sheaf
The Inn at Barley Sheaf Farm in Buckingham has earned a rather remarkable distinction: inclusion on OpenTable's list of the 100 most romantic restaurants in the country, as well as the top 100 places for brunch in the country. (To clarify, that's country, not county. For 2017, only two Pennsylvania restaurants made the list for top romantic spots, and only five in the state made the list for top brunch.) While the restaurant provides a truly wonderful atmosphere in which to enjoy a meal with a significant other, guests will find much more at The Inn at Barley Sheaf Farm than a quiet, candlelit table with a breathtaking view.
"We have an amazing chef with an incredible environment," says Mark Frank, who co-owns The Inn at Barley Sheaf Farm with Deena, his wife. "The food is as good as or better than what you will find in restaurants in the major cities; personally, I think it's better than any restaurant in New York or Philadelphia. If you come here, you'll have a meal that will rival the best meals in the world."
Forgive him if he sounds proud, even braggadocios, but he's confident in the experience the culinary team—led by Executive Chef Joshua Homacki—delivers with each plate that exits the open kitchen of the property's award-winning restaurant.
"Chef Homacki is a unique talent," Frank says. "People who come here are in for a unique culinary experience, with a focused menu that always offers something different to enjoy."
FAMILIAR BUT DIFFERENT
Homacki started his culinary career cooking in the kitchens of Bucks County restaurants. After graduating summa cum laude from Johnson & Wales University's College of Culinary Arts in Providence, R.I., he went on to hone his craft in some of Philadelphia's best restaurants—as chef de partie at Chifa/Garces Restaurant Group, as executive chef at Snackbar and as chef de partie at Lacroix at The Rittenhouse.
"My goal is to do seasonal food in a creative way," says Homacki, who has been leading the kitchen at The Inn at Barley Sheaf Farm since 2013. "I'll see what's available from the purveyors we use and try to manipulate the texture, combine it with other flavors and ingredients, and deliver something familiar in a different way."
Homacki strives to utilize ingredients from area purveyors and farmers whenever possible. His menu changes seasonally, featuring wholly unique dishes as well as classics "with a twist." Likewise, the presentation of each plate is cosmopolitan, even artful.
"Chef Homacki is a unique person in many respects," says Frank. "He has carte blanche to do whatever he wants with the menu. It's rare to find someone like him who wants to continually learn and grow. That's why we're sponsoring a trip for him to go overseas and work with some of the great chefs in Europe. He'll come back and bring the things he has learned and experienced back with him. It will allow him to stretch and grow, so it will be good for our customers, too—and, in the end, good for us."
The BYOB restaurant serves dinner Wednesday through Saturday, as well as brunch on weekends. The multi-course menu changes often—"whenever I get bored," Homacki says. The current menu features dishes such as Rohan duck breast, MacFarland pheasant and Hudson Valley foie gras, as well as a number of seafood signatures. One of Frank's favorites from the current menu: the Atlantic octopus, served with pistachio miso and green-apple kimchi.
"The menu evolves pretty much every week, and it's always going to offer a twist on familiar things," Frank says. "You'll also notice a lot of seasonal elements, so it will feature something that's at its best at a certain time of year. Chef Homacki has a gift for taking all these different flavors and ingredients that blend so well together."
HISTORIC BEAUTY
Located along an idyllic stretch of 202 between Doylestown and New Hope, The Inn at Barley Sheaf Farm spans more than 30 acres of preserved farmland, woodlands and wildflower meadows. It also has some history; it was part of the original William Penn land grant from Colonial times, and it later served as the home of George Kaufman, the Pulitzer Prizewinning playwright and director of famed Broadway plays.
Besides the restaurant, the property is best known as a bed and breakfast. Its 16 charming suites are spread throughout the 1740 Manor House, a 19th century stone barn and a handful of intimate cottages. (Each suite bears the name of one of Kaufman's theatrical works—Once in a Lifetime, The Man Who Came to Dinner, No Place to Go, etc.) Also, considering the serene beauty of the Bucks County countryside, the property offers an unparalleled setting for weddings and other special events.
"We never host more than one wedding a day, so if a couple and their guests are here for their event, they won't be sharing the property with any other wedding," Frank says. "It's also an interesting place for corporations to have their retreats and other business ventures."
The property has been renovated and expanded over the years. Even so, The Inn at Barley Sheaf Farm is once again on the cusp of reinvention. Frank says the property will undergo a major expansion of its weddings facility. Right now, the property is equipped to host indoor weddings of up to 125 people, as well as outdoor weddings in a tented area for as many as 300. By April 2018, when the renovation should be complete, the property will be able to comfortably host 200 people indoors.
'COMFORTABLE ELEGANCE'
When the Franks moved to Bucks County more than a decade ago, they fell in love with the area. They had a similar feeling the first time they set their eyes on The Inn at Barley Sheaf Farm. As owners since 2013, they refer to the property as their "retirement plan."
"We have a beautiful old country inn on a beautiful estate, and we have great ambiance and service as well—'comfortable elegance' is how we describe it—and the food is absolutely terrific," says Frank, who spent most of his career in advertising and business management. "When Deena and I were looking for a new venture to pursue, we had looked at a few different places, and we saw so much potential in this place. We feel very lucky to be here."
Anyone who stepped onto the property— for a meal in the restaurant, a night in one of the suites, a wedding or special event— undoubtedly feels the same way.
Published (and copyrighted) in Suburban Life Magazine, November, 2017.
.
.