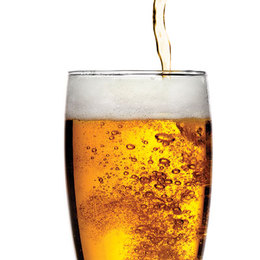 Art of the Craft
Specialty beers give area drinkers something each season
Starting out as a smaller industry, craft beer, or a type of beer that is brewed to be distinctive and flavorful rather than appeal to the masses, was once only available at breweries and specialty bars. Now the Indian Pale Ales, dark stouts, fruity lambics and smooth lagers are gaining popularity right in our own backyard. Our local breweries, along with pubs that carry varieties from all over the world, are introducing specialty brews to beer fans and newbies alike.

Brendan Anderson, brew master at Triumph Brewery in New Hope, says he has seen how people's tastes and preferences in beer have changed over the recent years. But more than craft beer as a whole being a trend, he finds that certain flavors and types of craft beers will ebb and flow in popularity over time.

"Right now sour beer is a trend," Anderson says. "Variations on fruit beers are trends. But also, each season is represented by its own unique beer."

In the fall, many craft brews incorporate flavors that evoke the harvest season. Fill your glass with pumpkin ales, which are usually mild, with little to no bitterness, and a spice like nutmeg or ginger often taking the lead; Oktoberfest brews with a dark copper color and mild hoppiness; and oatmeal stouts that are generally medium- to full-bodied stouts with extreme smoothness and a touch of sweetness.

People's enjoyment of craft beers is unlikely to fade no matter what the season, and so the industry will continue to provide new brews to challenge and excite our tastes.

"What makes craft beer really interesting isn't just the diversity of beers, but the passion and commitment of the small brewers," says Brian O'Reilly, brew master for Sly Fox Brewery in Royersford. "They are always trying something new while sticking to the true tradition of brewing beer."

Won't You Beer My Neighbor?

Even the biggest suds snobs can find their favorite local beers or specialty micro-brews at one of these beer havens.

Sly Fox Brewery
520 Kimberton Road, Phoenixville
312 North Lewis Road, Royersford
SlyFoxBeer.com
Sly Fox is known for serving up fresh craft brews like Sly Fox Amber IPA and Sly Fox ESB, while still offering a tasty menu. Since their opening, Sly Fox has brewed and served over 100 seasonal (think Oktoberfest or Christmas Ale), year-round (Chester County Bitter or Phoenix Pale Ale), and occasional release beers (Vienna Lager or Belgian Blonde).

Iron Hill Brewery
1460 Bethlehem Pike, North Wales
130 E. Bridge St., Phoenixville
30 East State St., Media
3 West Gay St., West Chester
IronHillBrewery.com
Iron Hill offers year-round staples like the Iron Hill Light Lager, Pig Iron Porter, and Raspberry Wheat while also keeping the beer menu fresh and seasonal. In October, they release the traditional German festival beer Oktoberfest—a full bodied amber lager with malty, bready aroma and a firm malt flavor, balanced with mild bitterness and a clean dry finish.

Teresa's Next Door Bar
124 N. Wayne Avenue, Wayne
610-293-9909
Teresas-Cafe.com
Teresa's Next Door Bar, opened by Andy Dickerson and Mike Ellis in 2007 (in conjunction with their Italian café), offers 250 bottled beers and 23 draft varieties, like Allagash White and Coniston Bluebird. There's also two choices on the hand pump tap as well as one selection on nitro (Sly Fox O'Reilly Stout is the usual). They have also been known to get Pliny the Elder in stock, though beer lovers know it never lasts long.

Craft Ale House
708 W. Ridge Pike, Limerick
484-932-8180
CraftAleHouse.com
Gary and Melissa Fry, owners of the Craft Ale House, not only serve craft brews but also allow you to mix and match your own six packs to bring home. In fact, they are so excited to introduce people to new flavors that they're currently offering a discount to anyone who mixes and matches six or more varieties.

Iron Abbey Gastro Pub
680 North Easton Road, Horsham
215-956-9600
IronAbbey.com
Here you'll find brews from all over the world in every style, flavor and alcohol content you can imagine. The expert staff will fill you in on all the history and nuances of their more than 200 bottles and 24 tap choices. The pub frequently hosts brewery-specific beer dinners, where for a fixed price you can enjoy a meal with a tasty brew paired with each course.

TJ's Restaurant & Drinkery
35 Paoli Plaza, Paoli
610-725-0100
TJsBeer.com
TJ's offers 29 categories of bottled beers, from English ales and pilsners to German-style wheat beers, Flemish sours and hard ciders. There is truly something for everyone. Prefer your booze from the tap? No problem! TJ's has 23 choices on standard tap and one additional firkin (a quarter of a barrel). Look forward to new arrivals this fall, including Founder's Kentucky Breakfast Stout, Smutty Nose Big A IPA and Atwater Block Vanilla Java Porter.

Danielle Wallace is a freelance writer in Montgomery County.