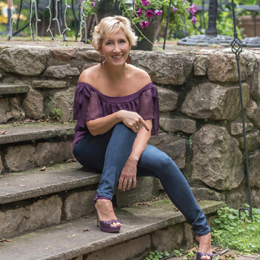 Easing the Burden
Task Complete
photography by BRENDA JANKOWSKI
If you reside in the vicinity of Bucks County and the stressors of daily life have simply become too demanding, Kellyann Schaefer has a message she wants you to hear: A less stressful and more fulfilling life is within easy reach; all you need to do is ask the right person to lend a helping hand.
Schaefer would know. She's the CEO and owner of Task Complete, a personal errand and concierge service for residents of Bucks County, Northeast Philadelphia and across the river in New Jersey, toward Princeton. For an affordable fee, she and her growing team of service providers will do anything from handling everyday errands for busy homeowners, to shopping for groceries and providing companionship services to seniors who wish to age in place.
"People don't have to feel as if they have to do everything alone," she says. "It's an absolute gift to be able to help aging adults stay in their homes, or to help a single mom have dinner on the table while she manages her career, or to help another leader in the community focus on his business by focusing on the small but important things that often go neglected. It's not what you do in this world; it's how many lives you impact."
Lending a Hand
Task Complete, which is fully bonded and insured, has thrived since its founding in the summer of 2010. Although the business is less than a decade old, helping others has been a lifelong pursuit for Schaefer.
"Early on I thought I wanted to be a lab tech, because I loved math and science, but I realized I was meant for something else," she says. "I remember working as an aide in the dietary department of a local hospital, and my favorite part of the job was spending time with patients, helping them select their menu for the day. I wondered what I could do with that love, and I thought: What if I became a nurse? After testing my skills—and my stomach— working as a nurse's aide, I knew immediately that nursing was my path."
Although she was a single mother at the time, she put in the long hours of work and study to become a registered nurse. She earned her first fulltime nursing job in a nursing home, and over the next 10 years, she added to her expertise by taking shifts on the medsurg units of prominent Philadelphia hospitals. At every stop, she enjoyed putting in "an extra 10 percent" to make life more enjoyable for the people she met along the way.
"When I was the nurse manager of a nursing home in Northeast Philadelphia, I was the one on Mother's Day and Easter who would bring in a curling iron from home and do the residents' hair and nails to get them ready for their families," she says. "I was raised by my great-great-grandmother, so I've always loved working with geriatrics. They have so many stories and so much knowledge to share."
She treasured her nursing jobs, but the work began to take its toll. By the summer of 2010, she was beginning to mull her options for "the next step."
"Something in my soul was calling me to do something else," she recalls. "I never thought I would leave nursing behind, but I knew there were so many people beyond the walls of the hospital who needed help. Whenever a patient was going home, their biggest concern was usually something along the lines of, 'Who is going to walk the dog or take care of the cat?' or 'Who's going to bring in fresh groceries?' At the same time, I was watching a lot of people I worked with whose careers were beginning to weigh on their lives at home."
The pivotal moment came one stressful day when she was traversing the aisles of an Acme supermarket on Roosevelt Boulevard. The mother of four remembers pushing one shopping cart and pulling another, her children in tow, thinking: There has to be an easier solution.
It took a few months to figure out her path going forward, but by December 2010, Schaefer had a business plan in place and Task Complete was born. Shortly thereafter, she inked her first client: a traveling couple who needed someone to be at their home to receive the delivery of a pool table. The business continued to pile up from there.
"I jokingly say it was a team of one for the first two years," she says. "Now I have a team of full-time and part-time people— rock-solid human beings who love the work they do. For professionals, we could be doing anything from taking the dog to the groomer to scheduling the car maintenance. For seniors, one of my first clients lived in a nursing home and needed help changing the batteries in her hearing aid. I would go in once a week for a companion visit, and I would bring in fresh groceries, take care of the hearing-aid battery and open my iPad so she could email her daughter."
Occasionally, Schaefer gets called in to handle more unusual requests. Example: Earlier this year she was tasked with finding more than two dozen pairs of "eclipse glasses" on short notice for a client who wanted to safely watch the solar eclipse. Anyone who tried to get their hands on a single pair of eclipse glasses at the last minute should remember how difficult a chore that was, but Schaefer succeeded in tracking down 30 pairs.
Making an Impact
Schaefer has left her mark on the world in ways other than improving her clients' daily lives. Over the years, as people sought her advice on starting concierge-type businesses of their own, she began researching outlets to share her wisdom. So far, she's found a few: She penned a book, The Concierge Life, so readers could learn from her triumphs as well as her missteps; and she also began offering online courses to help current and prospective members of the personal concierge community create profitable businesses of their own.
As demand builds for concierge and personal assistance services, Task Complete continues to take on new clients and add new team members. The expectation is that the team will continue to hire and grow in 2018. The company has also extended its reach across the country by offering personal and virtual assistance services. Finding a skilled Realtor to help a client sell a condominium in Georgia, making detailed travel arrangements, monitoring birthdays and special events, and sending cards and gifts to arrive on time are just a few of the things the team does for longdistance clients. Meanwhile, Schaefer is also forging new relationships with corporate clients who wish to offer her concierge services as an employment benefit; for example, last year a corporate client in Horsham hired Task Complete to host a two-day gift-wrapping event, during which Schaefer's team wrapped 279 gifts.
"I believe there are certain people who are here to take care of others," she says. "My goal is to connect them with my clients. That's my big 'why.' I like to say that the more light we can shine on this world, the less room there is for darkness. One of the easiest ways to do that is through the gift of taking care of someone else."
TASK COMPLETE | (717) 746-TASK | TaskComplete.com
Published (and copyrighted) in Suburban Life Magazine, November, 2017.
.
.
.