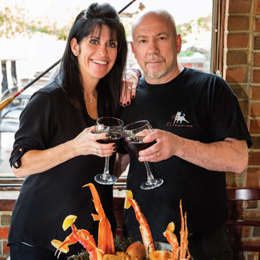 Love at First Taste
Café Alessio and Alessio's Seafood Grille
They met while they were both working at the same restaurant in New Jersey, she in her late teens, he in his early twenties. Passing glances quickly blossomed into romance— and the rest, as they say, is for the history books.
More than 20 years have passed since those two young paramours became husband and wife, as well as business partners. Their names: Jacqueline and Joe Mannino, two of Bucks County's most notable restaurateurs.
"We met at a tiny pizzeria in Flemington, and I used to see her all the time before we started dating," Joe says of Jackie. "Later on, when I was working for my father in Lambertville, we were remodeling and I was buying equipment from an older gentleman. He got to know me and saw that I was a hard worker. One day he told me, 'If you ever want to go into business, I'll finance you.' I told Jackie about it and she said, 'Why not go for it?' So that's what we did, and it took off from there."
The Manninos have spent most of their careers working side by side in restaurants they owned and operated throughout the Greater Philadelphia Area, from Giuseppe's in Hamilton, N.J., to La Vecchia Cucina in Buckingham. Early into their careers, they spent their days together at the same restaurant, but that changed as their interests— and their business' footprint—grew. Today the Mannino family runs two of Bucks County's most beloved BYOBs, Café Alessio in Doylestown and Alessio's Seafood Grille in Warrington; she spends most of her time tending the front of the house at Café Alessio, while he leads the kitchen at Alessio's Seafood Grille.
"We work great together, and we always have," says Joe. "I've loved every minute of it. We've always been a great combination, because I always knew she had things taken care of everything out front so I could focus solely on the food."
While the restaurant business has a reputation for being a notoriously difficult way to earn a living, the Manninos have perfected the formula. It's a labor of love, according to Joe, and it has also become a family affair. The Manninos' two sons, 19-year-old Alessio and 23-year-old Giovanni, have been part of the family business since they were young boys. While Alessio has since left for college to follow a career path apart from "the family business," Giovanni— who studied at Johnson & Wales University's esteemed College of Culinary Arts in Rhode Island—is following in his parents' footsteps. He's now head chef at Alessio's Seafood Grille, perfecting his craft by his father's side.
Falling in Love Again
The Mannino family has roots in Sicily, so it should come as no surprise that woodfired pizza, pasta dishes and other Mediterranean delights feature prominently on the menus of both Alessio restaurants. Even so, Joe has a particular passion for fresh seafood—and the seafood dishes he has put on the menu go far beyond what most folks would consider standard.
On the menu of the Doylestown location, for example, Japanese-inspired sushi appears alongside a host of Italian and Sicilian delicacies. (One of Joe's favorites, the eponymous Joe Mannino roll, has spicy tuna, whitefish and cucumber, topped with crunchy tempura and seaweed salad.) At Alessio's Seafood Grille in Warrington … well, "seafood" is part of the restaurant's name for a very good reason.
"Years ago we started vacationing in Cape Cod," he says. "I fell in love with the place and the seafood there. It inspired me to try to recreate the experience here."
He has succeeded. One example of his culinary talents includes a range of Cape Cod-style steam buckets, including the aptly named Cape Cod Clam Bake, available in Warrington. This overstuffed tub bears a veritable smorgasbord of steamed mussels, clams, peel-and-eat shrimp, king crab and snow crab, plus potatoes and corn, all liberally sprinkled with the zest of Old Bay seasoning. The Cape Cod Clam Bake runs $80 for two people, and $160 for four—and it's worth every penny, according to Joe.
"The Cape Cod is huge, and people absolutely love it," he says. "Your mouth drops when it reaches the table."
Both Alessio locations are known for their pizza, the dough for each perfectly made pie baking to blistered perfection in a wood-burning oven. The oven also plays a role in steaks, fish and other entrées, too, particularly at Alessio's Seafood Grille.
"We use a lot of hard wood from fruit trees because it drives the temperature and it even affects the taste of the food," Joe says. "The oven enables us to offer a lot of unique daily specials, especially with fish. Everything we do here we try to be unique. We do 90 percent of all our dishes gluten free, and everything is made to order; there's very little we prepare ahead of time, so it's all very fresh."
What's next for the Manninos? For starters, the Warrington location will soon undergo a complete renovation. Once complete, Alessio's Seafood Grille will boast a feature considered a highlight of the Doylestown location: an outdoor patio.
"We're still waiting for the final permits, but we should be done in a few months," Joe says. "Everything we do is to try to make people happy, from the food we're serving to the experience we're trying to give people from the second they walk through the door."
Apart from the looming renovation, it's full steam ahead: The love affair will continue— between Joe and Jackie, and between the Manninos and their loyal patrons.
"There's no greater joy than making someone happy," says Joe. "Jackie and I love what we do. It's our passion, and we're grateful that we get to share it with each other—and with other people—every day."
Alessio's Seafood Grille
827 Easton Road
Warrington, Pa.
(267) 483-8500
AlessioSeafoodGrille.com
Café Alessio
24 N. Main Street
Doylestown, Pa.
(215) 340-1101
CafeAlessioDoylestown.com
Published (and copyrighted) in Suburban Life Magazine, November, 2017.
.
.
.