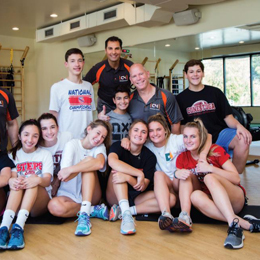 Inspired to Perform
C4 Performance Training
photography by JODY ROBINSON
Any gym or fitness studio with the right equipment has the potential to help young athletes build the muscles needed to perform on the field. But Charan Chadha knows that today's young athletes won't achieve the results they seek by strength training alone.
When Chadha founded C4 Performance Training in 2015, he imagined a one-of-akind fitness destination staffed by experienced professionals able to help young athletes protect themselves from injury, improve their confidence and, in the end, raise their game to an elite level that might draw the discerning eyes of NCAA Division I, II and III schools. Chadha and his team—led by Head Coach Mike McGee and Coach Sam Morison—do so by providing a simplified yet proven solution for their clients: "Motivate them to believe in themselves, give them the tools to go, and get out of the way."
Many C4 students do, in fact, lead successful athletic careers in college, often with substantial support in the form of athletic scholarships. Aside from aspiring athletes, however, C4's primary clientele includes children seeking a more active lifestyle or simply trying to get to "the next level."
"Parents of children that are on the C team, B team or JVA JB want their kids to compete on a higher level—and more importantly, so do the kids," Chadha says. "Most want to go on and play Division 1 sports at college, but private and national universities are very expensive. Athletic scholarships can save parents a lot of money in the end. With C4 training, we have helped dozens of families achieve these athletic scholarship opportunities at Division 1 schools. They can spend a few dollars now with C4, and save hundreds of thousands later on their children's tuition."
Chadha recalls one boys' soccer team comprised of several solid players, but the team had minimal expectations of winning any major games that season. Through persistent training and collaboration with C4, the team ended up taking home a Division 1 Regional Soccer Club championship title. It's a great story, but Chadha says this kind of result is not uncommon among current C4 students and alumni.
GETTING RESULTS
At C4, improving performance begins with building confidence in one's abilities, regardless of the student's gender, circumstances or long-term aspirations. How do they do this? Aside from their extensive backgrounds in fitness, C4's principals believe their backgrounds as family men help them unlock each child's full potential.
"We get to watch their confidence grow, from not being able to do one pushup to doing them and excelling on the field," says McGee. "The self-confidence created carries well past their sporting endeavors and into their everyday lives."
"When you're a parent, you understand a few things," Chadha adds. "When kids are resistant to things, they can lash back or they're not inspired to continue down the same process. Therefore, we ensure that we're making their time with us fun, by listening to them, engaging with them and utilizing group training."
During each one-hour group session, students learn to master the fundamentals of full-body performance—whether their goal is to secure an athletic scholarship or just to be more active.
"With the intrusion of cellphones and computer games, many children now have less play time, and, as a result, children struggle with their weight, posture and even attitude," Chadha says. "Our program allows these children to grow in a team, motivate and support one another and eventually, become friends with people who were once strangers."
The C4 team takes great pride in the tightknit relationships their training programs have fostered. At the same time, they recognize that some children aren't quite ready to plunge headfirst into a full-group setting, either because of social anxiety, body-image issues or apprehension caused by a prior injury. For these students, C4 offers Back to Field, a smaller and more individualized group setting, tailored to specific needs.
"In Back to Field, we work with a lot of kids coming off of ACL tears, and as devastating as a physical injury is, the mental aspect tends to be the hardest part for kids," McGee says, adding that recovering from an injury can be as challenging as the injury itself—not only to the child but also to the child's parents. "We do a great job getting them back together physically, as well as giving them the trust within themselves to get their bodies moving again, and to give them the strategies and techniques for reducing the chances of a future injury. It's our job to make them strong and make them feel like the athlete they once were."
NOT JUST FOR KIDS
C4 has grown beyond what Chadha first envisioned. As parents have seen their children make dramatic improvements, some have requested adult classes so they can reap similar benefits. To accommodate this demand, the C4 team created two classes—one called Grit, the other Grind—to suit the adult population. Similar to those offered to younger students, these classes are conducted in a group setting, and they aim to inspire, improve performance and build strength as a way to prevent future injuries and facilitate recovery, which involves not only physical healing but also appropriate nutrition, ample sleep and consistent hydration.
"Grit will be a 50-minute, strength-based training class focusing on functional movement, increasing strength and aerobic conditioning, and Grind will be an anaerobic, boot camp-style class, only 35 minutes long," Morison explains. "Clients often don't understand the importance behind a proper warmup, and they start pulling muscles or acquiring muscle strains and other pain, so we make sure we're allotting that time in the beginning before we get them going."
Chadha finds that most people struggle when their bodies begin to hurt. Often, the pain makes them quit, so they fail to achieve the results they sought but they also feel immensely disappointed in themselves. With each of the two adult classes, C4 zeros in on low-impact movements to minimize the strain on joints, meaning a lower risk of pain that might cause them to stop. In addition, the two classes work in tandem, thereby filling a void where many fitness studios fall short.
"We've put the whole package together," Morison says. "These two classes feed off of each other, by giving adults the short-term conditioning one day and the long-term conditioning another. You're bringing everything together without neglecting any needs."
Likewise, many women experience similar frustrations resulting from post-pregnancy pain in the abdominal muscles. Chadha and his team understand that women want to get back to feeling "sexy and confident," and C4 helps them do so through proper training, nutrition and, of course, recovery.
"By making sure you're getting enough sleep, ensuring you're hydrated and staying motivated, you can achieve these results," he says. "We want to lift women up and make sure we're giving them the results they're looking for."
While C4 has mastered the art of helping children realize their full potential, Chadha anticipates C4's approach to generate similar outcomes for adults.
"When you study the human body as much as we have, we know what's best," Chadha says. "We try to put ourselves in the perspective of the client—child or adult. It comes back to experience, but it also comes back to being motivated. You can have all the experience in the world, but if you can't motivate someone, you're not going to make those gains. Listen first, motivate second, and before you know it, those results will come.
"But you have to come by and check us out," he adds. "The first class is on us."
C4 Performance Training
300 W. Lancaster Ave., Devon, Pa.
(484) 367-7633 | C4Perform.com
Published (and copyrighted) in Suburban Life Magazine, November, 2017.