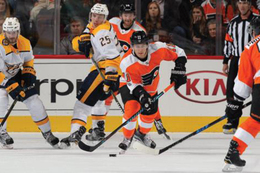 Rising Star
Travis Konecny
On the ice, Philadelphia Flyers forward Travis Konecny is quick to the puck and strong on the forecheck. He's also one of the grittiest players on the team, having no fear of dropping the gloves, when needed. But off the ice, his composure might suggest a grizzled veteran, not the 20-year-old who's been in the National Hockey League for little more than a year. He's also extremely personable. Maybe that's because the City of Brotherly Love has given him nothing but love since the day he first suited up for the Orange and Black. Calm, cool and collected—that's how Konecny was when we sat down with him after a hard practice at the Flyers Skate Zone in Voorhees, N.J.
FROM SMALL TOWN TO BIG CITY
To say that Konecny grew up in a small town in Canada is an understatement.
"It's not even a town, technically," he says. "I grew up in Clachan, about 45 minutes from London, Ontario. It's very small—maybe 100 people and I'd say 20 homes. There are not even any traffic lights, just a stop sign—a three-way stop sign." Compare that to Philadelphia, one of the largest cities in the United States with a population of more than 1.5 million people and traffic lights at nearly every intersection.
"It's a complete 180," he says. "Where I'm from out in 'the sticks,' there are cornfields and ponds, and no one drives on my road at all. Going from a country road to Philly, it's a lot different. I'm not used to traffic or stop lights."
Although he's still getting used to city living, he's become accustomed to street corners bustling with people, especially in Center City where he lives.
"It's definitely a nice change," he says. "Living downtown is perfect, and the city is full of nice people, so I'm enjoying it. … I'm embracing it and using it as an opportunity to try something different."
That includes the food scene in Philadelphia, which is his favorite thing about the city. He says Double Knot in Midtown Village is his go-to restaurant but loves to try as many as he can, with all types of cuisine.
"[Philadelphia] has everything from every category—and great restaurants, not your average restaurants," he says. "It's one of the best foodie cities I've ever been in."
TRADING UP
Konecny had a stellar junior career in the Ontario Hockey League. Although he was one of the smallest players on the ice, his brilliant offensive talent caught the attention of the Flyers' front office. (He's listed at five feet 10 inches, 175 pounds—small compared to, say, linemate Sean Couturier, who stands six feet three inches tall and weighs 211 pounds.) When Konecny—considered a top-15 talent—wasn't picked in the top 20 during the first round of the 2015 NHL Entry Draft, General Manager Ron Hextall quickly decided to trade two picks to move up for the No. 24 pick in order to select him.
"It's definitely a confidence builder when you get picked by a team that you know wanted you, they moved up to get you and they believe in you and they were willing to make that trade to get you," Konecny recalls. "It was definitely one of the most nerve-wracking days I've been a part of—sitting with my parents and I was originally ranked somewhere mid-first round and was still sitting there toward the end, so it was like a mix-of-emotions kind of day. Finally, when Philly picked me, it was probably the best outcome that could have happened."
The Flyers brass would agree, especially as of late. Although he got off to a slow start this season, Konecny has put his goalscoring and playmaking talents on display since being promoted to the top line alongside Couturier and Claude Giroux. He says playing on the same line as those experienced players has been nothing short of "awesome." They, among other teammates, have made the transition to life in the NHL that much easier.
"I remember watching when he [Giroux] first came into the league, seeing his transition to being the player he is today," he says. "All of a sudden you're looking down the bench and you're on the same team as him, Jake [Voracek], Simmy [Wayne Simmonds] and all the guys you've looked up to. They are definitely here to support us. They've been through the same stuff we have been, and they know it takes a while to get the transition down pat, so it's nice having good leaders like that."
WIN OR LOSE
Philadelphia has earned a reputation for having passionate, boisterous fans. Konecny saw that firsthand even before he became a Flyer.
"At the draft the year before I was drafted, which was in Philly, I had an opportunity to see when [teammate Travis Sanheim] was picked in the first round and see the crowd freaking out and see how passionate they were, and it wasn't even close to hockey season," he recalls. "It was just the draft and everyone was going crazy, so I knew what I was coming into when I got drafted to Philly. I knew how passionate they were. I heard when they went to the [Stanley] Cup finals [in 2010], the rink was insane and playoffs are nuts."
Konecny hopes to experience Flyers playoff mania this year—and for many years to come. As of early January, the team was on the outside looking in but riding a winning streak that included dominating some of the league's best teams. He says playing at Wells Fargo Center in front of a zealous crowd is something special, no matter the game's outcome.
"Win or lose, they've been sticking it out with us," he says. "I have nothing but good things to say about the fans. I think they are awesome and they are always behind us."
Published (and copyrighted) in Suburban Life Magazine, January, 2018.