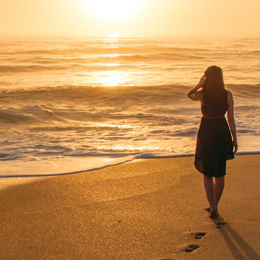 A Better Place
January 2018
Approximately 50 percent of married couples in the United States will have a conversation that starts with these four words, or some combination thereof, thereby putting them on the path toward becoming legally uncoupled—in other words, divorce. What happens next depends on the circumstances and the people involved.
In most divorces, one person initiates the process, meaning the other person is often caught by surprise. After the initial waves of sadness, shock and anger subside, the next step: Identify the type of process best suited for each individual situation. Would mediation work? Is collaborative divorce an option? Or is a traditional litigated divorce necessary?
"Divorce is an expensive process— financially, and in a lot of other ways," says Loretta Hutchinson, the founder of Financial Divorce Plan LLC in Yardley, and a partner with Thrive Wealth Management LLC in Audubon. "There are ways to reduce the cost and reduce the contention between the two parties; the more you sit down and take the high road in discussions, the better off you will be.
"If things are more contentious, sometimes a litigated divorce is necessary," she continues. "In any event, you need someone to advocate for you. This person doesn't need to be your therapist or best friend, but you do need to have a good working relationship with them."
Even in a litigated divorce, she says, one must always consider how the decisions made today will affect the future—particularly in situations that involve children.
Change Ahead
Twenty-four years ago, when Keila M. Gilbert went through her divorce, the experience "knocked me for a loop." "It was a very cathartic event," she recalls. "After I got done feeling sorry for myself, I realized that things needed to change."
Going through the process made her realize she wanted to offer an alternative to traditional litigated divorce. Now, as president of the Alpha Center for Divorce Mediation in Doylestown, she and her team of fellow attorneys focus on making the process "as warm and serene as we can" so each party can focus on a post divorce life.
"I don't believe families belong in court— not many, anyway," says Gilbert. "A mediated divorce does not require [divorcing spouses] to like each other; they just have to be open to staying focused on making good decisions. In political negotiations, do you think they like each other? They just don't want to annihilate each other. It's the same with people who are going through a divorce.…It doesn't have to be Kramer vs. Kramer or War of the Roses."
Mediation, she believes, has much greater awareness than it did, say, 20 or even 10 years ago. She attributes this growth to noticeable differences in process and aftermath, both in terms of the financial cost and the amount of time someone in the midst of divorce spends in what she calls "the stress mess."
"Divorce is not something you strive for, and, generally speaking, you don't educate yourself on the topic until you're in the process," adds Hutchinson, a Certified Financial Planner and a Certified Divorce Financial Analyst. "It's a major life transition—personal, psychological and financial. It affects not only the two individuals involved, but also their children, friends and others around them. It takes up a lot of brain space, and you still have a regular life to navigate.
"When you're severing a partnership, it represents an end to the partnership personally, financially and sometimes professionally, and there tends to be competing interests between the two parties," she continues. "That's why you should have a team of advocates in place, and that should involve legal, financial and even a personal or divorce coach or therapist, at least for the short term."
Gilbert says it's common for a newly single person to leave one relationship and immediately jump into another, often with disastrous consequences. Whereas approximately 50 percent of first marriages end in divorce, she estimates as much as 60 percent of second marriages fail.
"Take the time to heal and grow," she says. "In matters of divorce, people are making some of the most important decisions of their life in the worst shape. That's why it's important to surround yourself with good people who are focused on your well-being."
Starting Strong
Becoming legally uncoupled may come with a significant price tag. Gilbert estimates the average litigated divorce costs $30,000 to $40,000, and whatever is left would be split between both parties. That's why, in many cases, a prenuptial agreement is well worth the investment, according to Jeffrey A. Liebmann, the founder of Liebmann Family Law in Newtown.
"No one goes into a marriage thinking that a divorce is likely or even possible," he says. "With a prenuptial agreement, the document you're preparing applies only in the worst-case scenario. But if the worst case does come to pass, the prenuptial agreement provides protection for the assets you brought to the marriage."
Even if divorce is not on the table, Hutchinson advises spouses to take the time to become familiarized with the family finances—bank accounts, retirement accounts, tax returns, etc. This often eye-opening experience will make each person in the marriage more informed, and it will also provide a better understanding of the financial picture if the specter of divorce does appear.
Regardless of the route individuals choose to take when navigating the gauntlet of divorce, experts agree on the need to focus on "what's next," not rehash the past.
"It's one of those difficult periods of life that teaches you and helps you to grow," says Gilbert. "If I hadn't gone through a divorce, I wouldn't have this practice today. Sometimes it's the kick in the pants that can drive you forward. … If handled in a healthy manner, you can be in a better place."
2018 TOP FAMILY LAW ATTORNEYS
We asked our readers who they turn to when presented with a pressing family law matter—anything from divorce and prenuptial agreements to child support and adoption. Following are the men and women they call to preserve and protect the things that matter most.
Robert E. Angst
Valerie Rosenbluth Angst
ANGST & ANGST P.C.
Doylestown,
Harleysville
(215) 513-1517
Michael E. Bertin
Cara A. Boyanowski
Samantha J. Evian
Amanda W. Figland
David L. Ladov
Michelle L. Ringel
Amy L. Rokuson
Leslie B. Spoltore
Shari B. Veisblatt
Maris J. Weiner
Robert I. Whitelaw
Stephanie H. Winegrad
OBERMAYER REBMANN
MAXWELL & HIPPEL LLP
Multiple local offices Obermayer.com
Supti Bhattacharya
Barbara M. Kirk
Megha R. Thakkar
HILL WALLACK LLP
Yardley Princeton, N.J.
(215) 579-7700
(609) 924-0808
Phyllis T. Bookspan
BOOKSPAN FAMILY LAW LLC
Media
(610) 565-6200

Jennifer A. Brandt
Bernard E. Zbrzeznj
COZEN O'CONNOR
Philadelphia
(215) 665-2000
Catherine Cardozo
THE LAW OFFICES OF CATHERINE CARDOZO LLC
Abington
(610) 298-1081
Jennifer Courtney
THE LAW OFFICES OF JENNIFER COURTNEY
Yardley
(215) 493-3360
Marie I. Crossley
William J. Gallagher
Hillary J. Moonay
Lance J. Nelson
MACELREE HARVEY
West Chester,
Kennett Square,
Doylestown
(610) 436-0100
(610) 444-3180
(215) 309-4020
Amy P. De Shong
WISLER PEARLSTINE LLP
Blue Bell Newtown
(610) 825-8400
(215) 579-5995
Mary Cushing Doherty
HIGH SWARTZ LLP
Norristown
(610) 275-0700
Elizabeth J. Fineman
Lisa J. Gaier
Jamie M. Jamison
Jessica A. Pritchard
ANTHEIL MASLOW & MACMINN LLP
Doylestown
(215) 230-7500
Lynne Z. Gold-Bikin
Donna M. Marcus
Carolyn R. Mirabile
John Zurzola
WEBER GALLAGHER
Norristown, Philadelphia
(610) 272-5555
(215) 972-7900
Kevin L. Hand
KARDOS, RICKLES, HAND & BIDLINGMAIER
Newtown
(215) 970-2755
Michael Kuldiner
Michael J. Petro
Shauna Quigley
THE LAW OFFICES OF MICHAEL KULDINER P.C.
Doylestown, Feasterville, Norristown
(215) 942-2100
Gregory P. LaMonaca
LAMONACA LAW Media
(610) 892-3877
Carla Marino
Lawrence J. Persick
LAMB MCERLANE PC
Bryn Mawr, West Chester
(610) 430-8000
Erin C. Lentz-McMahon
MCMAHON, MCMAHON & LENTZ
Villanova, Norristown, Jenkintown
(610) 272-9502
Jeffrey A. Liebmann
Mindy J. Snyder
David J. Sowerbutts
LIEBMANN FAMILY LAW
Newtown
(215) 860-8200
Scott A. Lisgar
KELLER, LISGAR & WILLIAMS LLP
Havertown
(610) 449-1400
Charles J. Meyer
HOFSTEIN WEINER & MEYER P.C.
Philadelphia, Bala Cynwyd
(215) 561-1100
Kim Denise Morton
MORTON FAMILY LAW LLC
West Chester
(610) 692-3999
E. John Pagnanelli
Maria N. Testa
TESTA & PAGNANELLI LLC
Philadelphia, Norristown
(215) 392-0863
(610) 239-1000
Thomas J. Petrelli
Jr. Melinda M. Previtera
Diana C. Schimmel
PETRELLI PREVITERA SCHIMMEL LLC
Philadelphia
(215) 523-6900
Michael A. Raffaele
Robyn E. Musi
Kathleen A. Piperno
RAFFAELE PUPPIO
Media
(610) 891-6710
Sheryl R. Rentz
LAW OFFICES OF SHERYL R. RENTZ
Ardmore
(610) 645-0100
Robert T. Repko
Shannon Kanavy
Jill M. Vogenberg-Richter
REPKO LAW LLC
Doylestown
(215) 348-9500
Lori K. Shemtob
SHEMTOB LAW P.C.
Blue Bell
(215) 542-2105
Tiffany Thomas-Smith
THE THOMAS SMITH FIRM P.C.
Newtown
(215) 860-3747
Karen Ulmer Pendergast
April M. Townsend
KAREN ANN ULMER P.C.
Langhorne
(215) 752-6200
Kathleen B. Vetrano
VETRANO, VETRANO & FEINMAN
King of Prussia
(610) 265-4441
Joseph D. Visco
JOSEPH D. VISCO ATTORNEY & COUNSELOR
Doylestown
(215) 348-3755
Randi J. Vladimer
RANDI J. VLADIMER P.C.
Radnor
(610) 975-9898
Jeffrey M. Williams
Robert J. Salzer
Susan J. Smith
Melanie J. Wender
WILLIAMS FAMILY LAW P.C.
Doylestown
(215) 340-2207
Douglas I. Zeiders
HAMBURG, RUBIN, MULLIN, MAXWELL & LUPIN P.C.
Lansdale
(215) 661-0400
Published (and copyrighted) in Suburban Life Magazine, January, 2018.
.
.
.