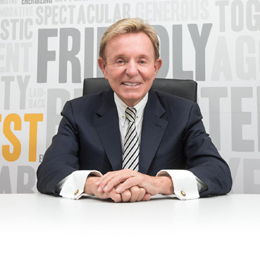 Buck Riley Joins Meridian Bank
January 2018
Photography by: Jeff Anderson
It's been said that you can be anything you desire as long as you're in the right frame of mind. Such was the case for Buck Riley, former chairman and CEO of the Exton-based law firm Riley Riper Hollin & Colagreco. After devoting more than 50 years of his life to litigation, land use and zoning, Riley decided to shift gears into a new adventure: banking.
"I had gotten to the stage of the game where there were simply no more mountains for me to climb," Riley says. "It really came down to wanting to try something new. I tend to try new experiences in 20-year spurts—and well, it was time to get on to another adventure."
Riley recently joined Meridian Bank as senior vice president, corporate business development. Although his background is in litigation, Meridian's top brass knew Riley's experience and relationships would serve him, the bank and its customers quite well.
"Buck brings with him a number of years working with great clients in this area," says Chris Annas, CEO of Meridian Bank, a full-service community bank with offices in Pennsylvania, New Jersey and Delaware. "The natural connec- tions to those clients he's made in working with the bank has been fantastic, and has opened a number of doors for Meridian. Buck is someone who comes with great credentials behind him and a significant amount of experience in land development and real estate. He also has boundless energy and enthusiasm and knowledge of how to make it all work together."
Riley carries a prominent name in Chester County and Philadelphia. In addition to his work as an attorney, he's the former chairman of the Pennsylvania Convention Center. During his four-year tenure as chairman, he oversaw the $786 million Convention Center expansion project—the largest public-works project in Pennsylvania state history. True to form, Buck was able to assemble the board needed to complete the project on time and within budget. He gained a reputation for being "smart, focused and committed" from people like former Philadelphia Mayor Michael Nutter.
"I had never met Buck until meeting him during the convention center project," Nutter says. "At the time I was wondering why a sub- urban guy would be coming all the way to the city to help this project—and then I realized it was because he truly cared. He turned the center around, and the center is flourishing to date. He knows how to get the job done."
'The Next Step'
Riley is a master of several trades and hobbies, including flying helicopters and stunt airplanes, and riding dirt motorcycles in the Baha in Mexico to satiate his appetite for learning and "just because." Considering his thirst for knowledge and desire for continual improve- ment—not to mention his professional strengths and experience—it's no surprise that a friendly business lunch between him and Annas ultimately turned into a job offer.
Annas hired Riley to serve as an integral part of the bank's operations. Although Riley has been part of the team for only a few months, he's already making his mark.
"Chris respects the relationships I've made with people in our area, and I've been able to find synergies with them and Meridian," Riley says. "I'm incredibly happy I made this decision and took his suggestion to come on board."
The Malvern-based bank recently celebrated a major milestone: It had an initial public offering on the NASDAQ Stock Exchange in November 2017. As a result, Meridian has been gaining increasing attention in the Delaware Valley and beyond. Riley credits the bank's high profile and its sterling reputation to its founder, Chris Annas, and his co-workers, who he describes as a group of talented individuals who are "voracious about learning and the kind of people you realize you can trust, and want to do business with."
"Meridian Bank is a great combination of younger and older professionals in diversified areas, as well as seasoned banking profes- sionals," he adds. "The wonderful thing is that we have all been someplace else before ending up at Meridian, and we've seen what works and what doesn't. We know and understand what actually does work, and everyone at Meridian is working to make the bank a positive place to do business."
Even as the bank expands its reach, Riley and Annas agree that the atmosphere established since the bank's origination has remained that of a local community bank. At the same time, it has embraced and implemented innovative technology to facilitate seamless online banking and around-the-clock customer service.
"The employees here are won- derful," Riley says. "If a customer needs something at 2 a.m., the bank is there for them. They'll wake up in the middle of the night and do what's needed. ... Meridian has managed to create a sophisticated bank that embodies the concept of the com- munity bank while using online technology, and they're never going to lose that."
Annas believes Riley's addition may have been one of his best decisions. When asked what's in the cards for Riley, Anna predicts a bright future of "giving excellent counsel, advice and guiding experienced bank people to assist potential customers." And he's confident that Riley's presence will have a lasting impact for years to come.
"Meridian is known to have a great cul- ture—work hard, play hard and, more impor- tantly, do the right thing—and Buck is definitely tapping into that energy level," Annas says. "You have to give someone so much credit to be at Buck's prominent level as a longtime, well-known, successful attorney, and then, one day, switch to a totally new career.
"Banking can be a complicated business, and to have someone like him that is eager and willing to give it a shot is really amazing," he continues. "At this point, he's only going to go up from here."
MERIDIAN BANK
9 Old Lincoln Hwy.
Malvern, Pa.
(484) 568-5000
MeridianBanker.com
Published (and copyrighted) in Suburban Life Magazine, January, 2018.
.
.
.