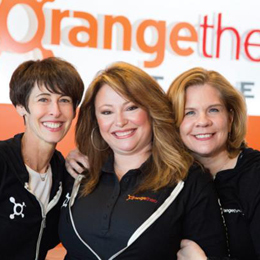 The Orange Effect
Orangetheory® Fitness
photography by ALISON DUNLAP
The reviews on Yelp, Google and Facebook suggest that Princetonians have come to love this little gem of a fitness studio, Orangetheory® Fitness Princeton. As OTF Princeton approaches its two-year anniversary in February, we spent some time with Owner Alla Borzillo, Head Coach Nancy McCorry and Studio Manager Diana Geherty to learn what makes this place so special.
OTFPrinceton is conveniently located at 640 Nassau Park Boulevard in the Nassau Park Pavilion, at the opposite end of the Wegmans shopping center—ideal for residents of Princeton, Lawrenceville, and the surrounding areas. Upon entering, you'll be struck by the attention to detail and energy of the studio: an impeccably clean and bright lobby, which often has complimentary fresh fruit available for members on the go; bathrooms with complimentary toiletries reminiscent of what you might find in a spa; and of course the spacious fitness studio floor, which is dimly lit with orange lighting and a high-energy, motivating atmosphere courtesy of a sound system any audiophile would envy.
This is where the magic happens, where 24 people work out together with an OTFPrinceton Coach who will train and inspire you through what Alla calls "the most efficient and productive 60-minute workout you will experience." It's also where we recently met with Alla and her team to learn more.
What makes Orangetheory® Fitness Princeton different from your average gym?
Alla: It's not a gym; it's a boutique group fitness studio focused on heart-rate-monitored, high-intensity interval training. That said, what differentiates us from gyms, other studios and fitness classes in the area is the experience we create for our members. This is the place to get fit, lose weight, make friends and be part of something that will change your life. We will coach, motivate and train you and send you back out refreshed and ready to take on the world. And if you don't show up, our studio manager Diana and her team of "Orange Ambassadors" will call you to get you in here and make sure you are using your classes and following through on your intentions. With almost 50 classes a week, there is always a convenient time to get here. Simply show up, work hard and the results follow.
How is the workout designed and why does it work?
Nancy: Orangetheory® uses heart-ratemonitored training that is designed to maintain a target zone that stimulates metabolism and increases energy. One of our skilled coaches leads each class, where members use a variety of equipment, including treadmills, rowing machines, TRX suspension training and free weights. Though we train in five heart-rate zones in each class, the goal of each 60-minute class is to achieve more than 12 minutes above 83 percent of one's maximum heart rate of training. This creates a metabolic effect called Excess Post-Exercise Oxygen Consumption (EPOC)—The Orange Effect. The benefit is more energy, improved strength, visible toning and extra calorie burn for up to 36 hours after the workout. A typical workout at OTFPrinceton will burn up to 900 calories, including the afterburn.
Why do heart-rate monitors play as large of a role as they do in Orangetheory®'s regimen?
Nancy: Our vision is to be the trusted global leader of innovative heart rate based interval training. In class, heart rates, calories burned, and splat points are displayed on large flat screen TVs. Splat points reflect total high intensity minutes (Orange & Red zones combined). Our Coaches monitor the heart rate screens to ensure our members are not over or under training. At the end of each workout, individual performance summaries are displayed showing how much time they spent in each of the five heart rate training zones. These summaries are automatically sent to each member via an email or an upload to their OTBeat fitness App. Motivation, accountability and proof of fitness progression are just a few of the great benefits that these performance summaries provide.
Do I need to purchase a heart-rate monitor?
Diana: We do require the use of our heartrate monitor, either one that is worn around the chest or one that can be worn around the forearm or bicep. The heart-rate monitors may be purchased or rented but must be worn for the class to be most effective.
Is the workout for elite athletes, or can anyone do it?
Alla: It's for everyone. The workout meets people where they are and optimizes their health by moving them through the fitness curve based on their own physiology. Our Coaches will provide exercise alternatives as well to accommodate people who may have an orthopedic or other need for an adjustment.
How often should people consider training with you?
Alla: When you visit for the first time you will spend about 30 minutes of one-on-one time with the Coach and our staff so we can understand your fitness goals as well as what you currently do for fitness. We will orient you to the equipment and what to expect so you can acclimate to the experience seamlessly when class begins. After the workout and cool-down stretch, the Coach will spend personal time with you to review results and help you understand what they mean and make a recommendation for how often you should attend based on your goals. Generally, we find that two times per week is a good place to start and then adjust up or down accordingly.
What does a typical week look like for a member?
Nancy: Each day is different, and each class will have a different focus centered on endurance, strength and/or power workouts. Generally, members can always expect three things when they walk in: resistance training with dumbbells, TRX straps or body weight and interval training with water rowers and treadmills.
Alla: Our goal is to make sure you don't plateau and stagnate, which is why we vary our workouts so that you're always physically and mentally stimulated and forced to adapt. Combined with the feedback loop of the heart-rate monitor and the motivation from the Coach it makes for a transformative experience.
Can I use other Orangetheory®locations when I travel?
Alla: Yes! Orangetheory is a franchise with over 900 worldwide studios and 700 open in the United States. When you are a member at one Orangetheory studio, you are a member at all studios in the U.S. When you travel for whatever reason, a workout is only a few clicks in the Orangetheory app away to book a class or a simple Yelp search to find the closest location to you.
Additionally, the workouts are all designed and developed based on science and input from leading exercise physiologists in our corporate headquarters in Florida and then rolled out to all the studios nationally. Each day, whatever workout is scheduled to occur in your home studio, that same workout is happening nationally, so you won't miss a beat when you travel. The benefit to you is convenience, consistency and quality. Individual studios are not designing their own workouts; they are executing the workout of the day as designed based on science by experts.
How do the memberships work and what do they cost?
Diana: We are so confident in the effectiveness of the workout and the value we provide that we do not have long-term memberships. Members can join on a six-month or monthto- month basis. Alternatively, class packs may be purchased or you can simply drop in and pay as you go. We do not charge an initiation fee or deposit; we simply ask for a 30-day cancellation notice. We also provide a 30-day money-back guarantee. If you will commit to work out with us three times a week for 30 days and are not satisfied with the results, we will refund your money. The best part of all: Your first workout is free for local residents.
Where can I find out more?
Alla: Visit OTFPrinceton at Princeton.Orangetheoryfitness.com, follow us on Facebook and Instagram and bookmark us on Yelp to read member reviews, take a virtual studio tour and see what we are all about. I want your readers to know, if we are fortunate enough to earn their fitness business, my team and I will do everything we can to delight and provide a transformational experience! After all, we strive to add more years to your life and more life to your years!
Orangetheory® Princeton
640 Nassau Park Blvd.
Princeton, N.J.
(609) 474-0090
Princeton.OrangetheoryFitness.com
Published (and copyrighted) in Suburban Life Magazine, January, 2018.
.
.
.