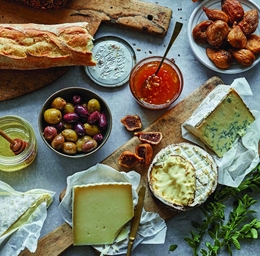 Cream of the Crop
Have a taste for the simple pleasures of cheese, charcuterie and all the accompaniments?
"Cheese is milk's leap toward immortality."
We just love this quote, attributed to the late author and media personality Clifton Fadiman, because a good cheese seems somehow heavenly.
Head to a restaurant for a well-curated cheese board, some crostini and a bottle of Chianti, Montepulciano or some other fine red, and add in a small group of good friends—to us, that sounds like the recipe for a perfect Saturday night. Lucky for us all, the Greater Philadelphia Area has no shortage of options where those of us who can appreciate a good cheese and charcuterie board—and, really, who doesn't?— can find what we're looking for.
Following is the short list of some of our favorites. Whether you crave a tangy Chèvre or some finely sliced prosciutto di Parma, you're in store for something special here.
Cornerstone Cheese & Charcuterie, WAYNE
It's been undergoing some renovations for a bit, but we can't wait to see what's new once the dust has settled, so to speak. Stop in to Cornerstone for lunch, dinner or weekend brunch for a solid menu of favorite "sandwiches and more," but the spectacular selection of cheeses of domestic and international pedigree should be your primary focus. Whether it's cow from Oregon, goat from France or cow/sheep from Italy, the cheese selection will delight you. The charcuterie boards are just as wide ranging and impressive. CornerstoneWayne.com
Dettera, AMBLER
It's tough to forget a well-curated cheese board, and we still have fond memories of the one we enjoyed at Dettera several winters ago … and that's one of the many reasons we continue to go back (along with the elegant interior and the expansive wine list). Do yourself a favor: Take a seat at the bar, order something from the wine list and opt for the cheese board. While you're waiting for it to arrive, soak in the atmosphere of one of the suburbs' most refined dining spots. Dettera.com
Di Bruno Bros., MULTIPLE AREA LOCATIONS
Di Bruno Bros. is to cheese and cured meats as Dom Pérignon is to Champagne. Whether you're at the Italian Market or Suburban Square in Ardmore, you'll find a cheeselover's paradise. Here, you can load up on cheeses both familiar and exotic, ranging from fresh-made burrata and decadent blues to "stinky and funky" selections of the Taleggio and Morbier sort. Looking for some thinly sliced prosciutto di Parma to boot? If you've wandered into a store bearing the Di Bruno Bros. shingle, you're in very good hands. DiBruno.com
The Farmer's Daughter, BLUE BELL
There's a lot to like about this restaurant, which is sort of tucked away on the property of Normandy Farm in the heart of Blue Bell. Whether you choose to take a seat in the dining room or belly up to the bar for happy hour, opt for one of the sharing boards (cheese and charcuterie or cheese sans meat). What to expect: an engaging mix of farm-fresh cheeses and accompaniments, complete with some excellent sourdough. FarmersDaughterPA.com
Golden Pheasant Inn, ERWINNA
Considering "the Pheasant" won a 2018 Golden Fork Award from Suburban Life, you'd expect this restaurant to do a lot of things extraordinarily well. This includes the seasonal cheese platters and charcuterie plates. The culinary team here strives to source as many products as possible from local purveyors, including several artisan cheeses, courtesy of the grass-fed cows over at Bobolink Dairy, just across the river in Milford. GoldenPheasant.com
Slate Bleu, DOYLESTOWN
If you appreciate creative French cuisine, few places in the Greater Philadelphia Area do it better than this Doylestown star. The restaurant's fromage selection will have you raving, especially when enjoyed with a glass of fine port as a digestif—really, though, it's just a good excuse to linger a little while longer in a place sure to leave an indelible impression. SlateBleu.com
The Stone Rose, CONSHOHOCKEN
Once the weather turns its cheek to a kinder, gentler season, we can think of few better ways to spend an afternoon than sitting outside at The Stone Rose. Our recommendation: Ease into the day with a glass of something red and nibble on some imported cheeses, pecans and house-made crostini, each slathered with a heavenly swipe of truffle honey. We're counting the days. TheStoneRoseRestaurant.com
Talula's Garden, PHILADELPHIA
You won't find a bigger, brighter, more inventive cheese selection than at this simply lovely hot spot in Washington Square, the result of a seemingly blessed collaboration between Stephen Starr and West Chester product Aimee Olexy. Each cheese board—teeming with Goudas, Manchegos, Goronzolas, Roqueforts, etc.—comes artfully arranged, all praise due to the in-house cheesemonger. TalulasGarden.com
Tired Hands Brew Café , ARDMORE
Whether you head for the diminutive brew café or its sister location, the bigger and more ambitious Fermentaria, you'll find abundant food options—and, of course, some terrific house-brewed beers on tap. At the brew café, the simple food menu includes a range of individual cheeses and meats to choose from, from the Tewksbury Gruyere to the garlic salami. Can't make up your mind? You don't have to; order up the cheese plate and/or meat plate, each with four selections from the drop-down menu. TiredHands.com
Tria, MULTIPLE PHILADELPHIA LOCATIONS
Every Tria offers a broad menu of cheeses, ranging from the approachable to the enigmatic. Whether you prefer your cheese stinky or wholly inoffensive, Tria knows how to help you scratch that itch, so to speak, and with plenty of wines, beers and ciders to match. Also, you've got to give Tria credit for telling a story with every cheese on the menu; it describes one of its particularly "unctuous" Brie cheeses as "a whirlwind of mushrooms, hay, garlic and heaven." Color us intrigued. TriaPhilly.com
Vida & Comida, AMBLER
Those who have spent time in Spain tend to return raving about the Jamón Serrano, Lomo Embuchado and other highly flavorful cured meats. At Vida & Comida, the chef has assembled a rich assortment of imported Spanish meats—cheeses, too—sure to remind travelers of their time on the Iberian Peninsula. This Spanish BYOB has made a big impression in a brief window of time—it earned a 2018 Golden Fork Award from Suburban Life, for example—so if you haven't yet, stop in to see why. VidaAndComida.com
Published (and copyrighted) in Suburban Life Magazine, March 2018.
.
.
.