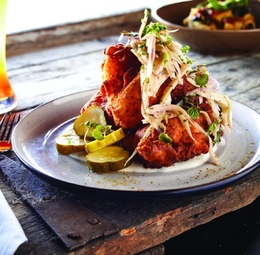 Full Belly, Happy Heart
On the hunt for soulful soups, rich mac-and-cheese and other comforting dishes to ward off winter's chill?
The Greater Philadelphia Area boasts a breadth of comfort-food hot spots, including some of our favorites, listed below. From grilled cheese to fried pickles, and from mac-and-cheese to meatloaf, when you're in the mood for perfectly prepared victuals to warm your soul as much as your belly, you'll find what you're looking for here.
The Blue Duck, PHILADELPHIA
Mac-and-cheese? Check. Fried chicken? Check. Meatloaf? Check. Yes, this Northeast Philly BYOB has all these things and more, but with a distinctly Blue Duckian touch. Take the "quack and cheese," for example, which is mac-and-cheese served with shredded duck, smoked Gouda, dried cherries and duck-fat panko. The meatloaf, which is derived from wild boar, arrives at the table wrapped in bacon and served with brown gravy. And we didn't even get to the dinner specials. BlueDuckPhilly.com
Empanada Mama, DOYLESTOWN
With a name like Empanada Mama, you know exactly what to expect long before you walk through the door of this walk-up a block or two removed from Doylestown's main drag. This diminutive spot's empanadas— handheld pastries of South American origin—are, in a word, addictive. They come in a number of savory and sweet varieties, so whether you crave Korean beef or Buffalo chicken, sweet potato or dulce de leche, you'll find something on the ever-evolving menu to satisfy your appetite. YoEMama.com
The General, LAFAYETTE HILL
The building that's now home to The General has a long, rich history, but it's one room in particular—the accomplished kitchen—that will make you commit this Montgomery County gem to memory. Created by the team behind From the Boot, a string of four exceptional Italian restaurants throughout the suburbs, The General offers a spectacular menu starring dishes custom built for this time of year. Satisfying appetizers include the grilled chicken wings and crispy pork belly, and the lineup of hearty mains (filet mignon, crab and lobster cake, fried chicken, meatloaf, ramen noodle bowl) will erase winter's bleakness from your mind. And if fresh sushi or sashimi is what you crave, The General has you covered there, too. TheGeneralNow.com
Jones, PHILADELPHIA
Jones takes comfort to the utmost degree. Stepping through the door of this aptly named Stephen Starr restaurant is like stepping back in time and into Carol Brady's living room. The Southern-inspired menu includes gems such as shrimp and cauliflower "grits," fried chicken and waffles, and the Thanksgiving dinner, a year-round delight featuring—what else?—turkey, sausage-laced stuffing, mashed pot and cranberry sauce. JonesRestaurant.com
Meltkraft, PHILADELPHIA
Riddle: What happens when you combine house-made cheese, crispy bread and a hot grill? Answer: We salivate. That's why we worship at the altar of places such The fried chicken at The General as Meltkraft, whose cheese comes from the cows, sheep and goats grazing on its own farm. We like the so-called Melter Skelter, with aged Raclette, watercress, jalapeno and pickled tomatoes. If you want to know more, you'll just have to stop by to find out for yourself. Good news: Meltkraft has two Philly locations, one inside Reading Terminal Market and another in the city's Rittenhouse neighborhood. Meltkraft.com
The Perk, PERKASIE
On a cold winter's night, pop into The Perk, take a seat in the homey dining room and prepare yourself for some of the best pierogies you'll find in our neck of the woods. You have a few options. We like the "Famous Perk" pierogies, which are baked with garlic butter and topped with melted mozzarella cheese. That having been said, if you're of the mind that bacon makes everything better, opt for the "loaded" pierogies, which are fried and then topped with liberal amounts of cheddar and crumbled bacon. AtThePerk.com
The Plumsteadville Inn, PIPERSVILLE
When the mercury's falling and the snow's coming down, what could be more comforting than a hot bowl of chili or French onion soup and a cold beer while sitting by the hearth? That's what makes The Plumsteadville Inn—regulars call it, simply, "The Plum"—so special. No matter the occasion, The Plum has a seat for everyone, and on days when the weather doesn't feel like cooperating, you'll want to take yours by the warmth of the stone fireplace. PlumsteadvilleInn.com
Ron's Original Bar & Grille, EXTON Nothing lifts the spirits better than a bowl of chicken noodle soup, one of the many made-from-scratch comfort foods on the menu at Ron's Original Bar & Grille. From the Tommy mac-andcheese to the Victoria's (Secret) fries, from Val's nachos to the BLT pizza (or "oval," in Ron's speak), you're guaranteed to find something on the inclusive menu to put a smile on your face. Pretty much every single thing on the menu is made on-site daily, using only fresh, highquality ingredients, as insisted by the man who brought Ron's to life, Ron Inverso. Inverso aims to make every dish as healthy as possible, but this is one restaurant where "healthy" and "delicious" are not mutually exclusive. RonsOriginal.com
Station Tap House, DOYLESTOWN Right next door to the Doylestown train station, this roomy spot, in the space once occupied by the Freight House, has all the tavern-style comfort foods you could possibly want, including loaded tater tots, Bavarian pretzels and a seemingly endless assortment of chicken wings. If luck goes your way, you'll stop by on a day when the fried pickle fries are on the menu. This appetizer is just what it sounds like— fried pickles, in French fry form—and it is simply amazing. TheStationTapHouse.com
The Whip Tavern, COATESVILLE
This jolly, old English-style pub is something to experience, not only for the food but also for the genuinely warm atmosphere. The food seems as it if were made solely as an antidote to harsh times and harsh weather. The Whip's menu reads like a "greatest hits" list of U.K. favorites: fish and chips, Welsh rarebit, shepherd's pie, bangers and mash. If you've never had a Scotch egg (a hard-boiled egg wrapped in ground pork and then fried), this would be the place to indulge. And depending on when you drop by, you might even find haggis on the menu. Let us know how it is. TheWhipTavern.com
Published (and copyrighted) in Suburban Life Magazine, February 2018.
.
.
.