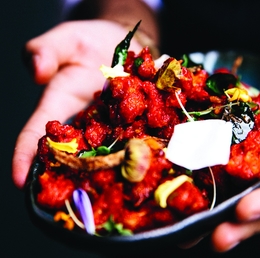 Where to Begin
Artfully made appetizers are much more than a simple first course.
Some restaurant goers might peruse a restaurant's list of appetizers with a dismissive eye, asking, "Why bother?" This, in our opinion, is a big mistake, because an appetizer effectively sets the stage for the meal to follow. Besides, from our experience, a meal could begin and end with the right appetizer. Who among us hasn't enjoyed a well-prepared appetizer so thoroughly that they've put in a second order, eschewing the mains entirely? I know I certainly have.
Following are some of our favorite hot spots for small plates, appetizers, starters, etc. However you describe them, these first-course dishes are head and shoulders above the deep-fried standards down at the corner bar. They may not be elaborate—they don't have to be—but they are exceptional.
Bowman's Tavern, NEW HOPE
We can't say enough about this place. No matter the time of year, Bowman's chef displays his gift for crafting a thoughtful menu that requires the guest to make some hard choices, from beginning to end. As for the appetizers—the cheese plate, the crisp seasonal salads, the flavorful soups, the mezze plate—you're guaranteed to start the meal off right. Like tacos? Go on a Tuesday. Like live music? Go any night of the week, but clear your schedule; you're going to want to stay a while. BowmansTavernRestaurant.com
Brick & Brew, MEDIA, HAVERTOWN
The lineup of starters includes Buffalo mac-and-cheese, pulled-pork stuffed pineapple and slabs of thick-cut bacon complete with a maple/sriracha glaze, so you could easily have a full meal at Brick & Brew without ever even getting to the mains. B&B offers a changing lineup of weekly specials (including some seriously inventive wings: Cajun teriyaki, bacon garlic parmesan, sweet Thai habanero sesame, etc.), meaning you'll find Burrata di Parma at Buona Via something new to tempt your taste buds all year long. BrickNBrewPub.com
Buona Via, HORSHAM
Look no farther than the raw bar—oysters, colossal shrimp and Long Island clams aplenty—to know that the gentleman who runs the kitchen at Buona Via has a soft spot for seafood. Then there's the crispy calamari, steamed mussels and clams casino. But even if seafood isn't your favorite, appetizers such as the burrata di Parma (fresh burrata with prosciutto, peppers and olive oil) will have you eager to see what other tantalizing tricks the kitchen has up its sleeve. BuonaVia.com
Frankford Hall, PHILADELPHIA
Although Mother Nature seems to be a week or two behind, the warm and sunny days are just around the corner, which means many of us will want to enjoy more of our meals sans walls and a roof. For low-key alfresco dining (and imbibing), you'll find it difficult to beat this Fishtown beer garden. It's a member of the STARR family of restaurants, of course, so come with high expectations. Sure, you could easily order up the wienerschnitzel or a sauerkraut-topped sausage and go home happy. For us, it's the simpler starters that do the trick: potato pancakes, fries with curry-spiked ketchup and—our favorite—the plus-sized riesenpretzel, or giant pretzel. FrankfordHall.me
Harvest Seasonal Grill & Wine Bar, MULTIPLE AREA LOCATIONS
From North Wales to Radnor, from Newtown to Glen Mills, Harvest Seasonal Grill & Wine Bar has created an experience you'll want to savor. That's why we recommend starting with one (maybe two) of the selections from the expansive lineup of appetizers. Maybe go for the Kung Pao cauliflower "wings." Or vote for the sweet pea and avocado pumpernickel toast. Or perhaps the organic pork pot stickers are more your speed. Those few represent just the tip of the iceberg. HarvestSeasonalGrill.com
Khyber Pass, PHILADELPHIA
Not too many places north of the Mason-Dixon Line do fried green tomatoes particularly well. The Khyber Pass does, and that's a telling sign. People may come to this Old City stalwart primarily for the selection of bottles, drafts and house-made cocktails, but they'll also discover a menu of terrific food dishes with a Southern kick. Friendly to omnivores and vegetarians alike, the Khyber offers popcorn you've got to try, amped up with either bacon grease or vegan "butter." Perhaps the biggest surprise we've enjoyed here: beer-boiled peanuts. KhyberPassPub.com
Los Sarapes, CHALFONT, HORSHAM
Get the guacamole. Get the guacamole. Get the guacamole. The menus differ from location to location, but Los Sarapes serves up a number of amazing appetizers to kick start your appetite— tamales, cheese-stuffed jalapenos, queso fundido (that's fun to say)—but for our money, you can't go wrong with one appetizer in particular. Did we mention the guacamole? LosSarapes.com | LosSarapesHorsham.com
Ristorante Castello, BLUE BELL
When it comes to starting a meal at Ristorante Castello, one word comes to mind: artichokes. This Italian gem in Blue Bell does something magical with its artichoke appetizer—perfectly seasoned, the flesh amazingly tender. Ristorante Castello's wide-ranging menu offers an abundance of sure-toplease appetizers, ranging from the excellent artichokes and the tomato-avocado-mozzarella trio, to the crabmeat-stuffed mushrooms and prosciutto-wrapped melon. RistoranteCastello.com
Ristorante San Marco, AMBLER
Anyone who lives near Ambler knows all about Ristorante San Marco. There's a good reason—many, actually—it has been a fine-dining destination for years. From the service to the ambiance (you can't miss the festive piano bar), San Marco delivers an experience that's tailor made for special occasions. The menu abounds with Italian staples, beginning with the antipasti. You'll savor stars like the arancini, the beef carpaccio and the timballo di melanzane, made with grilled eggplant, roasted peppers and farm-fresh mozzarella. And do yourself a favor: Stay for dessert. SanMarcoPa.com
Veda, PHILADELPHIA
We love, love, love Indian food because, when it's done well, it pleases all the senses. We're happy to say we fell in love with Veda rather quickly. Vegetarians and omnivores alike will be happy to walk through the door of this newly opened "modern Indian bistro" near Rittenhouse Square. For us, the handsdown winners include the lassoni gobi, which is an addictively tangy cauliflower dish, and the crispy vegetable samosas. (We also hear good things about the Calcutta pork ribs.) Honestly, we could make a meal out of a few orders of the goat-cheese-stuffed naan. VedaPhilly.com
Published (and copyrighted) in Suburban Life Magazine, April 2018.
.
.
.