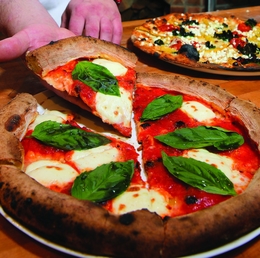 Finely Sliced
In search of the perfect pizza? We have a few suggestions.
For the most part, it's true what they say: There's no such thing as bad pizza. (One exception to the rule: a particularly horrifying attempt prepared by a certain restaurant in Wellsboro, near Pine Creek Gorge in northern Central Pennsylvania.) The every-pizza-is-good-pizza maxim holds particularly true in the Philadelphia suburbs. Whether incredibly simple or surprisingly complex, the pizzas and flatbreads coming out of the kitchens of these local restaurants will leave you with a full belly but eager to come back for more.
Bacco Bistro and Bacco Italian Restaurant, DOYLESTOWN, NORTH WALES
No matter which Bacco restaurant you frequent—Bacco Italian Restaurant in North Wales or the more casual Bacco Bistro in Doylestown—you're sure to fall for the crispy, coal-fired pizza. Check out the "Iron Pan" Brooklyn, a thin-crust pizza with perfectly simple DNA: plum tomatoes, fresh mozzarella, basil and olive oil. BaccoBacco.com
Bar Lucca, CONSHOHOCKEN
Influenced by the food, culture and flavors of Tuscany, Conshy's Bar Lucca introduces guests to simple, uncomplicated dishes, including some of the area's finest Neapolitan pizza and Tuscan thin-crust pies. Our favorite pie: the classic Margherita. BarLuccaRestaurant.com
Biga Pizza, BRYN MAWR
The well-charred masterpieces emerging from Biga's oven are the stuff of legend. The pies here certainly live up to their inventive names ("da Bomb," "Fancy Pants" and "Daytripper," for example). Lucky for us, you'll find a new pizza on the menu every week this summer. RestaurantBiga.com
Caruso Brick-Oven Trattoria, SOUDERTON
This lovely Italian BYOB makes some A-list wood-fired pizzas, probably because it uses nothing but A-list ingredients, including San Marzano tomatoes and house-made mozzarella. If you've never had the pleasure of enjoying a Neapolitan-style pizza laden with egg yolk and/or pistachio nuts, this would be the place to do it. CarusoBrickOven.com
De Lorenzo's Tomato Pies, YARDLEY AND ROBBINSVILLE, N.J.
Anyone who hasn't stepped foot inside this mecca—the Robbinsville location has been going strong since 1947—is missing out. De Lorenzo's has been ranked one of the best pizzas in America, and you'll get no disagreement from us. The pie menu is straightforward, with a reasonably short list of toppings, but there's no reason to overdo it when the "base model" is this sublime. DeLorenzosTomatoPies.com
Earth Bread + Brewery, MOUNT AIRY
Here, the phrase made with love applies to the beers as much as it does to nifty pizzas. The seasonal pizza menu includes some inventive truly iterations, including the seemingly pho-inspired Vietnamese veggie flatbread, made with cellophane noodles, shredded carrots and cucumbers, drizzled with spicy peanut sauce. "That's not a pizza," you might say. Well, this hotspot has some traditional varieties, too, and they're just as terrific. EarthBreadBrewery.com
Jarrettown Hotel Italian Restaurant and Bar, DRESHER
The Margherita pizza at the "J-town" is all about pureness and simplicity: mozzarella, red sauce, basil, a drizzle of EVOO. It doesn't need anything else, really, unless you're talking about a Montepulciano or Super Tuscan from the restaurant's fine bottle selection. JarrettownRestaurant.com
Jules Thin Crust, MULTIPLE AREA LOCATIONS
If plain, boring slices are your thing, you might want to go elsewhere. But if you're looking for pizzas with unique, locally sourced toppings like artichokes, arugula and organic goat cheese, Jules Thin Crust is up your alley. Vegetarians and omnivores alike with relish the dozens of selections—and lucky for you, no matter where you live in the Greater Philadelphia Area, you'll find one within a stone's throw (or at least a short drive). JulesThinCrust.com
Panache Wood Fire Grill, BLUE BELL
Consider us big fans of Panache's two wood-burning ovens, which crank out some mind-blowing pies. You can't go wrong with the Margherita, but if you have more adventurous tastes, try one laden with steak, pear and gorgonzola, or one topped with pulled pork and sharp provolone. We could keep going. PanacheWoodFireGrill.com
Ron's Original Bar & Grille, EXTON
As with every dish that flies out of Ron's kitchen, the pizzas here brim with fresh, healthful and, above all, flavorful ingredients, starting with a base of imported Italian flour. Choose from one of the specialty pies—the upside-down boardwalk or the pineapple-y Hawaiian— or build one of your own, heaping on everything from steak and potatoes to nitrite-free bacon and fire-grilled veggies. RonsOriginal.com
We would be remiss if we didn't make more than honorable mention of the following fine establishments, known for their artisanal pizza:
Brick & Barrel Taphouse in Horsham (TheBrickAndBarrel.com);
Café Alessio in Doylestown (CafeAlessioDoylestown.com);
Olcé Pizza Grille in Cedars (OlcePizza.com);
Taphouse 23 in Bridgeport (Taphouse23.com); and
Vecchia Pizzeria in Phoenixville (610-933-1355).
Photography by Rob Hall
Published (and copyrighted) in Suburban Life Magazine, May 2018.
.
.
.