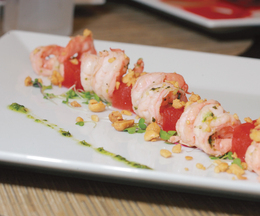 Pleasing the Palate
Newtown's newest restaurant brings inventive dining to Bucks County
You no longer need to venture into Philly to enjoy delicious, upscale dining. Nestled among boutiques and local businesses on Newtown's historic State Street, Palate restaurant offers the very best of contemporary dining in a relaxed local setting. Since its quiet opening in July, the newest addition to Newtown's dining scene has won a chorus of rave reviews from diners throughout the area.
Palate reflects the entrepreneurial drive and adventurous culinary spirit of Executive Chef and Owner Justin Kaplan and General Manager and Partner Jon Cross. Having met while working at the highly regarded Blue Bottle Cafe in Hopewell, N.J., Kaplan and Cross quickly devised their own restaurant concept—an inviting combination of innovative cuisine, impeccable service and casual-dining atmosphere.
After months of research into different communities in the area, the two friends found in Newtown the perfect opportunity for the type of restaurant they had always envisioned. An available storefront on State Street, offering two large, front-facing windows and a back room complete with original 18th-century stonework, excited them even more.
"It was more than we could have imagined," says Cross. By this summer, Palate was no longer just the dream of two young restaurateurs; it was serving its first ecstatic patrons.
Chef Kaplan's inspired New American cuisine has been pleasing palates since opening night. For Kaplan, fine dining is an evolving art, and in Palate he found a way to share his personal vision of the contemporary dining experience. Menu offerings reflect this evolution, along with attention to seasonality, innovation and the use of sustainable and local food products.
"I am constantly learning and studying new cooking methods," Kaplan says. "Chefs globally are doing some fascinating things with food."
And so is Kaplan. Palate's menu includes a playful yet sophisticated mix of New American concepts, progressive cooking techniques and international influences.
The Waygu tri-tip steak, flown in from Australia, has emerged as one of the restaurant's most popular dishes. It's served alongside potato-skin gnocchi, which contains all the savory elements of this pub staple, like bacon and sour cream.
"It's my version of meat and potatoes," Kaplan says.
"We like to entice people to eat out of their comfort zone," adds David Champagne, sous chef at Palate. Indeed, one of the most unique aspects of Palate's menu is the presence of classic components combined with unexpected and imaginative accompaniments, sauces and accents.
For example, Jail Island Salmon finds a wonderful companion with black trumpet spaetzle; Laughing Bird shrimp shares the plate with watermelon and scallion pesto; and foie gras sits grandly atop … funnel cake.
Palate is also vegetarian- and vegan-friendly, including a house-made barbecued seitan, a black bean and rice burger, and a variety of scrumptious seasonal salads.
And what's dinner without dessert? In keeping with his eclectic globe-trotting tastes, Kaplan finishes his menu with an exciting array of sweets. The summer menu showcases a traditional English treacle tart with sea-salt ice cream, a French-toast encrusted maple flan and peach terrine with pistachio coulis.
A new menu will greet customers with each change of season. Kaplan and his staff are currently building the fall menu, which will debut this month.
As if Kaplan and Cross's passion for satisfied customers wasn't enough, they're also committed to giving back to the community. Whether it's supporting Alex's Lemonade Stand or donating to the Newtown Business and Professional Association's 10th Annual Charity Golf Outing, Palate is making an impact.
And the community has responded in turn. Outstanding reviews of the restaurant abound on popular foodie-driven websites such as Yelp and Chowhound.
"Easily the best meal I've ever had in over 30 years in Bucks County. I cannot wait to go back," writes one enthusiastic commenter on UrbanSpoon.
Palate is also actively involved in Newtown's First Saturday events.
"It's been an excellent venue to meet and greet people," Cross says, "while giving them the chance to taste some of Palate's offerings."
This month, Kaplan will be a guest chef at one of the toured houses on St. Mary's Home and Garden Tour. Kaplan and Cross also plan to host private parties, charity events and wine-tasting nights at the restaurant.
Although the restaurant is currently open for dinner only, lunch service will begin soon. Whether you go for lunch or dinner, the energetic and friendly staff at Palate will win your heart and wow your taste buds.
Palate
31 S. State St., Newtown | 215-860-2898
PalateNewtown.com
BYOB. Reservations are recommended.
Tuesday-Saturday service begins at 5 p.m. and Sunday at 4 p.m.
Kelly Olsen-Stanko is a freelance writer based in Conshohocken.