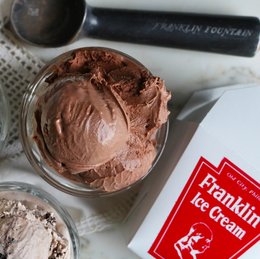 The Scoop
This summer, score a top-flight cone, shake or sundae at one (or all) of these cream-of-the-crop destinations.
If you ask us, ice cream and other cold treats were made to be consumed all year long, but especially during the hot-and-sticky months. Here in the Greater Philadelphia Area, we're blessed to have an abundance of terrific purveyors of shakes, sundaes and old-fashioned double-scooped cones. Surely there are greater culinary pleasures than working your way through a few scoops of your flavor of choice before it melts its way out of its waffle cone, but right now we're having trouble thinking of one.
Capri Homemade Italian Water Ice
Wayne
Feeling the heat? Refresh yourself with this community favorite. Choose from a wide selection of water-ice flavors such as classic mango or Swedish Fish. If water ice isn't your thing, try the creamy soft serve—topped with jimmies, of course. (610) 386-1999
Dilly's at Centre Bridge
Centre Bridge
There's just something magical about this place. If you're not from this neck of Bucks County, Dilly's is the kind of unexpectedly awesome place you end up after taking in the sights on a lovely drive down a winding country road (the serpentine River Road). You'll know it when you find it, because the parking lot is bound to have its fair share of travelers (cars and motorcycles alike). The burgers and fries have always been amazing, but on a hot day, make sure your order includes something from the soft-serve menu. DillysAtCentreBridge.com
Downtown Scoop
Souderton
Make a quick turn off Souderton's main drag and you'll find this gem, serving up small-batch, super-premium ice cream from Uncle Dave's in Yardley, all made with local dairy. The place itself is rather diminutive, but the flavors are huge. Batches rotate often enough, but our vote goes to the black raspberry. DowntownScoop.com
Franklin Ice Cream Bar
Philadelphia
This is the newest member of the family of establishments run by the fine gentlemen who brought you Philadelphia's Mecca of old-timey soda shops, Franklin Fountain in Old City. Just as you'll find at Franklin Fountain, you can probably expect to wait in line a bit, but it will be worth the wait. Whether you opt for a hot fudge sundae, an ice cream bar with cool toppings or a plain old cup or cone of the Franklin's fine house-made ice cream, you're in for an experience that's anything but vanilla. FranklinIceCream.com
Handel's Homemade Ice Cream & Yogurt
Berwyn
If you are searching for a sweet treat made with a little extra TLC, look no further than Handel's. Established in 1945, Handel's has been known for its ice cream, which is made fresh daily. This shop is rarely without a line, which is quite telling. With more than 50 decadent flavors to choose from, you're guaranteed to find at least one new summer favorite. HandelsIceCream.com
Owowcow Creamery
Ottsville, Wrightstown and Lambertville, N.J.
If ice cream that's handspun using only premium, locally sourced ingredients sounds good to you, then Owowcow has the figurative Golden Ticket. The lineup of flavors change weekly, but here are just a handful of the inventive flavors you can expect to find: Cinnamon Bourbon, Banana Caramel, Rosewater Cardamom and the ironically named I Hate Chocolate. Those sound like dares we want to take. Owowcow.com
Shake Shack
Multiple area locations
When you have a name like Shake Shack, you'd better deliver—and it certainly does. Yes, it's a chain, but you whether you're in downtown Chicago or the King of Prussia Mall, you're going to find some seriously addictive shakes at your local Shake Shack. Our favorite: the strawberry shake, with a side of crispy crinkle-cut fries. ShakeShack.com
Sundae School
Hilltown Township
There's a lot to take in when you step through the door of this Souderton-area hot spot, with an eye-popping abundance of signage directing you to Sundae School's many, many, many sundaes, shakes and more. Whereas a certain ice-cream chain carries a whopping 31 flavors, you'll find as many as 68(!) at Sundae School. Luckily, you'll have some time to take it all in, because plenty of other people have already learned about this place, made out of an old schoolhouse. MySundaeSchool.com
Tanner Bros. Dairy Farm
Ivyland
Tanner's has been in the dairy business since the 1890s, and going here for a cone or cup of your favorite hand-dipped ice cream has been a Bucks County tradition for decades. You can see the cows hanging out in the field right behind the store, so you know anything you get from the cold box (or the counter) is going to be fresh and delicious. TannerBrothersDairy.com
The Wayne Coffee & Ice Cream Bar
Wayne
As you find yourself within walking distance of Wayne's main street this summer, stop by the Wayne Coffee & Ice Cream Bar for an array of coffee and treats. (There's a second location in West Chester, on Gay Street, next to Lorenzo's.) Catering to diverse palates, this ice cream and coffee bar offers all kinds of pick-me-ups, from a shot of espresso to a scoop of premium ice cream made by small-batch artisans. TheCoffeeAndIceCreamBar.com
Yapple Yogurt
Haverford and Wynnewood
If you are looking for a refreshing treat that may have fewer calories but just as much flavor, stop by Yapple Yogurt to satisfy your "yappetite." Fill up your cup with a variety of delicious yogurt flavors or taste-test by asking for a sample. Top off your yogurt with an array of toppings including fruit, candy, cookie dough, even fresh brownies. YappleYogurt.com
The Zebra-Striped Whale
Newtown
As you might guess by its unique name, the ZSW is unlike any other ice cream shop you're likely to see. The place itself is to be experienced, as is the ordering process. Here, you take your favorite ice cream, combine it with your choice of favorite toppings, and have them mixed together on a frozen granite slab for a decadent yet delightful mixed-up treat—or choose from a preexisting menu of "Whirlwinds," as they're known at the ZSW. The Fudge Volcano sounds like a winner to us. ZebraStripedWhale.com
Photograph courtesy of Franklin Ice Cream Bar