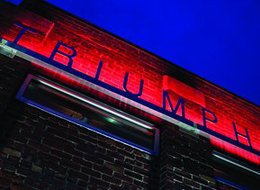 New Hope's Triumph Brewing Company
A winning combination of beer, food and entertainment
Triumph Brewing Company
What do you call the perfect blend of crafted, beer classic food and top-notch entertainment?
A Triumph.
And that is precisely what Triumph Brewing Company has given the New Hope area for the past seven years. According to Triumph's manager Dave Tyler, the formula is a simple one.
"We really just want people to have a good time, enjoy our beer and food and feel like they didn't have to spend a lot of money to do it," he says.
Known for craft brews created on premises in giant fermentation tanks that sit above the bar in full view, Tyler says Triumph's brewmaster Brendan Anderson keeps things fresh by supplying seven different home-crafted brews that typically last about two weeks.
Switching the flavors up to match the seasons, Anderson's choices appear limitless.
Currently Triumph is gearing up to serve its signature pumpkin ale—a spicy concoction made from real pumpkin puree.
"It's not a real heavy beer, and it might be one of our most popular," Tyler says. "It is a little messy to make, but it is worth it."
Tyler adds that no matter what beers are currently on tap, they all typically sell for a flat $5, a steal for a craft brew that couldn't get any fresher.
Although Triumph Brewing Company's New Hope location—others are located in Princeton and Philadelphia—is best known for its beer, Tyler and his partner/executive chef Brian Wiedlich also put out an impressive and unique menu.
Matching malted beverages with its food, Triumph has a bar menu featuring appetizers like rosemary shrimp with roasted garlic, white wine, butter and grilled baguette sandwiches as well as a blackened chicken cheesesteak with grilled peppers, onions, and cheddar cheese.
For those seeking a sit-down meal, diners can choose from soups, salads and entrees, including flank steak served with caramelized onion and sweet pea puree, yukon potato gratin, and charred tomato demi-glace to poached salmon with asparagus, roasted tomato, goat cheese, and black and white orzo, with a tarragon vinaigrette, all for under $20.
But while Tyler says customers are often surprised when they sample the food, Triumph has taken freshness to a new level with its new home-grown menu.
"What we have been doing is partnering with local farmers and really changing the menu, sometimes daily, to match what the bounty is," Tyler says, adding that the partnership has resulted in specialty dishes like a foie gras BLT.
"It is just really good, fresh food and it has been very well-received," Tyler says.
The restaurant is culminating the first season of its home-grown menu with a special event on Nov. 4 when for just $65 (all inclusive), customers can enjoy a five-course meal paired with five brews.
Also, to show how their bounties have complemented the dishes, farmers will be invited to join the feast for free. Tickets for the harvest dinner can be purchased at TriumphBrewingNewHope.ticketleap.net.
Looking to also join the growing music scene that has taken advantage of being in between New York and Philadelphia, Triumph redid its sound system and stage to provide audiences with perhaps the most comfortable and high-tech venue in the area.
"We decided if we were going to do it, we were going to do it right," Tyler says of the new lights and acoustic tiles. "I don't want people to walk away and say they saw a band in a bar; I want them to say they saw a concert."
Hosting national acts like 1990s rockers Cracker and Bernie Worrell of Parliament-Funkadelic and the Talking Heads to local bands like Wineskin, Tyler says the formula stayed the same for the latest musical endeavor.
"I prefer not to charge a lot of money for the shows. I would rather people pay a small cover charge and see a great band
and drink great beer, than spend it on a ticket just to get in.
"Since we book a lot of national touring acts, it gives people the opportunity to see a band that may just be on the verge of making it big. We really just want people to have a good time, enjoy our beer and food, and feel like they did not have to spend a lot of money to do it."
Triumph also hosts an open-mic night and features poker two nights a week.
Along those lines Triumph has two pool tables, which are free to play, along with darts and an interactive bar trivia game, all of which are also free.
For people that want to make their own party, Triumph is also the place because the facility can host private events from 15 to 300 guests.
Evan Walton of the local band Wineskin thinks Triumph has really stuck out after getting serious about hosting acts last year.
"They really have added a lot to the local music scene with their new business model and venue," Walton says. "They added a backstage area where [bands] can relax and the sound system is top notch. It really adds to the shows and you don't have the feeling you are just in a bar."
Probably because you aren't.
Triumph Brewing Company
400 Union Square, New Hope
215-862-8300, TriumphBrewing.com
Rich Pietras is a professional writer based out of Doylestown.